Description
ReBirth: A Christmas at Crucible
with special guest performances by Rosemary Siemens and Eli Bennett
Crucible Church invites you, your family and friends to a Christmas evening celebration at our new campus in the city centre of Richmond!
During the night, you and your guests will enjoy a dinner catered by "Best of the City Gold Winner," Emelles Catering and be entertained with live musical entertainment preformed by Eli Bennet, a 35 time-award winning saxophone player and Rosemary Siemens, a world class violinist who became the first violinist to perform at the Sistine Chapel at the Vatican in Rome. Together, they will perform musical numbers, do musical improvisations for you and take your special requests throughout the evening. Just before dessert, we will culminate the evening with an entertaining presentation by Pastor Jonathan about why Jesus' birth is an inauguration of every person's ReBirth!
Have Kids? We Have an Awesome Program For Them!
Have kids under 10 yrs old? Bring them along. We have a large room beside us dedicated for your children to be fed and entertained while you're enjoying the festivities we've prepared in the room next door. We will have food fit for your princesses and princes with movies and games that will entertain them for the entire evening. We have arranged three babysitters to look after them. How much? It's on us, children under 10 are free.
Early Bird Just to Nudge You!
Early Bird Tickets are $20 (plus eventbrite processing fee of $1.80) per person before November 30th. After that, tickets are $30 (plus eventbrite processing fee of $2.70) per person. Please purchase tickets online below.
Hope to see you there! P.S. scroll down, we've included a bio on our musicians and Emelles' wonderful menu!
Blessings
Pastor Brian, Pastor Jonathan and the entire Crucible Family!
Who are Eli Bennett and Rosemary Siemens?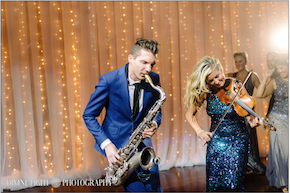 Creating magic with their Sax & Violin Combo
Fusing crossover genres of pop, jazz, and classical–pops
World–class improv violinist Rosemary Siemens and 35–time award–winning jazz saxophonist Eli Bennett have joined forces to create "SaxAndViolin" an exciting musical duo for private and corporate events and parties.
As a solo–violinist, Rosemary Siemens has performed four times at Carnegie Hall, was the first violinist to perform at the Sistine Chapel at the Vatican, and has toured the world with the likes of The Canadian Tenors, Marie Osmond, and the Rankin Family.
35–time award–winning jazz saxophonist Eli Bennett has performed twice at the Grammy Awards, shared the stage with the likes of Oscar Peterson and the Neville Brothers, and had one of the top jazz albums in Canada in 2015 with his WCMA–nominated "Jazz Album of the Year" debut, Breakthrough.
Since joining forces in 2014, "SaxAndViolin" has been taking Vancouver's VIP events by storm, performing exclusive concerts for clients such as Rolls Royce, Lamborghini, Thunderbird Studios, L′Oreal Paris, Vancouver International Film Festival, Vancouver Fashion Week, Vancouver Club, Holt Renfrew, Cicino, Quoola, Provence, Hawk's Vineyard, St. Paul's Hospital Foundation, and Fashion on Fourth. Whether performing with backing tracks, solo, or with piano accompaniment, SaxAndViolin has the unique ability to perform any song in addition to taking live song requests on the spot.
Combined with their signature warm personalities and high musical accomplishments, Rosemary and Eli have become style icons in high–end fashion and bring a classy elegance to every performance. Whether you're looking for live music featuring the latest 'pop radio–hits', classics from the Great American Songbook, or classical–pops, SaxAndViolin remains the top musical choice for Vancouver's VIP and corporate events.
Emelles Catering Menu!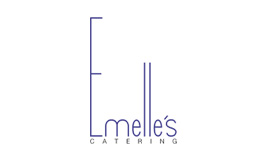 Ambient passed canapes
marinated artichoke & parmesan crostini with piave shard
prosciutto & sundried tomato mashed potato cupcakes
seared beef tenderloin steak bites with bleu dip
coconut crusted prawns with sweet chili dipping sauce

Warmed passed canapes
holiday meatballs with cranberry blue cheese gravy
shrimp gyoza with sesame sherry sauce wonton spoons
chive cake with caramelized pork belly, pickled ginger, hoisin & coriander
sockeye salmon with spicy lemon chutney aioli

Grazing stations
spanish sausage, manchego & roasted fennel flatbread
fresh cut vegetable vases with duo of dips
red pepper miso & hummus

Sweets
holiday inspired macaron tree
mini kris kringle bites
assorted shortbread, mint melties, snowballs etc
Coffee, Tea and Festive Non-acoholic punch inspired by Pastor Jonathan!