Sales Have Ended
Ticket sales have ended
Thank you for your booking. We look forward to meeting you on the first class. If you have any questions, please do not hesitate to email us at info@qwertynomics.ca or call 289.716 1491.
Sales Have Ended
Ticket sales have ended
Thank you for your booking. We look forward to meeting you on the first class. If you have any questions, please do not hesitate to email us at info@qwertynomics.ca or call 289.716 1491.
Description

Do you want your children to learn effective typing skills this summer? Join us for our half-day, week long Typing Summer Camp for kids which will equip your child with the skills he/she needs to complete their work in a quarter of the time.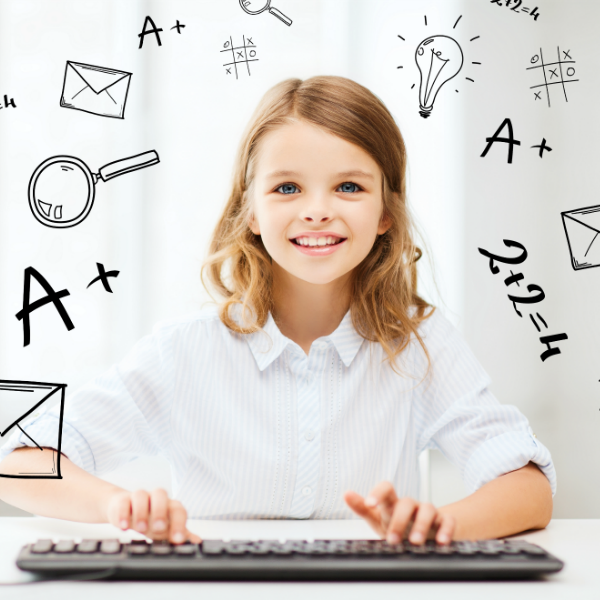 Your child will:
Learn to Touch Type all the letters of the Qwerty keyboard

Increase their typing speed and accuracy

Complete work up to 4 x faster

Increase grades at school

Learn essential exercises to reduce health-related computer issues.
Times:
Course time: 9:00 am to 12.00 noon. Monday to Friday

We are pleased to partner with STEM MINDS to offer exciting summer camp options for kids.
Bring with you:
Computer and power cord
Nut free snack
Drink in a re-sealable container
Sense of humour
During the camp we will be typing, playing typing games and having fun.
BYOL - Bring your own device. If you do not have your own laptop, please contact us as we do have some computers students can use in class. These computers are Limited.

Course includes:
This course will include typing Software (for 1 computer - multiple family users), all the materials needed for practice at home (Qwertynomics keyboard cover and accessories) and access to the Qwertynomics Online Typing Academy.
At Qwertynomics, we will teach your child to Touch Type efficiently and in a fun way. In just a short period of time, we can positively change the way he/she works. Learning to type using our Qwertynomics methodology not only increases their child's grades but also increases their self-esteem and confidence. Keyboarding is an essential skill for students today.
Why learn with Qwertynomics?
Qwertynomics is more than just learning to type. We train your brain in a unique and useful way using a new gaming style of learning.
During school lessons, students may feel overwhelmed with the presented information, and if they're unable to keep up due to poor handwriting, concentration issues or not understanding, they may simply give up. That's where some extra help is needed. We are here to help.
Camp Dates
17th - 21st July 2017
Course Fee
The course fee is $199 + HST and includes over $129 software and accessories.
Additional fees do apply if you book through Eventbrite. If you wish to save over $15, please call Zoe @ 289.716.1491 and we can book you into the class directly.

---
FAQ
---


What do I need to do before the class begins?
Nothing.
On the day
Please arrive promptly on your first class so that we can load the software onto your computer. Please stay with your child until successful software activation is complete.
What

will I need to bring to class?
BYOL - Bring your own laptop
Please enusre you bring your own computer (PC or MAC) and power cord. Also ensure you have administrators permission to install software. Note: Our software will not work on SEA Claim computers.
What is touch typing?
This is typing by touch without ever having look at your fingers while typing. We will train your brain to type by touch and to access the cerebellum (the part of the brain that does things without thinking-muscle memory). To do this, we have to stop your eyes from looking down at your fingers. This is why we use specially designed keyboard covers.
What is a keyboard cover?
A keyboard cover is used when you are learning to type to cover your fingers so that you don't look at them. A cover will be supplied on your first day. This is for you to take home and keep. It allows you to train your brain to access the muscle memory so that the thoughts just magically move your fingers.
Is there a difference between Touch Typing and looking at your hands when typing?
Yes, there is a huge difference. There are lots of advantages to Touch Typing, including increasing your speed and accuracy, being able to type without concious thought, taking notes directly and increased multitasking. Adults who have learnt to type as a child without looking at their hands say that it is one of the most important skills they have ever learned.
Is there any homework in between classes?
Yes and no...The more you practice, the more your typing skills will improve. During the morning you will be getting lots of practice. If you wanted to practice in the afternoon that would be amazing but not compulsory. It would however make a difference. Using our software, you can practice lessons, games, spelling and boosters and they are fun.
There is lots of typing software on the market. Why should my child attend a typing class instead?
We are not just about the software. We have built our Qwertynomics methodology around children's learning styles and needs. We use a multisensory approach in order to allow all students to work in their own style and at their own pace. We pride ourselves on our results and our students' happiness and success. Our program is also suitable for children who have a wide range of special needs.
What is the best age to learn to type?
By the age of 7, children's brains are mature enough to learn to type effectively. Their fingers also have the motor skills and size required to type on a Qwerty keyboard successfully before poor typing habits are formed. It is never too late to learn. We have successfully taught students from age 6 years to 85 years.
---
Course Withdrawals
Withdrawals from the class must be made at least TWO WEEKS prior to the class start date for a full refund, minus an administration fee of $20. Withdrawals less than two weeks prior to the class start date will receive 50% of the course fee minus. NO refunds will be processed after the start of the 1st class.
Qwertynomics aims to provide a safe, positive, and welcoming learning environment. Qwertynomics reserves the right to refuse admittance to or de-register any person who prevents our ability to provide such an environment. In the event of de-registration, a 50% refund will be issued for all unattended classes.
Course Cancellation - Insufficient Registration
All courses are subject to sufficient registration. Qwertynomics reserves the right to cancel or combine individual courses if minimum registration is not achieved. A full refund will be issued in the event of a cancellation.
Missed Class
In the event that a student is unable to attend a class, Qwertynomics regrets that a makeup class or refund will not be offered.
If you have any more questions, please do not hesitate to contact us at info@qwertynomics.ca.