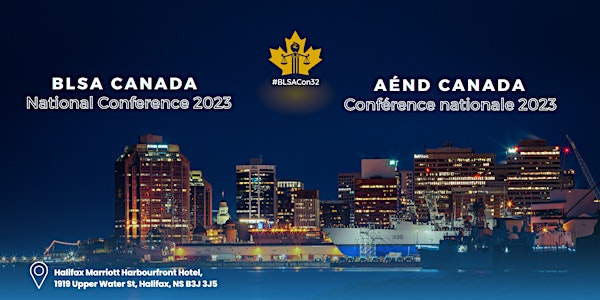 SOLDOUT 32nd Annual BLSA Canada Conference / 32ème édition de la conférence
Join Black law students across Canada in February 2023 in Halifax, NS.
When and where
Location
Halifax Marriott Harbourfront Hotel 1919 Upper Water Street Halifax, NS B3J 3J5 Canada
About this event
32nd Annual BLSA Canada Conference | 32ème édition de la conférence annuelle de l'AÉND Canada
Our 32nd Annual National Conference will be held in Halifax, Nova Scotia, from Thursday, February 16th, 2023, to Sunday, February 19th, 2023, at The Marriott Harbour Front, 1919 Upper Water St, Halifax, NS B3J 3J5. This year's overarching theme, "Forward and Upward: Bending The Arc Towards Justice," is the driving force of BLSA Canada's initiatives and events.
Downtown Halifax is the urban core of Atlantic Canada, complete with hundreds of restaurants, boutique shopping, festivals and events, world-class attractions and highly rated hotels, Downtown Halifax is a go-to tourism hub.
Sitting on the beautiful harbour, an attraction in of itself, is the bustling Halifax boardwalk, one of the longest downtown boardwalks in the world. It offers stunning views, plenty of things to do, and places to eat.
Nova Scotia also has a rich Black history, known as the site of some of the earliest settlements of Black people in Canada. We welcome the opportunity to celebrate the achievements of our community in a city that has so much to offer!
Notre 32ème conférence nationale annuelle se tiendra à Halifax, en Nouvelle-Écosse, du jeudi 16 février 2023 au dimanche 19 février 2023, au Marriott Harbour Front, 1919 Upper Water St, Halifax, NS B3J 3J5. Le thème général de cette année, "En avant et vers le haut : Plions l'arc vers la justice", est la force motrice des initiatives et des événements de l'AÉND Canada.
Le centre-ville d'Halifax est le cœur urbain du Canada atlantique. Avec ses centaines de restaurants, ses boutiques, ses festivals et événements, ses attractions de classe mondiale et ses hôtels très bien cotés, le centre-ville d'Halifax est un centre touristique incontournable.
Sur le magnifique port, une attraction en soi, se trouve la promenade animée de Halifax, l'une des plus longues promenades du centre-ville au monde. Elle offre des vues imprenables, de nombreuses activités et des lieux de restauration.
La Nouvelle-Écosse a également une riche histoire noire, connue comme le site de certains des premiers établissements de Noirs au Canada. Nous sommes heureux d'avoir l'occasion de célébrer les réalisations de notre communauté dans une ville qui a tant à offrir !
Highlights | Points forts
Networking opportunities with lawyers, judges, and students from across Canada and internationally including NBLSA members! | Possibilités de réseautage avec des avocat(e)s, des juges et des étudiant(e)s de tout le Canada et de l'étranger, y compris des membres de NBLSA !
Fun-filled GALA - formal attire featuring MC, DJ, AfroBeats, Soca, Mainstream music. |GALA amusant - tenue de soirée avec MC, DJ, AfroBeats, Soca, musique grand public.
Diverse Workshops, and Panel discussions on various areas of law and how to utilize and tailor your degree. | Ateliers organisés par des entreprises et des cabinets.
Career Fair featuring major law firms, corporations, and public sector representatives. | Salon des carrières mettant en vedette de grands cabinets d'avocats, des entreprises et des représentants du secteur public.
One-on-one Resume & Cover Letter Workshop with legal practitioners. | Atelier individuel sur les CV et les lettres de motivation avec des juristes.
"When asked why I attended the BLSA conference and what I got from it - 4 Cs came to mind. That's comradery, career, connections, and culture." - Evon Gayle, Hicks Morley | « Quand on m'a demandé pourquoi j'avais assisté à la conférence de l'AÉND et ce que j'en avais tiré, quelques Cs me sont venus à l'esprit. Il s'agit de la Camaraderie, des Connexions professionnelles et de la Culture. » - Evon Gayle, Hicks Morley
- "I attend Conference every year because it is honestly an experience like no other. BLSA Canada is an amazing organization, with amazing people, and being around so much Black excellence, it's unbeatable. You really can't find anything like BLSA Canada anywhere else. Looking forward to seeing you all at Conference in February" - Nashara Peart, Miller Canfield | « J'assiste à la conférence chaque année parce que c'est honnêtement une expérience pas comme les autres. L'AÉND Canada est une organisation incroyable, avec des gens incroyables, et étant autour de tant d'excellence noire, c'est imbattable. Vous ne pouvez vraiment rien trouver comme L'AÉND Canada nulle part ailleurs. Au plaisir de vous voir tous à la conférence en février. » - Nashara Peart, Miller Canfield
COVID Regulation | Règlement Concernant La COVID
There are no COVID-19 restrictions at this time. However, we will continue to monitor the situation and adjust accordingly to be in alignment with public health recommendations and compliant with government mandates and regulations.
Il n'y a pas de restrictions concernant la COVID-19 à l'heure actuelle. Cependant, nous continuerons à surveiller la situation et à nous adapter en conséquence afin d'être en accord avec les recommandations de santé publique et de nous conformer aux mandats et règlements gouvernementaux.
Travel Discount Codes | Réduction avec le code de réduction
➟ Air Canada: 15% off with Discount Code: EACYKX21. To book a flight with your promotion code, access www.aircanada.com and enter your promotion code in the search panel.
➟ Flair Airlines:
Discount: 10% off the base fare applicable on all Flair network.
Booking window: up to November 15, 2022
Travel period: Feb 15 to Feb 20, 2023
Code: BLSA10
➟ Westjet: Use code 2B6Y5XC for 5% off Econo and 10% off EconoFlex and Premium fares for travel within Canada.
➟ Via Rail: 10% off the best available fare in Economy, Economy Plus, Business, Business Plus, Sleeper class. Participants must reference the event's VIA convention. Discount is not applicable to any Escape fares and Prestige class.
Discount Code: 14321.
➟ Air Canada : 15% de réduction avec le code de réduction : EACYKX21. Pour réserver un vol avec votre code promotionnel, accédez à www.aircanada.com et entrez votre code promotionnel dans le panneau de recherche.
➟ Flair Airlines :
Réduction : 10% de réduction sur le tarif de base applicable sur tout le réseau Flair.
Fenêtre de réservation : jusqu'au 15 novembre 2022
Période de voyage : Du 15 février au 20 février 2023
Code : BLSA10
➟ Via Rail : 10 % de réduction sur le meilleur tarif disponible en classe économique, économique plus, affaires, affaires plus, classe couchette. Les participants doivent faire référence à la convention VIA de l'événement. La réduction ne s'applique pas aux tarifs Escape et à la classe Prestige.
Code de réduction : 14321.
https://www.blsacanada.com/national-conference