Description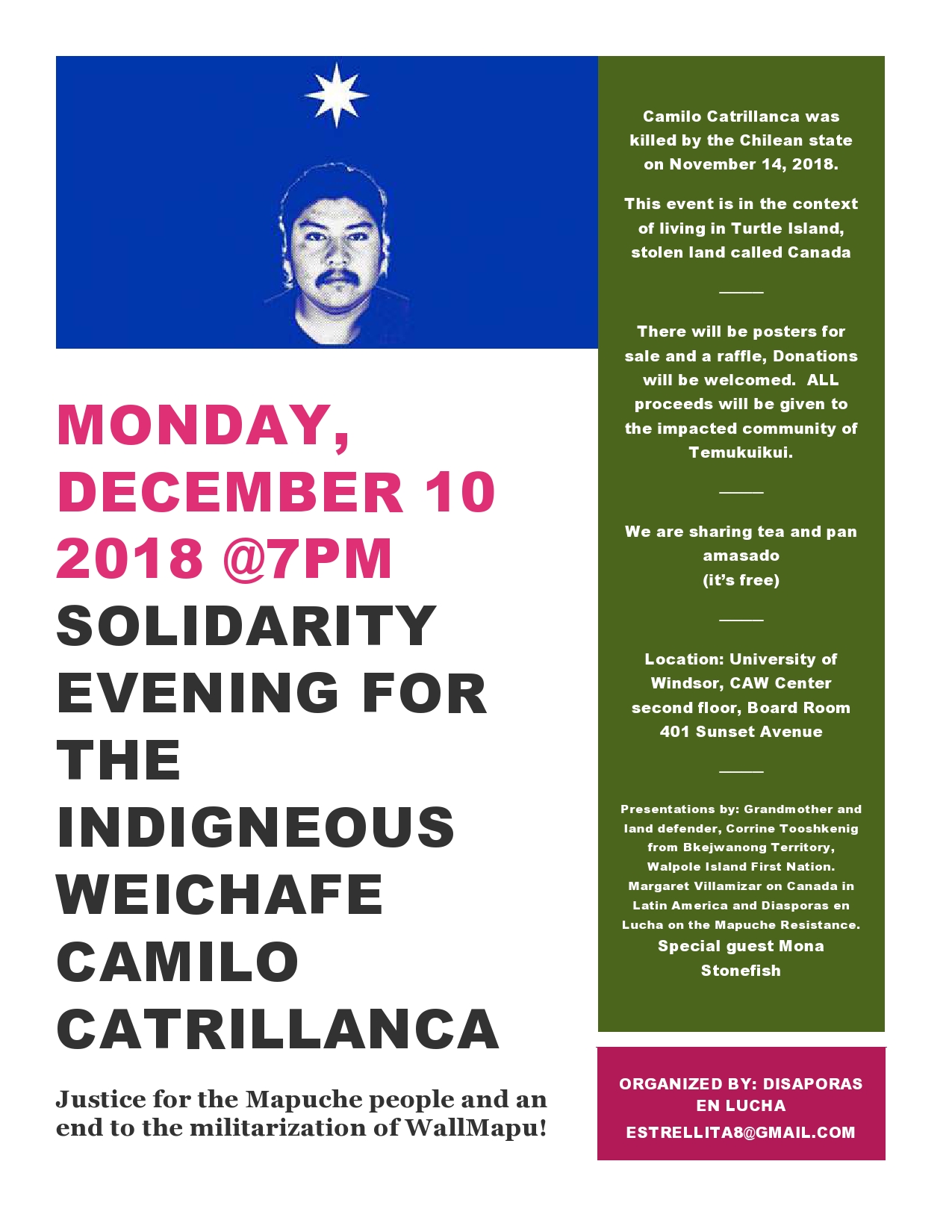 ---
Solidarity Evening For Camilo Catrillanca
Indigenous Mapuche Leader Killed by the Chilean State
Solidarity Evening For Camilo Catrillanca Indigenous Mapuche Leader Killed by the Chilean State
On Thursday November 14th, 2018, Camilo Catrillanca Marin was assassinated by the Chilean State; he was shot in the back of the head while he and a minor were on a tractor caring for Mapuche ancestral lands.The Chilean State has been using violent repression including killings, summary imprisonments and militarization against the Mapuche peoples for centuries, especially now under Pinochet's legacy of neoliberal democracy.
Camilo Catrillanca was murdered by the Comando Jungla, an 'anti-terrorist' police military unit. The Comando Jungla wages war on the Mapuche with the objective to move them from their land to further economic colonization through 'Plan Araucania'. Plan Araucania makes it easier for forestry, mining, hydroelectric transnational corporations and individual criollo landowners to invade, usurp and exploit Mapuche lands for profit.
Diasporas En Lucha has organized an evening of solidarity for the Mapuche Peoples. The event includes presentations by Grandmother and Land defender Corrine Tooshkenig from Bkejwanong Territory, Walpole Island First Nation, Margaret Villamizar on Canada in Latin America and Gabi Mondaca on Mapuche Resistance.
There also will be Chilean handmade bread called pan amasado with and posters and stickers for sale. Donations are encouraged, there will be a link to the GoFundMe Campaign presented. All the proceeds will go directly to the impacted community of Temukuikui.
Come and join us for solidarity from Turtle Island to Abya Yala
The event will take place on Monday, December 10th, 2018 at 7pm. At the University of Windsor, 401 Sunset Ave, CAW Center, 2nd floor, in the Board Room
There will be 3 presentations:
1. Opening up the event is Grandmother and land defender: Corrine Tooshkenig from Bkejwanong Territory, Walpole Island First Nation
2. Diasporas En Lucha will present on Mapuche Resistance and the assassination of Camilo Catrillanca
3. Margaret Villamizar will speak about Canada in Latin America
Contact: estrellita8@gmail.com
Links: Facebook Event: Solidarity Evening for Camilo Catrillanca
Fundraiser:
Our modest goal is to raise $500 to help with the purchase of a replacement tractor which was destroyed by the paramilitary police during the coldhearted and barbaric murder of Camilo Catrillanca. Please support if you can.
https://www.gofundme.com/peni-camilo-cantrillanco?fbclid=IwAR3s2pRTgrYt9ekuH7Ay-h32WOzqKYpbxo8yBz0mC6JAxS3gTDVM1O-P904
---
Camilo Catrillanca fue asesinado por el Estado chileno el 14 de noviembre de este año.
Este evento es en el
contexto de vivir en Isla Tortuga
territorio usurpado al pueblos indígenas

Habrá carteles para la
venta y un sorteo de artículos donados, todos
los ingresos serán entregados a
la comunidad impactada
de Temukuikui.
Contamos con el consentimiento y el beneplácito del Werken de dicha comunidad
────
Compartiremos te y
Pan amasado
(es gratis)
ESTE EVENTO ES ORGANIZADO POR DIASPORAS EN LUCHA

Detalles:
Habrá 3 presentadores:
1. Abrirá el evento la abuela y defensora de la Tierra: Corrine Tooshkenig de la isla Walpole.
2. Diásporas en Lucha hablará sobre la resistencia Mapuche y el asesinato de Camilo Catrillanca
3. Margaret Villamizar hablará sobre el imperialismo canadiense en América Latina.
News Media:
Chile: Four Police Officers Arrested Over Fatal Shooting of Indigenous Man
https://www.theguardian.com/world/2018/nov/29/chile-camilo-catrillanca-death-four-police-officers-arrested?fbclid=IwAR1VjpC_FxBsxObOB6EidGuRuD4LH9SuYwzi2RjLejIwjhRPCywEulEOnz4
Killing of Indigenous Man in Chile Spurs Criticism of Security Forces
https://www.nytimes.com/2018/11/25/world/americas/indigenous-killing-chile-land.html?fbclid=IwAR07NvplOahkj7_kh9pF17c9-4hP3R3ug9vo7StwfC1dVJYyqIDwtZ_ZsvA