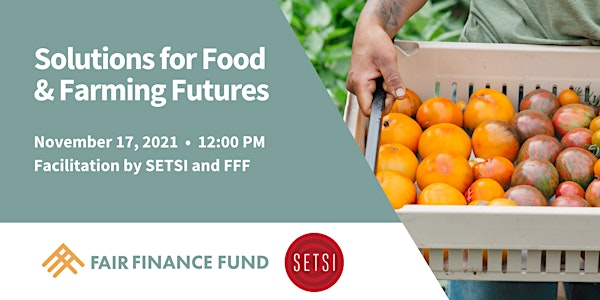 Solutions for Food & Farming Futures
Addressing financial barriers and everyday challenges marginalized groups face and solutions to equitable and sustainable food future.
About this event
An equitable and sustainable food system includes everyone. We are proud to partner with SETSI (Social Economy through Social Inclusion), a national group working with BIPOC entrepreneurs, to address the financial barriers and everyday challenges that marginalized groups face in the local food and farm sector and solutions for an equitable and sustainable food future.
During this two-hour session, hear from entrepreneurs' experiences and learn about the transformation we can create to improve communities' health and economic vitality across Ontario. We encourage everyone to join the conversation.
This webinar is part of the ongoing Inclusive Prosperity Project at the Fund.
Facilitators
Jillisa Brown, SETSI
Jillisa Brown assists leaders across the globe in countries like Ghana, Germany, Jamaica and Canada with exuding confidence in the direction of their purpose. In February 2019, Jillisa was flown out to Australia as a mentor to 200 college students. Now, Jillisa continues to facilitate great work in the social service sector and the leadership development ecosystem across Canada. Jillisa resides in Toronto, Canada with her son and is currently the Director of Community Engagement at SETSI Community Coalition. She is also the Co-Founder and CEO of House of Nine Sorority, the Systems Collaborator for the Solidarity Working Group, and leader in her community.
Sally Miller, Fair Finance Fund
Sally Miller (MA/ PhD; MES), is the Project Manager for the Fair Finance Fund. She has worked in sustainable food and agriculture and co-ops for over twenty-five years, including the Local Food and Farm Co-ops, Ontario Natural Food Co-op, Organic Meadow, Fourth Pig Worker Co-op, West End Food Co-op in Canada, and Finger Lakes Organic Growers' Co-op in the U.S. She sits on various Boards. Publications include Edible Action: Food Activism and Alternative Economics (Fernwood 2008); and Belongings: The Fight for Land and Food (Fernwood 2016) and numerous research reports.
Speakers
Isabelle Rodé, Vintage Soil Farm
Isabelle is the owner and operator of Vintage Soil Farm. Isabelle spent 6 years working on a variety of organic farms, in Ontario, BC and Quebec, before starting Vintage Soil Farm this past year. VS, currently located on rented in the Ottawa Valley, uses draft power in the field and adheres to the organic certification standard for all their growing.
Gerry Brandon, L'Autochtone Taverne Americaine
Gerry is a Chef, Entrepreneur, Educator, Business Consultant, Mentor and Public Speaker working in Food Security. A 60's Scoop Child from Ontario where he is a member of Dokis First Nation (Anishinaabe) Gerry rose from addiction to hold degrees in Business, Planning, Culinary Arts and Education. A graduate of the renowned Stratford Chef School, he has worked alongside many world famous Chefs, led 5-Star Country House Hotels, appeared on television and in magazines. As a former "troubled youth", Gerry has spent many years working with and mentoring young people across Canada. Today, Gerry is owner/operator of L'Autochtone Taverne Americaine in Haileybury Ontario were every day he represents his heritage and his culture to the best of his ability.
Angel Beyde, Good Fortune Farmstead
Angel Beyde is an Organic Master Gardener, community educator, facilitator and consultant. Angel has worked in Urban Agriculture, eco-landscaping and non-profits for many years, with a focus on soil health, pollinators and native plant stewardship. Nurturing equitable relationships and healthy communities is at the root of Angel's approach to regenerative food growing. As Equity and Organizational Change Manager at The Ecological Farmers Association of Ontario, Angel works with the team to create and implement programs and policy to better support equity-deserving farmer members (BIPOC, 2SLGBTQ+, folks with disabilities, etc), and across the ag sector at large.
Celeste Lopreiato, The Conscious Kitchen
Celeste Lopreiato is the owner of The Conscious Kitchen, a food business founded in 2019 creating freshly-made meals delivered to customers' doors. They specialize in plant-based and zero-waste meals made from organic and local ingredients. Celeste has a deep passion for farming, preserving, and making ethically & environmentally farmed food mainstream. She identifies as a queer & mixed-race woman, and lives in Central Grey County with her partner, Simone, and their two dogs Chester and Zara.
Amy Bonin and Kevin Hamilton, McQuesten Urban Farm
Kevin Hamilton has been farming organically for 20 years. Currently working at McQuesten urban farm as lead farmer, he shares his passion and knowledge of organic growing within this community.
He has ridden his bicycle across Canada raising awareness about food and the environment over 15,000 kms, rode 4000 kms across Australia in 1999/2000 and in 2005 he rode 22,000 kms again by bicycle visiting farms from Portugal to Vietnam to learn all he could about farming without the aid of petrochemicals.
He was also the youngest ever recipient of the Hamilton Environmentalist of the Year. He is an avid cyclist, environmentalist and political agitator.
Tim Ruth and Joanna DeCicco, Red Rock Indian Band Hanger & Butcher Shop
Tim Ruth is the custodian and maintenance man for Red Rock Indian Band. He is a Red Rock Indian Band member and along with his wife they raised 2 beautiful daughters within the community. Not only is Tim an employee of the band, he often takes on projects like Maamawitaawining and volunteers his time in all community events. Tim can be seen as a very active member of his community in all capacities.
Joanna DeCicco has been the Employment Counsellor under the Social Services Department at Red Rock Indian Band for the past 4 years. Red Rock Indian Band is an Ojibwe First Nation community in Northwestern Ontario. Aside from her Employment Counselling role, she sits on the food sovereignty committee which spearheaded a project that will bring food security to the community. The project Maamawitaawining, which means At the Gathering Place, consists of a 4-prong moose hanger, butcher shop and future tannery. Currently, she is working on her Community Economics & Social Development degree at Algoma University and in hopes she can use my knowledge to help assist grow the community and all their endeavors.