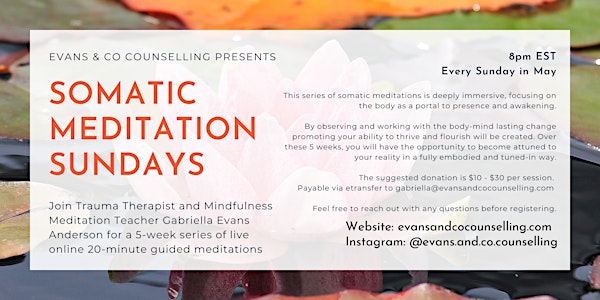 Somatic Meditation Sundays ❤
A 5-week series of 20-minute guided somatic meditations
About this event
Learn to connect with your body's inherent wakefulness.
Join Trauma Therapist and Mindfulness Meditation Teacher Gabriella Evans Anderson for a 5-week series of live online 20-minute guided meditations. This series of somatic meditations is deeply immersive, focusing on the body as a portal to presence and awakening. Meditations are every Sunday evening in May at 8pm ET / 5pm PT.
This meditation practice will be a journey of discovering total integration within body, mind, and spirit (if that is your thing), and if not, know that just by observing and working with the body-mind lasting change promoting your ability to thrive and flourish will be created. Over these 5 weeks, you will have the opportunity to become attuned to your reality in a fully embodied and tuned-in way.
Whether you are brand new to meditation or an experienced meditator, there is much to be gained from this powerful, revealing and nourishing Somatic Meditation practice. In this guided series, you will discover a way to greet your life from within your resiliency zone. You will have the opportunity to discover safety and security within your own body so that you can launch from that solid platform into the world the way you were meant to. Fully capable, fully aware, operating out of a clear, stable mind and a confident, open, resilient and wise body.
Note: This meditation series is being offered by donation at this time. The suggested donation is $10 - $30 per session (payable via etransfer to gabriella@evansandcocounselling.com).
Feel free to reach out with any questions before registering: gabriella@evansandcocounselling.com.
Thank you and we look forward to meditating with you!
"Most simply put, rather than trying to develop meditation through our left brain, thinking mind in a 'top-down' manner, as is the case with most contemporary approaches, Somatic Meditation involves a bottom-up process; in this bottom-up approach, we are able to connect with the inherent, self-existing wakefulness that is already present within the body itself." — Reginald Ray