Something Christmas - Sunday Dec. 9/12 SOLD OUT!

Multiple Dates
Event Details
Something Christmas - A Celebration of the Season!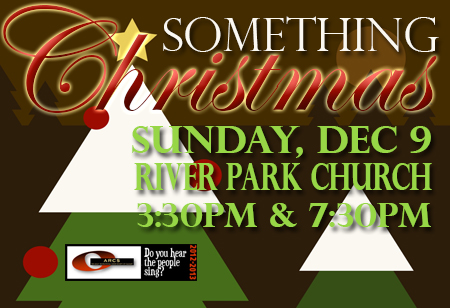 We thank you for the overwhelming response to this event.  Both performances of Something Christmas are now SOLD OUT!
Please visit our website for information about upcoming ARCS events in 2013 that you won't want to miss. 

Up2Christmas, Up2Something and Something Different of the Adult Recreational Choir Society of Calgary (ARCS) present a concert of seasonal favorites for you and your family to enjoy.  In a casual and friendly atmosphere, we celebrate the season with Christmas music and audience carolling. 
A spectacular rendition of  "O Holy Night" performed by 150 voices will send your spirit soaring!  Join us for this popular Christmas event.  A portion of proceeds from the concert help make a difference in the lives of those who benefit from Music Therapy programs at Carewest.
Two Performances of "Something Christmas" at 3:30pm and 7:30pm on Sunday, December 9 at River Park Church.  The concert is approximately 75 minutes in duration without an intermission.
Where

River Park Church
3818 - 14A Street SW
Calgary, Alberta T2T 3Y2
Canada

Multiple Dates
Add to my calendar
Organizer
Established in 2002, ARCS is dedicated to nurturing creative and performance experiences for adults while enriching their lives and our community through musical expression and the performing arts.  Men and women with or without a background in choral music participate in four non-auditioned, recreational programs:  Up2Something, She's Up2Something, Up2Christmas and Something Lite.
Now over 170 members strong, ARCS has established itself as one of Calgary's finest adult choral programs.  Each season, the choirs of ARCS offer such performances as "Something Christmas" and our popular year-end show.  The biannual "Calgary Sings!" is an ARCS signature event, bringing together the adult choral community in a non-competitive celebration of choral music.
Membership in ARCS is open to anyone with the ability to match pitch and make the commitment required.  Information on membership in any of ARCS programs is available at our website www.up2something.org.
2011-12 marked our 10th Anniversary and we're thrilled to be entering our second decade!