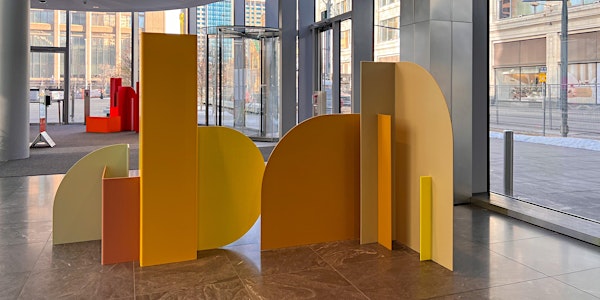 Sophie Smallhorn: Assemblages 1, 2 & 3 at Brookfield Place Calgary
Visit Brookfield Place Calgary and explore the sculptures of Sophie Smallhorn: Assemblages 1, 2 & 3 in the South Lobby.
When and where
Location
Brookfield Place 225 6 Avenue Southwest Calgary, AB T2P 3S9 Canada
About this event
Acclaimed British artist Sophie Smallhorn explores the relationship between color, volume, and proportion in her series Assemblages 1, 2 & 3. Originally commissioned by Brookfield Properties for the 100 Bishopsgate property in London, Smallhorn's work adds an element of color and vibrancy to the lobby of Brookfield Place Calgary. Smallhorn positions her signature flat planes of color in a dynamic arrangement that examines how the shapes and forms interact, creating a variety of different angles that in turn appear almost as completely different artworks as the viewer moves around the work. Smallhorn believes that the serious, formal nature of office environments form the perfect backdrop for her playful, colorful work, and enjoys "creating something surprising which will hopefully spark some energy in passersby."
Sophie Smallhorn is a London-based artist and color consultant whose work has been exhibited internationally, and who is commissioned by both private and corporate clients.
Commissioned by Arts Brookfield for 100 Bishopsgate, London.