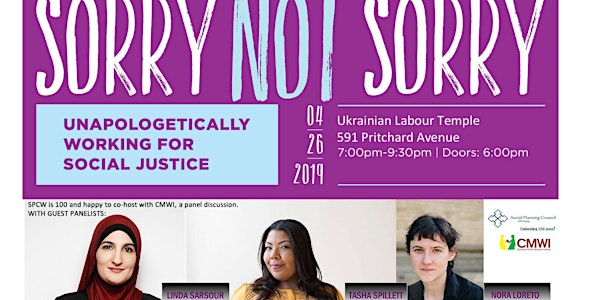 Sorry Not Sorry: Unapologetically Working for Social Justice
When and where
Location
The Ukrainian Labour Temple 591 Pritchard Avenue Winnipeg, Manitoba R2W 2K4 Canada
Refund Policy
Contact the organizer to request a refund.
Description
New Venue Announcement and Response to Criticism
Time: 7pm (Doors open at 6pm)
After dinner refreshments will be served
Date: April, 26th, 2019
Venue: The Ukrainian Labour Temple, 591 Pritchard Avenue.
Please note as renovations are pending, this venue is not fully accessible. Please contact info@spcw.mb.ca for more details. ASL interpretation will be provided.
All tickets sold for the original venue will be honoured at the door.
Our original venue cancelled our booking due to one of our speakers, Linda Sarsour.
Please see our full media release here: https://spcw.mb.ca/…/2…/04/Sorry-Not-Sorry-MEDIA-RELEASE.pdf
Please check out our website, www.spcw.mb.ca, for our full response and to learn more about our event. We have added new links to add to the discussion. For anyone who simply wants to know more, as always, please consider the source of any links (including ours!) for explicit, complicit, conscious or unconscious bias and, most importantly, please read past the headlines. There is a great deal of media coverage both critical and supportive of Ms. Sarsour. We will not engage further by listing more and more links. The ones we have chosen to share offer perspective and/or context on the most prevalent criticisms of Ms. Sarsour.
We invite you once again to this discussion about working together to create a truly just society. This amazing panel of activists will share their successes and perspectives on making the changes that challenge the status quo and addresses bias. A moderated question and answer session is scheduled to allow the conversation to be community based.
---
100 years and counting!
The Social Planning Council of Winnipeg is proud to celebrate 100 years by partnering with the Canadian Muslim Women's Institute in a discussion about working together to create a truly just society. Please join an amazing panel of activists, Linda Sarsour, Nora Loreto, and Chantell Barker , to hear about their successes and perspectives on making the changes that challenge the status quo and addresses bias. A moderated question and answer session to follow the presentation.
Come out, get energized and be part of that change!
SPCW began as an organization that sought to bring cohesion to the sector but still with the charity mindset to address the same social conditions that brought about the General Strike of 1919. However, we have evolved into one that focuses more on systems change as the only way to create true equity and social justice. At our 100th, we are looking forward rather than back.
Canadian Muslim Women's Institute (CMWI), a charitable organization that works towards empowering women, was founded in 2006 to fill the demand felt by newcomer Muslim Women. Since then it grew in capacity, the services offered and the clients served. By empowering women we empower their families, and consequently the whole community. CMWI is pleased to partner with Social Planning Council of Winnipeg in celebrating their 100th Anniversary.
Panel Speaker bios:
Chantell Barker is a First Nation woman from Sapotoweyak Cree Nation and her spirit name is Geetchi Nodin Ikwe. Chantell's educational background is Restorative Justice and Conflict Resolution. Currently, she is the Director of Justice for Southern Chiefs Organization. Prior to this position, she was employed with Manitoba Justice for ten years as a Probation Officer until she transitioned into program development and facilitation. During her time with Manitoba Justice, she developed the first recognized, evidence based, and court mandated Cultural Appropriate Program (CAP). Chantell presented at the United Nations on the over incarceration of Indigenous Women, presented at the Liberal Senate on Restorative Justice, and was a witness for the Standing Senate Committee On Human Rights regarding Corrections. As the SCO Director of Justice, Chantell strives to bring passion and a vision that restores balance and harmony within the First Nations by advocating for Justice transfer and reform.
Nora Loreto is a Quebec City-based writer and activist. She's the author of From Demonized to Organized, Building the New Union Movement, and she writes regularly for the Washington Post and the National Observer. As the editor of the Canadian Association of Labour Media, Nora trains union activists to improve their communications skills and strategies to be as effective as possible to take on governments and the bosses alike. She co-hosts the popular political podcast Sandy and Nora with Sandy Hudson. Locally, Nora is an active member of Québec solidaire, English spokesperson for the Citizen's Committee for the commemoration of the attack at Quebec City's Islamic Cultural Centre and is currently mobilizing against the CAQ government's religious symbols ban. You might know Nora best from Twitter, where she spends perhaps too much time.
Linda Sarsour is an award winning racial justice and civil rights activist, community organizer, every Islamophobe's worst nightmare and mother of three. She is a Palestinian-Muslim-American born and raised in Brooklyn, New York. She is the former Executive Director of the Arab American Association of New York and the co-founder of the first Muslim online organizing platform, MPower Change. She is a member of the Justice League NYC, a leading force of activists, artists, youth and formerly incarcerated individuals committed to criminal justice reform through direct action and policy advocacy.
Most recently, she was one of the national co-chairs of the largest single day protest in US history, the Women's March on Washington. She has been named amongst 500 of the most influential Muslims in the world. She has won numerous awards including Champion of Change from the Obama Administration. She was recognized as one of Fortune's 50 Greatest Leaders and featured as one of Time Magazine's 100 most influential people in the world in 2017. She is a frequent media commentator on issues impacting Muslim communities, Middle East affairs and criminal justice reform and most recognized for her transformative intersectional organizing work and movement building.
---
TICKET INFORMATION
Choose to support the Social Planning Council of Winnipeg by purchasing the $60 Premium ticket and get an income tax deductible tax receipt for the price difference or purchase the regular $35 ticket for general admission only. Be sure to provide complete details of contact information on the registration form to receive tax receipts.
Tickets can either be purchased online (Eventbrite service fees may apply) or directly from the Social Planning Council of Winnipeg at 432 Ellice Avenue, Winnipeg MB. Please contact 204-943-2561 ext 1229 or info@spcw.mb.ca for more information.
Low-income tickets also available for $15 at SPCW office only.
---
BONUS OFFER

Select 'yes' on the ticket registration form to receive FREE 1 year membership at the Social Planning Council of Winnipeg with any ticket purchase. At the end of your first year, you will be contacted by our office to review your membership terms.