Sound Art using Max/MSP

Saturday, 14 July 2018 at 1:00 PM

-

Saturday, 28 July 2018 at 4:30 PM (PDT)
Event Details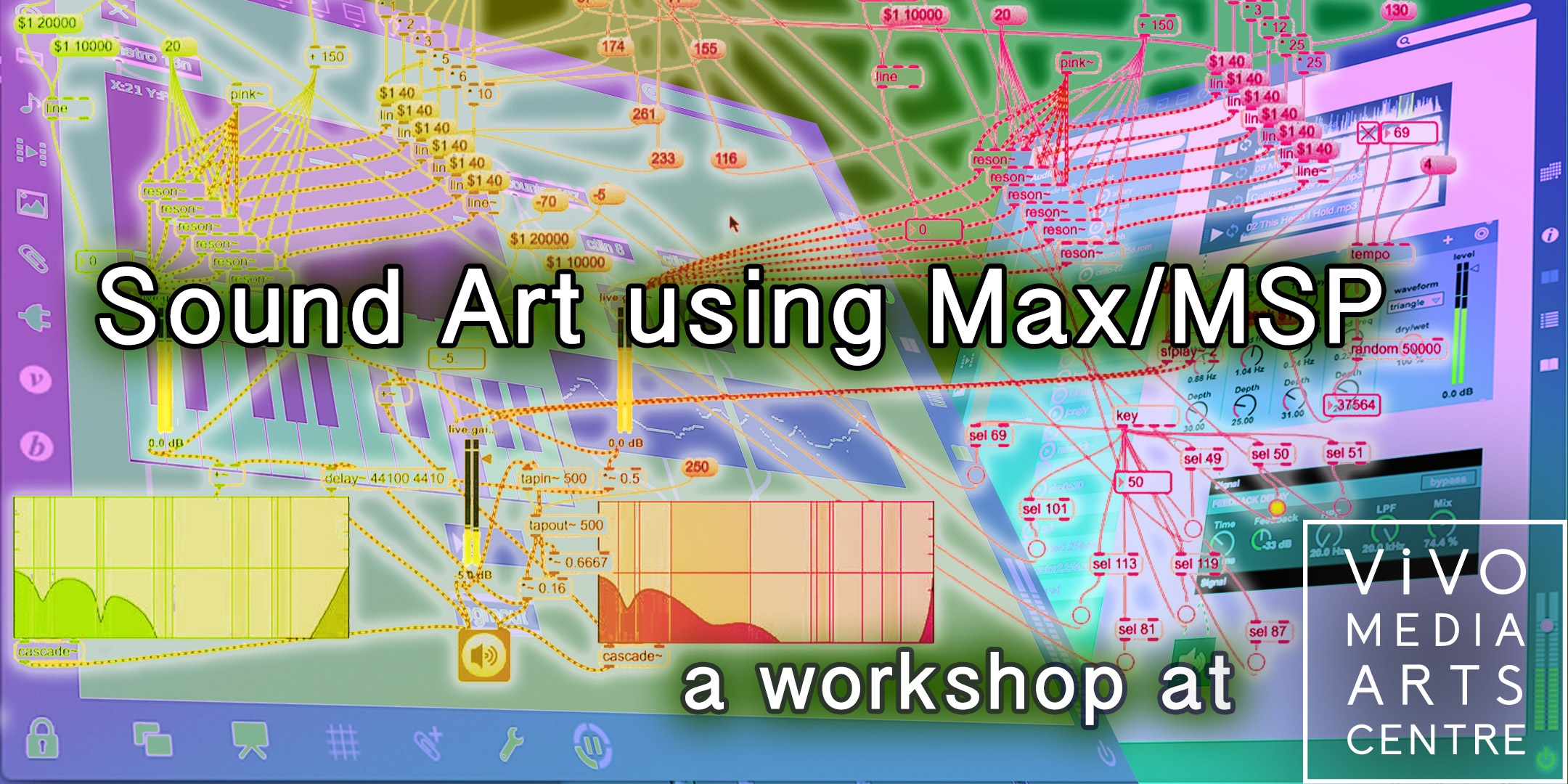 Sound Art using Max/MSP

Explore new ways of working with sound in this introductory visual programming workshop with composer and artist Nathan Marsh! 
Registration closes July 11!
3 sessions, 10.5 hours total //| $130,or $95 with any VIVO Producer Membership (+GST)
Session 1: Sat July 14, 1pm - 4:30pm
Session 2: Sat July 21, 1pm - 4:30pm
Session 3: Sat July 28, 1pm - 4:30pm
Prerequisite: Participants must have basic computer literacy (e.g., saving files, facility with a mouse and keyboard).
One extended subsidy is available for this workshop:
https://goo.gl/forms/977ehOZgfyCOfOBi2
This 3-session workshop will enable you to conceive and realize creative sound ideas using Max/MSP, a visual programming language for creating interactive sound art and other sonic experiments. MSP gives you over 200 Max objects with which to build your own synthesizers, samplers, and effects processors as software instruments that perform audio signal processing.
Who should take this workshop?
VISUAL ARTISTS – Add interactive sonic dimensions to your sculptures and installations!
COMPOSERS – Build your own virtual synths!
DJs – Expand your sonic pallet by making custom effects!
DANCERS & PERFORMERS – Design algorithms that prompt new improvisations!
…or anyone needing help to incorporate coding into their creative practices!
This workshop combines study of examples with hands-on experience, to create custom software patches in Max.
Learn basic history of coding and algorithms, and how Max is used by contemporary artists today from a conceptual standpoint.
 Through group discussion, you'll analyse examples of coding for artistic creation (with a focus on Max/MSP)—exploring the practicalities of the medium, as well as what constitutes "digital art" and how the idea of originality figures in this realm.
After becoming familiar with Max/MSP's basic concepts and workflow, you'll modify basic examples to create your own custom patch, based on your own artistic interests. Working alone or in pairs, you will come up with a project concept that uses Max as a creative tool. Using your concept as a guide, you will create a rough but workable Max patch by the end of the workshop! You can take this patch home with you to fully realize and implement in your future projects. By the end of the workshop, you'll also have the conceptual toolkit to draw inspiration from other artists working in interactive sound art.
Computers and software provided!
---
Want access to discounts?
Sign up to for an Extended Producer Membership:
http://www.vivomediaarts.com/join-participate/become-a-member
Or redeem your the Video Bucks you earned by volunteering:
http://www.vivomediaarts.com/join-participate/volunteer
---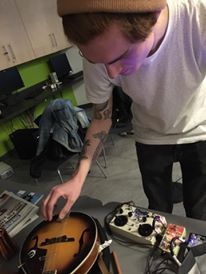 Nathan Marsh is a sound artist, educator and performer based in Vancouver primarily concerned with the concept of experience and "objecthood" in music. He emphasizes collaboration and physical involvement in the creation of his works, intending to draw people into the physicality of music as a lived experience rather than as a predominantly auditory phenomenon.
Nathan holds a BFA in Music from Simon Fraser University's School for the Contemporary Arts. Nathan is currently an Artist Mentor in Burnaby North Secondary School's Music and Technology Program in an initiative co-founded by the Western Front Society. Creation, performance, and education are key to structuring Nathan's artistic work.
---
Refunds: Class sizes are small, and our instructors need to be paid–if you can't make a class that you've signed up for, we need time to alert wait-listed participants. VIVO presently asks that withdrawals from workshops be requested by emailing education@vivomediaarts.com at least 12 days prior to the workshop date, if you would like to receive a refund minus a $5 administration fee. Thanks!
When & Where

VIVO Media Arts Centre
2625 Kaslo Street
Vancouver, BC V5M 3G9
Canada

Saturday, 14 July 2018 at 1:00 PM

-

Saturday, 28 July 2018 at 4:30 PM (PDT)
Add to my calendar
Organizer
VIVO MEDIA ARTS CENTRE, incorporated in 1973 as the Satellite Video Exchange Society (SVES), is Vancouver's oldest media arts access centre. VIVO continues to fulfill its founding vision by directly supporting independent artists, community-based producers and activists to develop and exchange their skills in a supportive environment. Our members gather around the tools and material means of production to invent new understandings, new genres and new friendships. Reflecting both the diversity of contemporary technologies and the symbiotic communities that coalesce around new forms of knowledge and creativity, our programming fosters formal, aesthetic and critical approaches to media arts practice. VIVO builds an audience of makers, organizers and critics through artists in residence, lectures, workshops, performances, exhibitions and curatorial and archival research. As an integral artist run centre in Vancouver, our resources and facilities will continue to inform and influence engagement in all levels of media art investment.