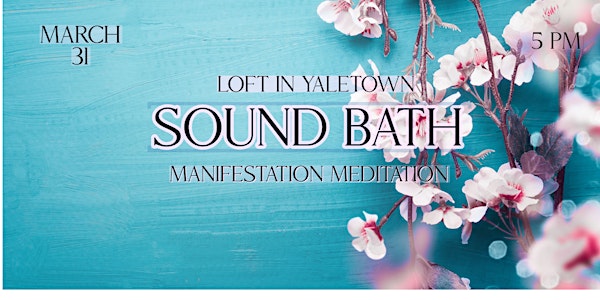 SOUND BATH - MANIFESTATION MEDITATION in YALETOWN
MANIFESTATION MEDITATION & SOUND BATH in YALETOWN
Date and time
Starts on Fri, Mar 31, 2023 5:00 PM PDT
Location
Yaletown Loft Seymour St. Vancouver, BC V6B 6J3 Canada
Refund Policy
Contact the organizer to request a refund.
Eventbrite's fee is nonrefundable.
About this event
(Please register with the email address that you use as this will be where further details about the session will be sent. Also, please check your junk folder for updates the day before the session. Contact us directly if you have any questions:) kasia@zhirecords.com)
--------------------------------------------------------
This Manifestation Meditation & Sound Healing Session will take place in a loft in Yaletown.
We all want to manifest our best life. However, this can be difficult to do when we are being held back by limiting beliefs and negative thoughts & patterns. Before we are able to manifest, we need to unblock and cut cords from those things, people and beliefs that are holding us back.
We will begin by using visualizations to unblock our energy channels aided by the powerful vibrations of the crystal bowls. We will then use specific energy tools to jump start that which we intend to manifest into our lives.
Reiki and aromatherapy will be used to enrich your experience. For the remainder of the session, we will enter into a deeply restorative sound bath with crystal singing bowls, pyramids, tuning forks, chimes and a crystal harp.
The session will last approximately 60 minutes and will be followed with an optional sharing circle.
We have some setup available, but if you are able please bring: a yoga mat, blanket, and an eye cover.
Minimum Required cost to cover expenses per person: $15 - if this is not feasible please just contact us:)
-------------------------------------------------
Chakras
In Sanskrit, the word chakra means disk or wheel and refers to the energy centres in the body. Each chakra corresponds to nerve bundles and major organs in the body. We have 7 major chakras and at least 114 other chakras in the body.
To function at our highest potential, our chakras need to be balanced. When our chakras are unbalanced, we may experience physical discomfort or emotional symptoms related to a particular chakra.
-------------------------------------------
Chakra Balancing
The purpose of Chakra Balancing is to restore the healthy and natural flow of energy in each Chakra.
Imbalances can happen easily and are triggered by everyday stress and challenges.
Overactive chakras can become the dominant force in a person's life with physical and emotion effects.
Under active chakras can show up as depression and insecurity.
When a Chakra becomes unbalanced, it becomes overloaded which hinders the flow of our energy. This stagnant energy then has the potential to impact our overall health.
Balancing Chakras means to release the tension in the Chakra and allow the energy to freely flow through again.
--------------------------------------------------
Sound Healing
The sound healing instruments used help tune the chakra centres to resonate to their proper, natural state. This allows energy to flow freely throughout the body/mind/spirit.
In this state, the parasympathetic nervous system is activated which takes us out of fight/flight/freeze and helps us into theta; the brainwave state of deep meditation where the body can self-heal.
Sound healing helps to bring in dopamine, serotonin, and oxytocin, leaving you calm, peaceful and rebalanced.
------------------------------------------
About the organizer
Sound has been utilized in various cultures for thousands of years as a tool for healing.
When our energy and emotions are blocked or unable to be expressed, they can become a major source of dis-ease. Sound is used to release energetic blockages to heal the body, mind and spirit.
Sound baths help to facilitate shifts in our brainwave state by using entrainment. Entrainment synchronizes our fluctuating brainwaves by providing a stable frequency which the brainwave can attune to. By using rhythm and frequency, we can entrain our brainwaves and it then becomes possible to down-shift our normal beta state to alpha, and even reach theta and delta.
The benefits of sound healing include better sleep, greater focus and attention span, mental and physical relaxation, easing of chronic pain, and greater overall peace of mind.
In her practice, Kasia uses a large selection of 432 Hz and 440 Hz crystal bowls. Each is tuned to a specific chakra. Kasia also uses an assortment of crystal pyramids, chimes, tuning forks, and a crystal harp.