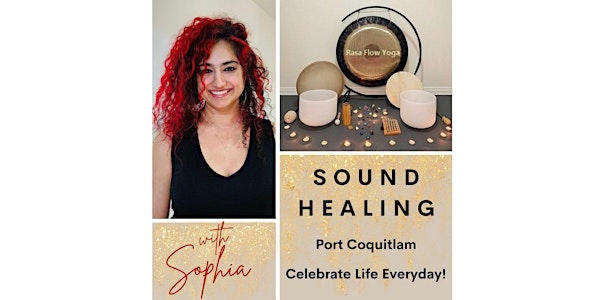 Multiple dates
Sound Healing Meditation + Balance Chakras + Release & Manifest
An opportunity to enter into an altered state of mind, theta brainwave state.
Date and time
September 23, 2022 · 7:30pm - August 27 · 8:15pm PDT
Location
Rasa Flow Yoga - Montrose Square 4140-2180 Kelly Avenue Port Coquitlam, BC V3C 3B1 Canada
Refund Policy
Refunds up to 1 day before event
Eventbrite's fee is nonrefundable.
About this event
Sound Healing is a meditative experience and a form of alternative medicine that has been around for thousands of years. The sound frequencies create a therapeutic atmosphere which allow you to enter into a theta brainwave state for insight, inspiration, intuition, deep healing and much more.
You will lie on your back peacefully (yoga pose: Savasana) and receive healing vibrations from a variety of instruments such as the Gong, Singing Bowls, Drums and Chimes.
Yoga mat & bolster is provided.
Bring a pillow, blanket and water for your comfort.
More Benefits:
- Clear stagnant energy and reduce stress
- Strengthen your immune system and your body's natural healing abilities
- Increase flow of energy and creativity
- Improve mental clarity and relationships
- Restore balance to the body's energy fields: Chakras and Nadis
(Nadis are 72,000 energy lines in the body)
- Enter into a state of deep relaxation and connect with the earth element
- Expand your awareness and connect with the either element
- An opportunity to manifest your goals or desires
- Magnify the benefits of sound healing when you participate around the energy of the New Moon or Full Moon!
-------------------------------------------
New Moon, Gemini Energy - Friday June 16th.
- Set an intention to explore your passions, hobbies, & groups of friends
- Celebrate your birthday month or astrological sign
- Welcome Summer!
-----------------------------------------------------
Sunday May 21st Sophia of Rasa Flow Yoga and Michele of Mateus Studios present Embrace Your Divine Feminine
Learn how to deepen your connection to your Divine Feminine Energy followed by a soothing sound bath.
----------------------------------------
About Sophia:
Sophia has been practicing yoga and exploring the world of healing arts since 2004. She is a mother, student, yoga instructor, yoga teacher trainer, sound healer and intuitive tarot reader. Sophia opened Rasa Flow Yoga in 2014. Her intention is to create a safe place for people from all walks of life to enjoy and benefit from various healing modalities. Sophia has been offering magical Sound Healing events combined with the New Moon / Full Moon themes. These events/ceremonies help people let go of energies that no longer serve them, open up to a world of abundance and align with their higher self to manifest. Visit www.RasaFlowYoga.com for more information on classes and workshops.
Follow me:
https://www.instagram.com/rasaflowyoga/
https://www.facebook.com/RasaFlowYoga
https://www.facebook.com/RasaSophia
I would love to host a private session for your group. Contact me to book a session. A private session can include yoga, meditation, sound healing, tarot and energy clearing.
Questions?
call: 604-971-5230
email: rasaflowyoga@gmail.com
-----------------------------------
Parking:
Rasa Flow Yoga @ Montrose Square, 4140-2180 Kelly Ave, Port Coquitlam
This new development is located behind the Port Coquitlam Community Centre at the intersection of Mary Hill Rd and Kelly Ave. You are welcome to park at the community centre.
To locate us using Google maps please use: 2388 Mary Hill Rd, Port Coquitlam. This is the address for the Montrose Sales Centre which will bring you towards the entrance of the building 2180 Kelly Ave, Rasa Flow Yoga.
Customer parking is available at Montrose Square. Head towards the roundabout and enter into the alley, Customer parking stalls are available at P1. 3 hour maximum, stalls: 1-7 & 32-48
Frequently asked questions