Sales Have Ended
Ticket sales have ended
Ticket sales for this event have now ended! Please message 778-928-8904 to inquire if there is space still available.
Sales Have Ended
Ticket sales have ended
Ticket sales for this event have now ended! Please message 778-928-8904 to inquire if there is space still available.
Description
Join for a deeply immersive and meditative experience of sound at Bridge & Enrich, a beautiful community space in Mt. Pleasant.
Date & Time: Sunday, March 15, 10 - 11 AM
In a sound immersion, you hear and feel a symphony of tones from singing bowls, tuning forks, bells and other overtone emitting instruments. The experience is also often called a sound bath because it literally feels like you are being bathed in sound.
It is a deep, somatic listening experience that offers people a gentle way to connect to their bodies and de-stress!
At this event, you will hear the tones generated from a set of crystal singing bowls thoughtfully selected for their high quality and tonal resonance. The sounds created by these instruments are incredibly powerful and their effect is calming for both body and mind.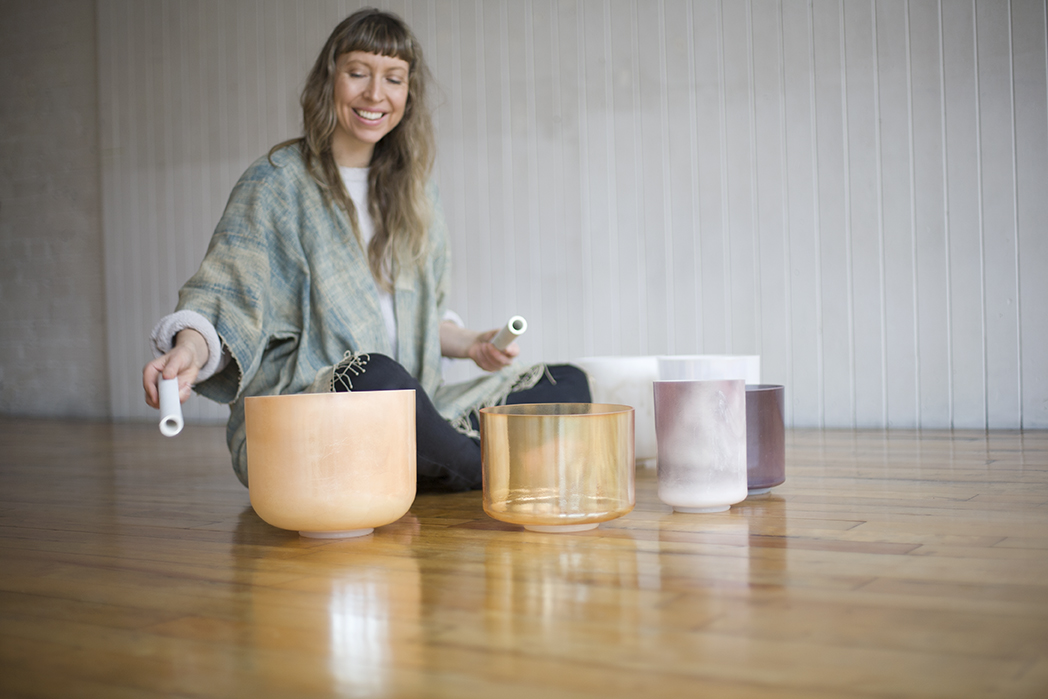 "Faye's music is deeply relaxing and beautiful. She creates soundscapes that transport the listener to a more sublime state of being. Truly exquisite."— Maia, Yoga Teacher


"I've been very lucky to attend a few of Faye's sound baths and I loved them. Not that I'm a professional sound bather or anything (not sure there is such a thing), but I thought she had the magic of sound wave delivery."— Jenn, Artist


"You just lie there and 55 minutes later leave feeling totally relaxed. Seriously, just try it!"
— Colette, Filmmaker
FAQs

What can I expect?
People often experience a sense of relaxation for days after a sound immersion, reporting tension relief as well as improved cognition, sleep and mood. It is peaceful yet powerful for mind and body.
Throughout the 60-minute session you may find yourself slowing down and shifting into a relaxed, lucid, dreamlike state.
What can I bring into the event?
Please dress warmly and bring your own yoga mat, blanket and anything else you will need for comfort. You will be lying down on the floor for 60-minutes and can expect that your body temperature will drop.

Is my ticket transferrable?
Yes, your ticket can be transferred to a future session if you are not able to attend.
What is the cost of a single drop-in session?

Tickets will be offered on a sliding scale of $25 - $35 for the months of February and March as a special promo. After this, session prices will increase to $35 starting in April.

You can pay either online via EventBrite or by cash at door. Note that a processing fee is added to all online payments. When you pay by cash at the door this fee will be waived. Please bring exact cash.

Interested in purchasing a 4-session package? Please contact me for details and questions.
PLEASE NOTE
When registering for one of my sessions you will be automatically added to my mailing list to be notified of future events. Don't worry, you can opt out at any time!


Organizer of Sound Immersion at Bridge & Enrich