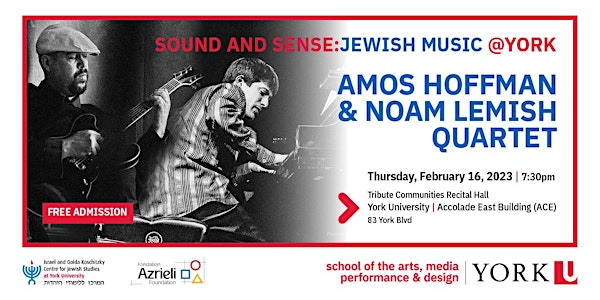 Sound & Sense: Jewish Music @ York - The Amos Hoffman & Noam Lemish Quartet
Israeli oud/guitar virtuoso Amos Hoffman and pianist Noam Lemish play jazz arrangements of Jewish melodies from around the world.
By Israel and Golda Koschitzky Centre for Jewish Studies
When and where
Date and time
Starts on Thu, Feb 16, 2023 7:30 PM EST
Location
Tribute Communities Recital Hall, Accolade East Building 83 York Boulevard Toronto, ON M3J 2S5 Canada
About this event
The Koschitzky Centre for Jewish Studies and the Department of Music in the School of the Arts, Media, Performance and Design are proud to present The Amos Hoffman & Noam Lemish Quartet as part of the year-long performance series "Sound and Sense: Jewish Music @ York". The Hoffman/Lemish Quartet offers an inspired blend of jazz and Jewish folk melodies. Amos Hoffman is an internationally renowned oud virtuoso and innovator; Noam Lemish is a multi-faceted, world-class pianist-composer and professor at York University. For years, Amos and Noam have been collecting Jewish melodies from different parts of the world including Kurdish, Yemenite, Moroccan, Ladino, Russian and Israeli songs. The quartet's lyrical and vibrant reimaginings of beloved Jewish melodies have been captivating audiences all across North America.
In their work together, Hoffman and Lemish create a refreshing and compelling sound, filled with vibrant sonorities, unique instrument combinations and compelling arrangements. The renditions are simultaneously faithful to the songs' origins and rooted in African American and Afro-Caribbean musical traditions. The result is a joyous, uplifting celebration, texturally rich music, filled with groove, lyrical melodies and outstanding solos. For this special concert, Hoffman and Lemish will be joined by some of Toronto's finest with Andrew Downing on bass, Ethan Ardelli on drums along with special guests Jacob Gorzhaltsan on clarinet and Beth Silver on cello.
Amos Hoffman, oud & guitar
Noam Lemish, piano
Andrew Downing, double bass
Ethan Ardelli, drums
With Special guests:
Jacob Gorzhaltsan, clarinet
Beth Silver, cello
The Tribute Communities Recital Hall (Accolade East Building) is located just outside York University subway station (line 1 - University).