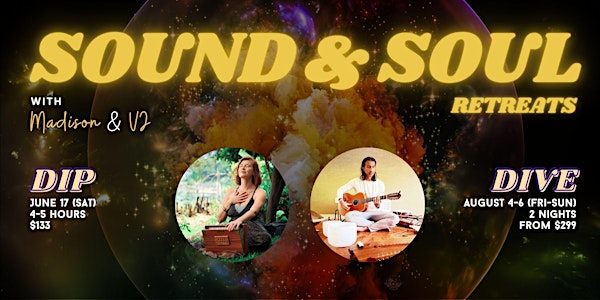 Sound & Soul Retreat - Dip
Realign your frequency to that of abundance! Let's Move, Meditate, & Manifest as we Melt into Music and Magic!
By VJ Bala & Madison Arsenault
Date and time
Sat, Jun 24, 2023 2:00 PM - 7:00 PM EDT
Location
24 Manor Ridge Trail 24 Manor Ridge Trail East Gwillimbury, ON L0G 1M0 Canada
Refund Policy
Contact the organizer to request a refund.
Eventbrite's fee is nonrefundable.
About this event
Madison & VJ offer this unique set of experiences curated to help you make the shifts you need, relax and recharge before stepping back into the real world.
All of existence is a dance between energy and matter. All of it vibrates at a frequency. All of us vibrate at a frequency at any given time, one that directly manifests and affects the world we live in. If you are needing a shift, some inner peace, a break, a revitalizing of energies or if you just need to relax ... our SOUND & SOUL Retreats offer just that. Two options "Dip" and "Dive" will give you a taste and then a deep immersion.
SOUND & SOUL - Dip (June 24th, 2PM)
Movement & Yoga
Cacao Ceremony
Dharma Discussion (Resonance & Manifestation)
Forest Meditation
Sound Bath
Voice Activation
Meal & Fruit
Early Bird: $111 (expires April 1st)
General Admission: $133
SOUND & SOUL - Dive (Two nights: August 4th-6th)
Movement & Yoga
Cacao Ceremony
Dharma Discussion (Abundance | Manifestation | Alignment)
Voice Activation
Sound Bath
Contemplative Journaling
Fire Prayer Release & Manifest Ceremony
Forest Nature Walk & Meditation with Intention Setting
Meals & Accommodations
Outdoor Camping: $299
Indoors (limit of total 3 people in two beds, ie., two would share a bed): $333
If you have any questions at all, please email us at vj@megalith.net
Join VJ and Madison for a day of rejuvenating & healing experiences in a beautiful & private space just a 45 minute drive north of Toronto. Madison & VJ offer a unique set of experiences, all curated to help you make the shifts you need, relax and recharge before stepping back into the real world.
This is truly a unique retreat experience involving sound baths, movement, nature connection, voice activation, cacao, inspiring dharma talks, song circles, and yummy healthy vegetarian food to nourish your body and ground yourself before heading back into the "real world".
More on the medicines offered:
* Voice Activation is… a powerful exploration of vibration as a healing tool. Vibration is EVERYTHING. And I believe that with some intention, grounding embodiment practices, and experimental toning or chanting, the voice can open up in a whole new realm of self-empowered healing. We can truly use our voice to HEAL ourselves on a cellular level. With this intentional activation of our voices, we will learn toning & breathing practices to unlock any energetic blockages, move the traumas from the body and transmute them into powerful vibrational sounds.
* Sound Baths are… are a therapeutic application of sound frequencies to the body/mind of a person with the intention of bringing them into a state of harmony and health. I will have instruments from all over the world at the studio space.
* Cacao is ... well it is divine hot chocolate! You will be receiving and drinking a delicious recipe made with ceremonial chocolate right from the cacao forests of Guatemala. Cacao is a heart opener and really allows you to feel the music and energy. I mean who doesn't like delicious chocolate!
* Yoga is… an ancient practice of connecting to your higher and most truest self through gentle movement & breath. This practice will be guided for all levels and will surely leave you feeling refreshed!
* Dharma Talks are… a conversation about your life's purpose. What inspires you in this life? What is it that makes you "tick" and what is the thing you have always wanted to offer the world? VJ has a way of connection to each and every individual by speaking profound universal truth in a down to earth kind of way. So let's get inspired!!
*
___
TICKETS:
* Early bird tickets are just $111 and must be reserved before June 1st!
After June 1st price goes up to $133
LOCATION:
A private and beautiful home in Mount Albert, Ontario.
***Exact event location will be sent out upon reserving your spot & buying your ticket! Check your email :)
__
VJ & Madison are so looking forward to connecting with all of you. Sending so much love & many blessings <3