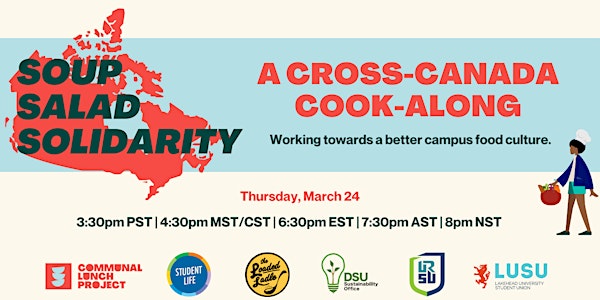 Soup, Salad, Solidarity: A Cross-Canada Cook-Along
Learning happens when students are nourished! Join students across Canada to cook together and work toward a better campus food culture.
About this event
SIGN UP. PICK UP. SHOW UP.
We are inviting students from any post-secondary institution to join us for a live cook-along on Zoom on Thursday, March 24, 2022, from 6:30-7:30pm EST.
Participating students from George Brown College, Lakehead University, Dalhousie University, and the University of Regina will receive a FREE ($10 value) local food box, courtesy of the Communal Lunch Project and our campus partners: GBC Student Life, the Lakehead University Student Union, the Loaded Ladle, and the University of Regina Students' Union.
Students from any campus in Canada are also welcome to join but must buy their own ingredients.
The CLP's Chef Joshna Maharaj will lead the group on a Zoom call to cook their choice of either a Root Vegetable Soup or a Warm Winter Salad. Students will choose one of these recipes, and with a few simple kitchen tools and extra bits, they'll cook together, making soup or salad in solidarity for a more nourishing, student-focused campus food culture. All levels of cooking skills are welcome!
SIGN UP
1. Joining from a partner campus:
For students from the four partner campuses, registration includes a free local food box. Students from GBC, Lakehead, Dalhousie, or U Regina can register by choosing their campus-specific ticket option.
*Registration that includes a local food box closes Wednesday March 16, 2022 at midnight EST.
Please register ONLY if you are sure that you can pick up your food box from your campus and can attend this event.
2. Joining from another campus with your own ingredients:
Students from any campus in Canada can register and buy their own ingredients. These students should select the "Joining with my own ingredients" ticket option and take note of the start time for their time zone.
*Registration for students buying their own ingredients closes Saturday March 19, 2022 at midnight EST.
PICK UP
The sponsored food boxes are ordered in advance from local suppliers for participating students. See below for campus-specific pickup details. Please make sure you pick up your box! If something comes up, please email us ASAP at communallunch@gmail.com, and make sure to tell us your name and campus.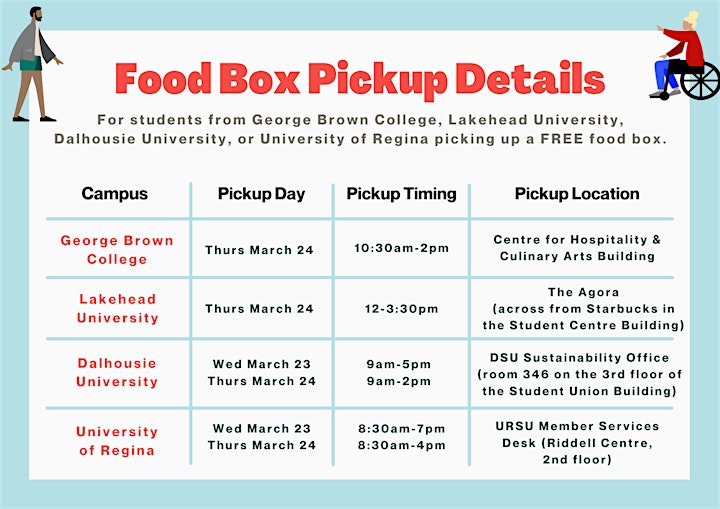 Here is a list of ingredients and equipment required. Choose one of these recipes to prepare during the Cook-Along: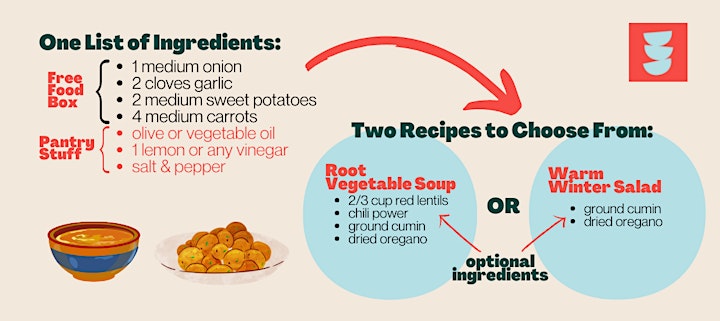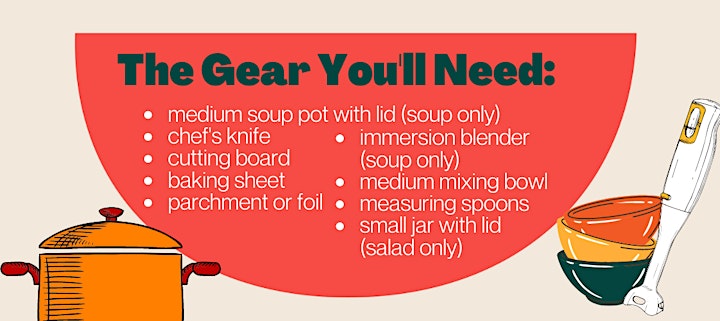 *We will also email cooking notes and recipes to all registered students earlier in the week of the Cook-Along.
SHOW UP
On March 24, with ingredients and equipment ready to go, students will login to the Zoom call to cook together. Event start times vary depending on the time zone, so make sure to double check your start time. There is a waiting room for the call, and we will begin admitting people 10 minutes before the start of the Cook-Along.
FAQs
Who is offering this program?
The Communal Lunch Project. We work to highlight the social function of food to address two issues disproportionately represented in the post-secondary student population: food insecurity and social isolation. The project proposes another way of doing lunch on campus. Check out our website & Instagram for more information.
What if I'm a student at another college/university?
Postsecondary students from any college/university in Canada are welcome to join us but will be responsible for buying their own ingredients (see the ingredient lists above).
What if the sponsored food box tickets from my campus are sold out?
If you are a student at one of the four partner campuses and all the sponsored food box tickets have sold out, email communallunch@gmail.com with your name and campus to be put on a campus waitlist.
Alternatively, you can also register for the event and purchase your own ingredients (see the ingredient lists above). Select the "Joining with my own ingredients" ticket option.