souper-sdo-10ans (2005-2015)

Sunday, 1 March 2015 from 5:00 PM to 10:00 PM (EST)
Event Details
Sous le thème : fêtons 10 ans de charité ( 2005-2015), votre association Soleil Des Orphelins (SDO) a le plaisir de vous inviter pour sa prochaine activité du Souper Rencontre annuel pour fêter son dixieme anniversaire. Nul besoin de démontrer, que ce soit d'un banquet ou d'un simple souper, les repas sont au cœur des liens tissés dans toutes les sociétés. Le Souper Rencontre est l'occasion idéale pour vous connaître , de rencontrer les parrains et marraines, les membres de l'association et les professionnels de notre communauté en profitant d'un copieux repas traditionnel dans une ambiance.des plus fraternelles.
ÉVENEMENT :
- DATE : Le Dimanche 01 Mars 2015 à partir de 17h00
- ADRESSE : Château Royal Laval 3500 Souvenir ,Laval, Québec H7V 1X2
* Souper rencontre au profit des orphelins dans le besoin
- PROGRAME: Anachid ,madih,groupe floklorique,humour, Tirage Cadeaux et d'autres surprises:
- MENU Adultes: Salades variées, Poisson, viande, Poulet et Dessert..
* Soirée d'activités pour enfants
- Programme : jeux gonflables, jeux Xbox, maquillage ,animation et d'autres surprises
- MENU Enfants: Buffet (Salades variées, Brochettes, Patates et Dessert..)
 PREVENTE : Adulte : 35$ , Enfants ( 3 à 11 ans) : 15$, garderie 7$
Tickets : SVP réserver par téléphone 1855 ORPHELIN ( 6774354) ou 514-730-1398 ,Rive sud 514-9242573
Disponible en ligne au https://souper10ans.eventbrite.ca

http://www.facebook.com/soleildesorphelins
www.soleildesorphelins.org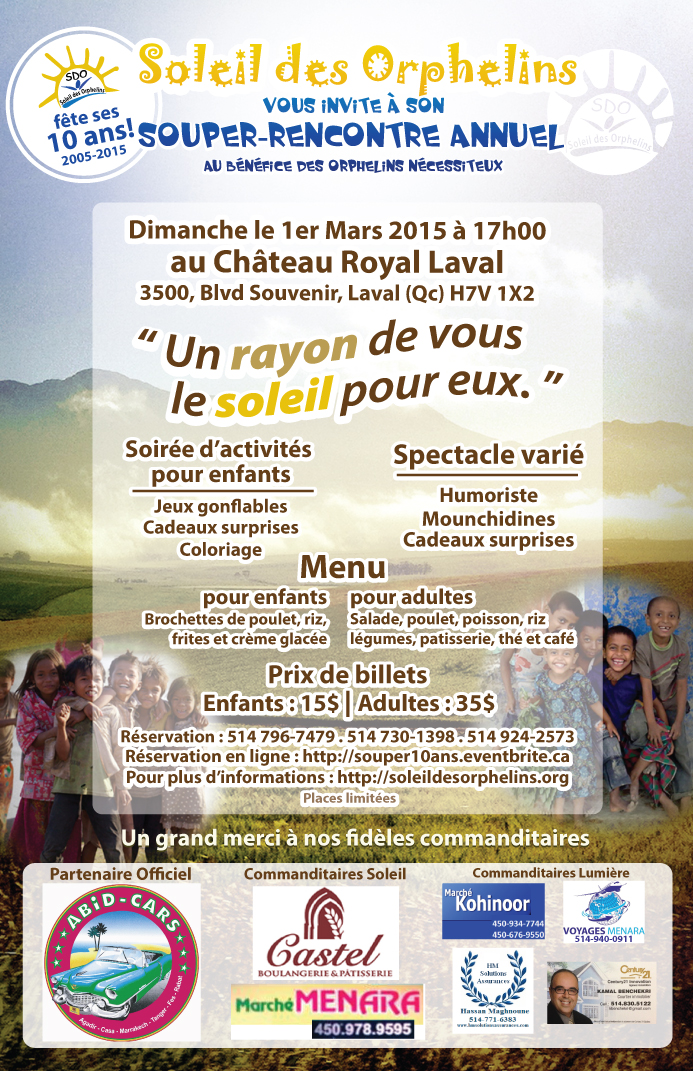 When & Where

Le Château Royal Convention & Reception Halls in Laval
3500 boulevard Souvenir
Laval, QC H7V 1X2
Canada

Sunday, 1 March 2015 from 5:00 PM to 10:00 PM (EST)
Add to my calendar
Organizer
Fondée en 2005 par un groupe des canadiens immigrants, Soleil des orphelins (SDO) est une association à but non lucratif basée à Montréal.
Cette initiative revêt un caractère humanitaire et social qui démontre la prise de conscience de certains canadiens de la cause de l'orphelin . Il matérialise aussi l'attachement des communautés immigrantes au Canada à leurs pays d'origine. Peu importe où il se trouve, l'orphelin en état de besoin demeure un cas social universel à soutenir par les plus nantis.
www.soleildesorphelins.org