Description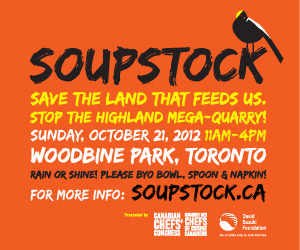 PLEASE BRING YOUR OWN BOWL, SPOON AND NAPKIN!
Join Chef Michael Stadtländer, the Canadian Chefs' Congress, the David Suzuki Foundation and over 160 of Canada's best chefs for a gourmet bowl of soup at Canada's largest-ever culinary protest in Woodbine Park, Toronto. Come raise a bowl at Soupstock and join the inspiring movement to protect our prized farmland and precious headwaters.
TICKETS ARE AVAILABLE AT ENTRANCES AND THOUGHOUT WOODBINE PARK 11AM-4PM, ON OCTOBER 21.
PURCHASE TICKETS HERE IF YOU DON'T LOVE LINING UP.
YOUR RECEIPT MUST BE SCANNED IN ORDER TO RECEIVE YOUR TICKETS.
PLEASE BRING YOUR RECEIPT!
Organizer of Soupstock Tickets
The Canadian Chefs' Congress connects chefs to our land in solidarity with farmers, fishers, gardeners, foragers and all artisanal food producers.This biennial gathering of chefs from across Canada reinforces the passion and integrity of Canadian food culture.
Le Congrès des chefs de cuisine canadiens a pour but d'unir nos chefs à nos terroirs en étroite collaboration avec les agriculteurs, les pêcheurs, les jardiniers et les cultivateurs, en somme tous ceux qui produisent nos aliments de manière artisanale. Grâce à ces rencontres biennales, les chefs pourront exprimer leur passion pour la culture canadienne de la table.