Get a baker's workout -- creating a batch of Sourdough Bagels..by hand! Take home what you make, and enjoy some for a light lunch!
About this event
Chewy..soft..flavourful..warm, and covered in butter and flaky sea salt..cream cheese, smoked salmon, capers and red onions! However-you-like-them-Bagels! This particular workshop takes place at the Langford Schoolhouse -- a one-room schoolhouse nestled amongst the cornfields, just outside of Brantford, between Ancaster and Paris.
Come learn the history, inns and outs of bagels, and get in a little Baker's workout by hand-kneading together your very own batch of naturally-leavened dough. We'll touch on the basics of Sourdough, mill some fresh grain for you to take home, and boil and bake some previously made bagels to sit down with and enjoy a light snack!
At the end of the workshop, each baker will go home with:
:: A booklet containing the day's recipes
:: A jar of sourdough starter for you to continue on in your sourdough baking with
:: Some freshly milled grain
:: 6 sourdough bagels to be boiled and baked in the comfort of your own home, and share with your friends and family (or not!) -- anytime in the next 12-36 hours after our workshop!
Please come to the workshop with 1 small and 1 medium sized mason jar or tupperware container, and 1 medium sized baking tray.
Coffee and tea will await your arrival, and we'll finish the workshop with snacking on some bagels and seasonal accompaniments.
Extra Info:
In favour of keeping each and every person as safe as can be during these fun and interactive experiences, in-person workshops are reserved for vaccinated individuals. If you have not received a vaccine but would be interested in attending a workshop, please consider my virtual workshops as an alternative option. laurenhambleton.com/workshops
Government mandated COVID guidelines will be in effect as required. Individual screening will be asked of each guest before attending. We will be spaced out according to government COVID regulations. Should there be any cancellation of this workshop due to COVID, guests will have the option for a full refund or to transfer their ticket forward to another event.
We will be on our feet for the workshop -- please wear comfortable footwear.
Feel free to bring a water bottle with you.
FAQs
What if I've never baked before and don't really know anything about sourdough..or bagels?!
This course is designed to appease people of all skill levels. Please come, bring your curiosity and get ready to learn!
Do I need to bring any tools/aprons/bowls/etc. with me?
All tools and equipment needed will be provided for you but please come with 1 small and 1 medium sized mason jar or tupperware container, and 1 medium sized baking tray for transporting some things home with you.
What is the refund policy?
You are eligible for a full refund up until 30 days before the event takes place. After the 30 days, refunds will not be provided. You are however able to send someone in your place if you aren't able to make it!
How long is the workshop?
The workshop will run from 10am until approximately 12:30pm. The time is dependent on how much curiosity and conversation is created throughout the day.
How can I contact the event organizer?
Via e-mail: sourdoughloh@gmail.com
Thinking of attending a workshop and wondering what other people have had to say of past experiences? Check it out!:
"Loved the workshop! A great instructor and a fun group to learn with. My husband and I loved the pie!" - Debbie
"Lauren made our day fun and I learned a lot. Would recommend this class to anyone. Posted my pie on Facebook and got a TON of compliments! Thank you Lauren!"
"Thanks for a great workshop! We thought it was really well done. Your time management between activities while we waited for the dough and how it was all put together was excellent. Let me know when you plan on organizing that one in Jordan, I'd like to bring my mom..she would love it!" - Chad
If you have any questions or require further information, please reach out to Lauren at sourdoughloh@gmail.com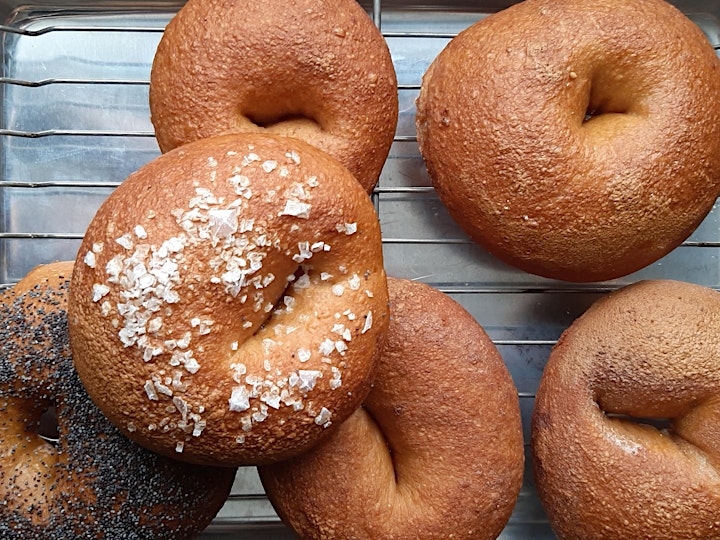 Organizer of Sourdough Bagel Experience
Lauren is a multi-faceted Pastry Chef who teaches Baking and Pastry at Humber College in Toronto, while also teaching her self-curated hands-on workshops in unique and rustic locations throughout Ontario, and Online throughout the world!
In 2016, Lauren was an award recipient of the Top 30 Under 30 Award through the Ontario Hostelry Institute. She held the position of Pastry Chef at Peller Estates Winery for 3 years before moving on to develop her love of teaching. Lauren loves all things sourdough, travel, food, and empowering people through detailed guidance to create delicious treats with their own two hands.