Description
Minga is excited to be offering this workshop in partnership with the Township of Guelph/Eramosa and the County of Wellington's Taste Real Program.
Join us on a fragrant Sunday morning to explore one of the most ancient human activities, baking bread. We'll make bread using the traditional sourdough technique. You'll leave the workshop with a fresh batch of dough to bake the next day, a freshly baked loaf of bread, a healthy and predictable sourdough starter, and the knowledge and confidence you need to make high-quality, rustic, sourdough bread at home.
Your instructor, Richard Priess, has spent years experimenting with rustic breads. He has developed a master recipe for sourdough breads that can be modified to create unique recipes that include various types of whole grains and whole grain flours, nuts, seeds, and fruit.
You want to take this class because y

ou've always wanted to learn how to make that sour, chewy and rustic bread at home. AND...
You like connecting and learning with other people who share your love of yummy bread
You like to know what's in your food, the science of how it works, and where to source the best ingredients
You will learn:
The steps to make an excellent loaf of rustic, sourdough bread.
How to weigh and mix ingredients.
How long to let the dough rise
How to shape it and how to support it while it rises again before baking.
How to care for your sourdough starter so that it will always make excellent bread.
You'll take home:
A healthy batch of sourdough starter to nurture and use for years to come!
A batch of sourdough bread that you made yourself, which you can practice baking at home using your newly acquired skills.
Flexible instructions so that you can easily make excellent bread at home, as well as recipes to try on your own that build upon the master recipe.
A freshly baked loaf of sourdough bread to take home and enjoy with friends and family.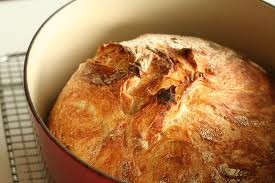 TESTIMONIAL
I just made a loaf of sourdough bread this weekend! I'm still amazed every time I make it just how easy it is and yet so impressive and tasty a loaf results! Very rewarding! I've been enjoying experimenting a bit with different flours (whole wheat, multi-grain) and add-ins (flax seeds, pumpkin seeds, cranberries, walnuts)… the possibilities are endless! What I particularly liked about the course was that it was very well organized and incorporated some science and some a
Thanks for a great experience!
Isabelle
________________________________________________________________________________________________
When: Sunday October 15, 2017, 10:00am-1:00pm
Where: Rockmosa Community Hall, 74 Christie St, Rockwood, ON
Total Spots Available: 16
Cost: $75 - 90.00 includes take home sour dough starter, loaf of freshly baked bread, and freshly made dough to bake at home.
10% off for those living in Guelph/Eramosa Township. Not sure if thats you? Click here to determine. Use the promotional code "rockwood". All addresses will be checked.
What To Bring: A large mixing bowl and an ovenproof pot with a lid. Ideally your pot will be a dutch oven. Either of these are ideal:

__________________________________________________________________________________________________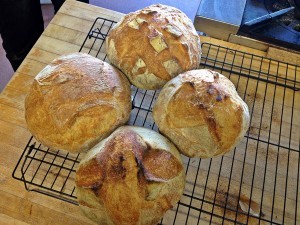 Your Instructor: Richard Preiss
Richard Preiss is a University of Guelph student who was inspired to make really good bread through a combined passion for thrift, science, and good food. His curiosity has led him to learn about food and cooking as much as possible while in school. Richard believes that his experience with bread making will make it easy to teach people how to make beautiful, creative, and delicious bread at home, and inspire them to cook more and experiment in the kitchen.
---
Thank you to our partners for helping to make this workshop possible!