Gather TOGETHER at Southside Church this weekend, in-person!
About this event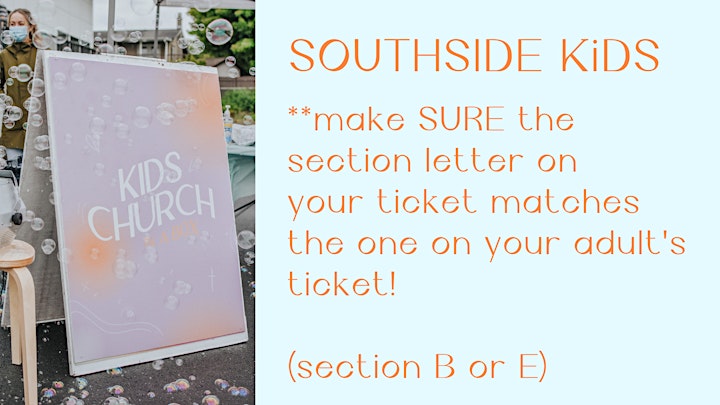 LIVE, in-person experiences in our brand new church home this weekend!
Get ready for an amazing experience complete with live music and a message of hope in our brand new auditorium.
Southside Church Building: 45636 South Sumas Rd
And Southside Kids (*adults and kids, the sections on your tickets MUST match)
Babies under 2 years old: no need to register with a ticket
(2 yr olds - grade 5) learning, games and fun planned for you in your own services, with amazing kids leaders 🎉
Nursery room open for parents to stay with their babies (under 24 months). Located in the nursing moms room for Section B, and in the "walker room" for Section E
Live feed of the service is piped in, so if your little one needs you to leave the auditorium, you won't miss a thing!
Southside KiDS is also so proud to offer our Equal Access Ministry (previously the Team Room), which provides support for children with developmental delays, any child who struggles with mental illness, or those who just need more support! If you would like to sign your child up for the Equal Access Room, make sure you select Section E and let the volunteer know at check-in!
*adults and kids, the sections on your tickets MUST match
Please stay home and participate in our online live-stream service if you or anyone in your household:
has had a fever in the past 14 days,
has returned from traveling to another country and is required to quarantine for 14 days,
shows any symptoms of COVID-19 (runny nose, cough, loss of taste or smell, sore throat, shortness of breath), or
has been in contact with anyone who has tested positive for COVID-19.