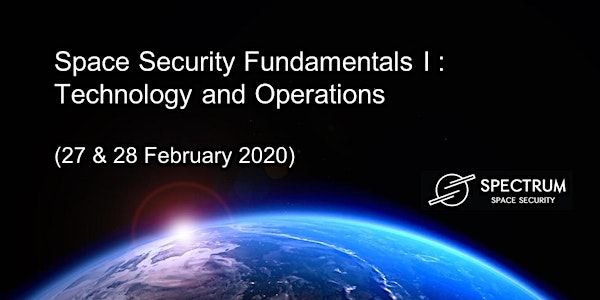 Space Security Fundamentals I : Technology and Operations (27-28 Feb)
Location
Le Germain Hotel Ottawa (Cangiante Room, 3rd floor)
30 Daly Avenue
Ottawa, ON K1N 6E2
Canada
Refund policy
Refunds up to 7 days before event
Eventbrite's fee is nonrefundable.
Description
Space security can be characterised as "the secure and sustainable ability to access, explore and use outer space for civil, commercial and national security purposes". As such, the field requires knowledge of satellite technology and operations, as well as the space environment, including hazards and threats from natural and human sources. The space security domain includes several specialised fields (technology, policy, legal) that may be studied separately, but converge in the real world and must therefore be approached in an integrated manner. Spectrum Space Security offers two professional development courses on the fundamentals of space security, one focussing on the technology and operations and once focussing on law and policy. This particular course addresses technology and operations.
Space Security Fundamentals I (Technology and Operations) is a two-day professional development training course that introduces the technology of space security. It covers the fundamental concepts required for an understanding of the capabilities and limits of technology and operations that impact the security of the outer space environment. Both natural processes and technological threats are addressed.
The course is intended for professionals working in the public and private sectors where knowledge of space security fundamentals is beneficial. Specifically, professionals in space policy, space programme management, space technology development and space regulatory fields will derive significant benefits from this course.
Space Security Fundamentals I (Technology and Operations) consists of the following modules:

Day 1: (27 Feb)
• Outer Space Environment
• Satellite Orbits
• Principles of Satellite Design
• Principles of Satellite Operations
• Space Situational Awareness: Tracking Space Objects
• Space Domain Awareness: Understanding Space Activities
• Technical Aspects of Military Space Applications
Day 2: (28 Feb)
• Space Hazards: Environmental
• Space Hazards: Debris and Sustainability of the Environment
• Space Threats: Technologies for Counterspace
• Space Threats: Counterspace Capabilities
• Cybersecurity for Space Operations
• Ballistic Missile Defence & Space Security
• Emerging Technologies and Challenges
* Registration includes course materials, lunches and refreshments.
** Please inform even orgnaiser of any food allergies/sensitivities at least 7 days prior to start of the event.