Description
Spark Your Creativity Inspiration Deck

Friday October 17 and Friday November 7
12:00 - 4:00pm $85
Let's face it: as creatives, we all have times when we're starving for inspiration! A few years ago, artist Lelainia Lloyd hosted a project with friends to create a deck of cards with all sorts of creative tips and tricks to help reignite the spark of creativity during times when it feels like it's gone out. She's delighted to now share this with new friends. This two part class will offer you the opportunity to tap into the collective wisdom of your fellow classmates to create a unique deck of cards that you can shuffle through any time you need an inspiration pick-me-up.
The first class will cover collage and composition techniques and Lelainia will give specific instructions on creating and copying the cards you create. This class will also have some creative time together to begin working on your cards. Between sessions you will have time to create additional cards. In the second class, you will bring your copied cards and assemble them, create a pretty bag for your deck and have a trading session with fellow students.
Supply List will be sent to you via email after registration.
Instructor: Lelainia Lloyd
Lelainia's artwork and articles have appeared in numerous books, magazines, e-books and independent zine publications. She is a designer for Paper Artsy.
Website

Limited to 12 people so instructor can give you personal attention.
Age 18+
SUMMARY

Doors open at 11:45 pm and the class begins at noon. The workshop wraps up around 3:45 where we take a photo of the entire group and your artwork for posting on social media accounts.

Water, Coffee and Tea are available but please feel free to bring your favorite foods or other non-alcholic beverages!
WHAT TO BRING

Yourself and a friend or family member

REFUNDS & CANCELLATIONS
Refunds will be given if workshop or class is cancelled by 100 Braid St Studios. If purchaser cancels, a credit can be issued for another event - 48 hour cancellation or reschedule notice required. Classes are subject to cancellation with refund if less than 5 participants are registered.

ADDITIONAL REGISTRATIONS
If you have already purchased a registration and require another one last minute please call 778-886-5391. Arrangements can be made to purchase an additional registration at the door via credit card only and a fee will be charged.
FAQs
Why do some classes and parties have age requirements?
We provide classes/parties for all age groups: adults, youth, and children. Some events are 16+, because of both subject and dexterity; others are geared toward children or youth and others are for the entire family where everyone can work together (no age restrictions).

What are my transport options getting to the event?

By Car: The studios are conveniently located just off of Hwy 1 on Braid St between Rousseau and Brunette. Parking is available in the front of the building and additional parking is available in the back of the building.
By Skytrain:
Millenium Line: Braid St Station.
100 Braid St Studios is about a three minute walk across the street from the Braid St Skytrain station. The station is the major interchange with skytrain for many Coquitlam and New Westminster bus routes.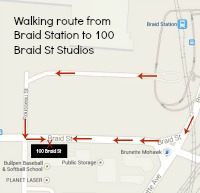 By Bus:
Many Coquitlam and New Westminster bus routes meet at the Braid Station interchange and then it's just a short walk to the Studios.

How can I contact the organizer with questions?
Please email at: 100braidststudios@gmail.com
Phone: 778-886-5391
Hours of operation:
Sunday, Monday Closed
Tuesday: by appointment only
Wednesday - Friday: 11am - 9:30pm
Saturday 11:30am - 9:30pm
We look forward to seeing you!