Description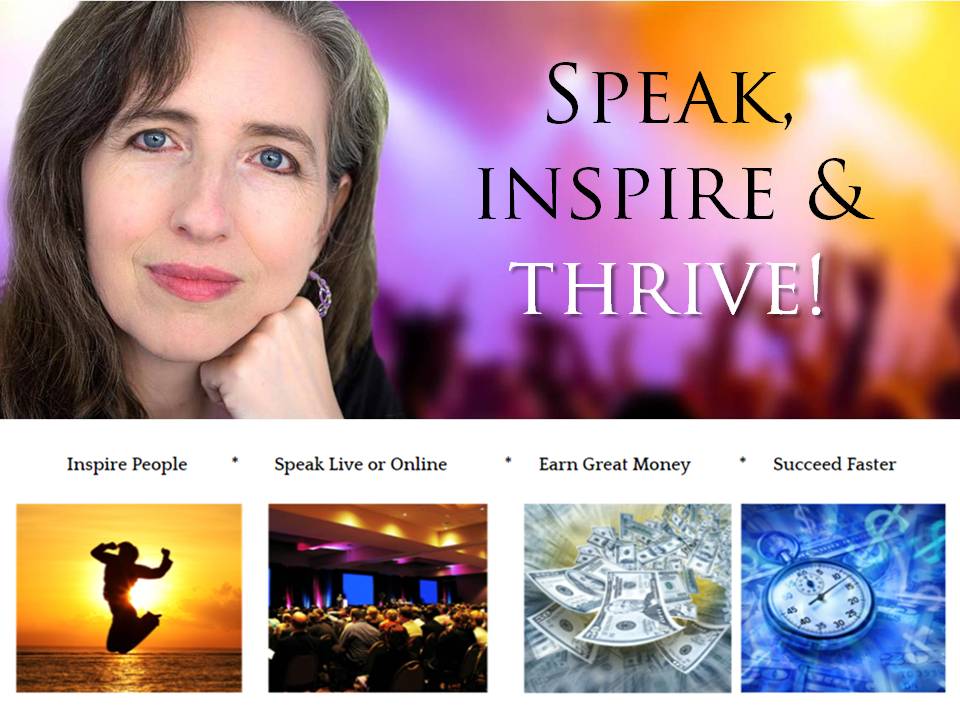 Would you like to Speak, Inspire & Empower People in an Online Course?
Are you a speaker, entrepreneur or executive? Would you like to...
* thrive & change lives?
* make great money by making a difference?
* live your dreams and change the world?
* get paid to market yourself online (yes, GET paid to market yourself)?
* make the world LGBT-friendlier (kinder to Lesbian, Gay, Bisexual, Trans people)?
* get clients you love?
Reach out to Over 20,000 Prospective Clients in Networks Led by Sharon Love, M.Ed.
Dare to dream of easily attracting high-paying clients, appreciate you, rave about you, send you lots of great referrals, and become your greatest success stories. When you create online courses, you can attract your ideal clients quickly and easily. If they love your online course, they will often love your live speaking or high-ticket programs.
We will Help You Create, Market and Sell an Inspiring, Empowering Course
We will promote you and your course to our LGBT-Friendly Professional Network, including LGBT-Friendly CEO and Executive Network, LGBT-Friendly Event Managers Network, and NVC Singles fb group, Sharon Love's LinkedIn profile, and Sharon Love's fb page, Sharon Love's facebook profile (you can see links on the home page at www.SpeakInspire.com ) .
We will also feature your talk on our websites with over 100,000 hits per year
We will promote your course on our websites, including OUTstandingLives.org, WinWithYourHeart.com, KindnessCircles.com , and SpeakInspire.com , with a total of over 100,000 hits per year.
Save 25 Years and Create and Sell Your Online Course, Quickly and Easily!
You don't need to earn a Master of Education degree in Psychology at University of Toronto. You don't need to do over 25 years of research into the Psychology of Success. You don't need to discover The 4 Secrets of the World's Greatest Speakers and Leaders and how to use them to inspire millions online. Sharon Love, M.Ed. (Psychology) has done all that for you. Sharon Love, M.Ed. can help you to structure, create, promote and sell your online course, even if you have no marketing or teaching experience. How much money and energy would you save by saving 25 years?
Learn how to Speak & Inspire Millions with the 4 Secrets of the World's Greatest Speakers and Leaders
By using the four secrets she discovered, Sharon Love, M.Ed. overcame near-mute shyness in her teens, and gave live presentations to thousands of people in English, French and Spanish. One of her presentations raised over $6,000,000 for a youth business centre. In total, she helped her clients to attract over $14,000,000 by speaking and empowering live audiences. Later, Love inspired over 2,000,000 people online to support marriage equality, collected over 60,000 petition signatures in just a few weeks, and helped to win equality across North America. If you work with Love to create online courses, you will learn the Four Secrets of the World's Greatest Speakers and Leaders, and use them to speak, inspire, and thrive. Of course, inspiring millions is a goal, not a guarantee, as we don't know you or your speech yet.
Enjoy Over $30,000 of Inspirational Marketing & Speaking Consulting, Video Production & Promotion
Sharon Love, M.Ed. will offer three hours of consulting, video production and coaching using video conference technology. Her consulting alone is worth over $30,000. She will introduce you, interview you, and create an inspiring and empowering approach to your topic that audiences love. She will also promote you to her networks.
My Goal is that every Dollar that you Invest with us Quickly Comes Back to You One Hundred Times Over
Some clients get a higher return on investment; some get a lower return on investment. It depends in part if you if you speak in an inspiring and empowering way, and if you help to share the online course. As a result, that's a goal, not a guarantee.
Would you rather swim to Hawaii or take an eco-jet?
Trying to research, design, produce, promote and sell an online course on your own is like trying to swim to Hawaii, in cold, shark-infested waters. It's NOT easy, and it's not recommended. Many speakers, entrepreneurs and executives drown in overwhelm with the technical, psychological and marketing challenges of creating online courses. If your course includes Psychological principles, having Sharon interview you and discuss topics with you will give you credibility (and avoid liability). Collaborating with Sharon Love, M.Ed., who has inspired over 2,000,000 people with her online program, is like going to Hawaii by eco-jet. Yes, there is a cost to the ticket, and it will get you where you want to go far faster and easier!
*Note that We only Promote Inspiring and Empowering Programs that Fit our Values
The online course and any related websites, products or services need to benefit you, other people and the planet (and be legal, ethical, LGBT-friendly, diversity-friendly, family-friendly, non-violent, eco-friendly and kind to animals). As long as your message and site do not harm anyone or the planet, we're probably ok with that. We do not promote meat, alcohol, or tobacco products. We accept spiritual messages (such as the fact that meditation and yoga improve wellness), but no messages promoting a specific religion. We will promote sexual health, but not "adult" services or products. Thank you.
You need an HD webcam
In order to guarantee that your course gets plenty of promotion and plenty of clients, we will launch it on Udemy. You will need an HD webcam that fits their specificiations (usually it costs under $100), as well as a computer and internet connection in a quiet space. We will use Zoom video conference software, and record the conference(s) to produce (a) video(s) of you and/or Sharon Love speaking.
You are Guaranteed to Triple Your Income and Your Free Time
If you complete all assigned Speaking Success Projects (quick niche market research survey, inspirational story scripting, empowering course outline, Inspirational Speaking video conference of 30-60 minutes, and sharing with your online networks), you are guaranteed to triple your income and your free time within three months of the course launch. If not, Sharon Love, M.Ed. will give you another hour of consulting and/or video production (worth $10,000). If you complete all assignments then, the guaratee the continues for the next three months, and so on for up to $100,000 of extra consulting and/or video production time.
Live Your Dreams & Change the World!
Thrive & Change Lives. Make great money by making a difference.
Thanks!
Together, we can inspire your world.