Description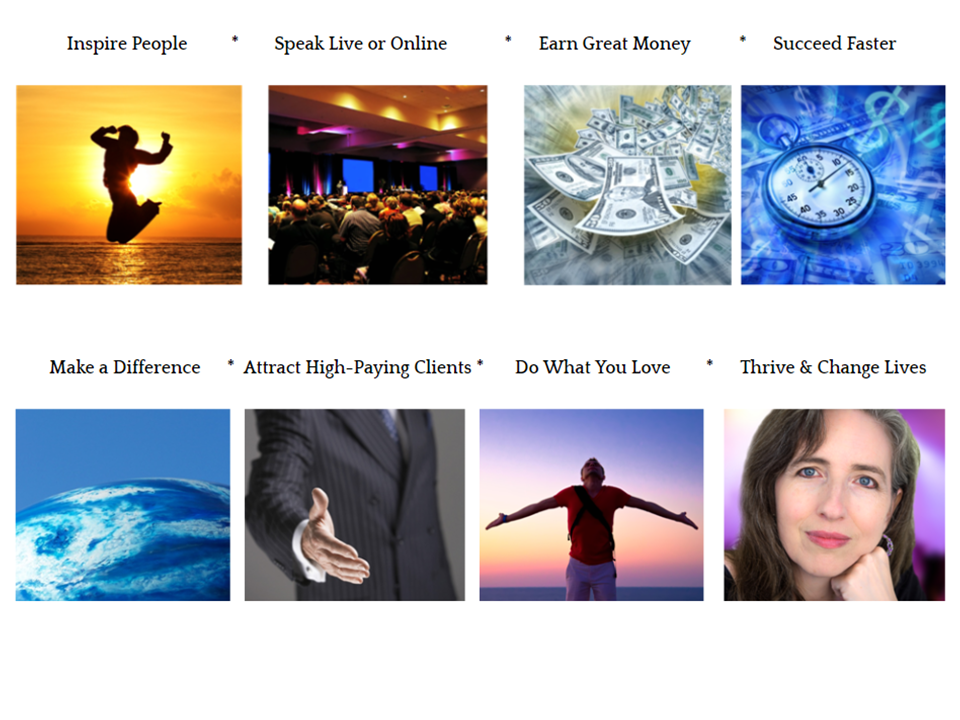 For a video introduction, click https://youtu.be/56M17d2Gmso
Donate $100 or more and get a free bonus 20-minute speaking success consultation with Sharon Love, M.Ed. (value $2,500).
Would you like to quickly launch your speaking success through the stratosphere? In this inspiring and empowering quick online Master Class (less than two hours), you will enjoy lively videos and V.I.P. downloadable PDFs. You will discover...
How much Money You should Charge to Speak (WHY corporations pay $10,000/hour or more)
How to Avoid the 4 Titanic Mistakes that Sink Most Speakers' Success
How to Inspire Kindness & Profit from Changing the World
How to avoid Attack of the Speaker Clones
The Inspiring Story of the Mute Girl who Inspired Millions
Profit from Presenting with Secrets of a 7-Figure Speech
The Three Secrets to Inspiring & Empowering Your Audience
How to Skyrocketing Your Confidence on Stage and in front of the Video Camera
How to Instantly Become the World's Leading Expert in Your Field (at no extra cost) with 3 Secrets
How to Clarify Your Great Purpose with One Life-Changing Question
The Four Keys to Getting High-Paying Speaking Opportunities
The 6 Highest-Paying Speaking Topics
LOVE INSPIRING PEOPLE? CLICK THE GREEN "TICKETS" BUTTON (ABOVE, RIGHT) TO GET STARTED NOW.
With the Speaking Success downloadable PDFs, you will discover...
7 Secrets to Quickly Get Clients You Love, who Love You
Win with Your Heart! Attract Success in 5 Minutes per Day
The 5 Spiritual Secrets to Your Billionaire Brand
Create & Sell Your Billionaire Brand Game: 3 Secrets
Clarify Your Vision, Dreams and Goals
Speak & Inspire Millions: The 5 Secrets
For anyone who donates $100 or more towards the course, you will get a chance to book a free bonus consultation of 20 minutes with Sharon Love, M.Ed. at Sharon(at)outstandinglives.org
YOU CAN CLICK THE GREEN "TICKETS" BUTTON (ABOVE, RIGHT) TO GET STARTED NOW.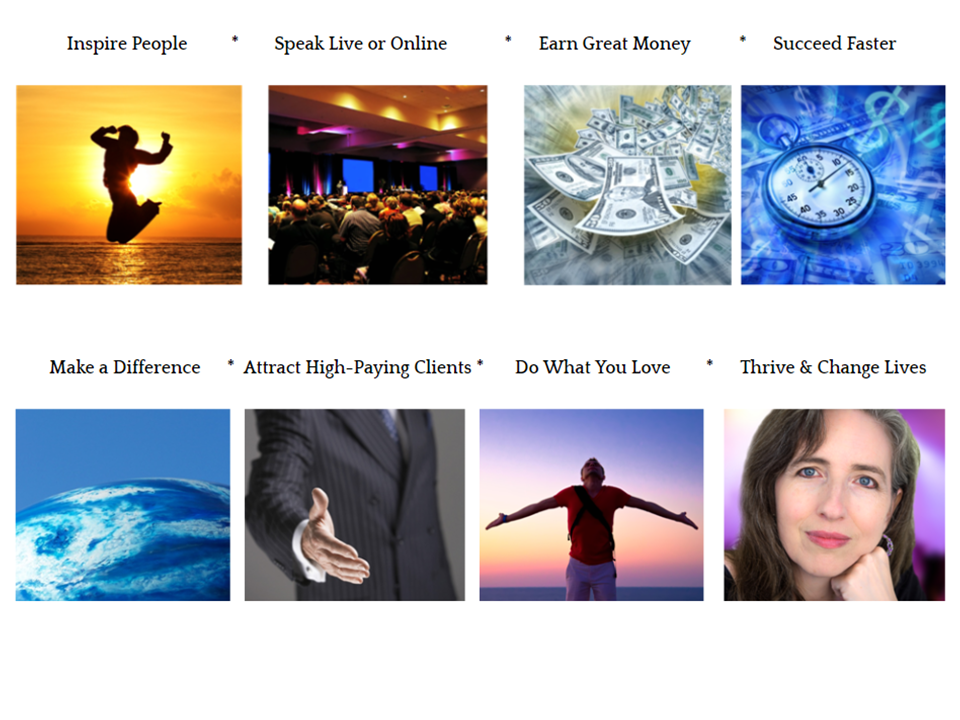 * Of course, your results will depend on you, your motivation, your contacts, your skills, and the time and energy you put into your speaking career, so we cannot guarantee results of everyone online. Success in speaking does require time and energy.
PLEASE CLICK THE GREEN "TICKETS" BUTTON (ABOVE, RIGHT) TO GET STARTED NOW. :)
Organizer of SPEAK, INSPIRE & THRIVE Online Master Class
SHARON J. LOVE, M.ED. (Psychology) has used the speaking success secrets she teaches to overcome near-mute shyness, inspire millions of people and raise millions of dollars.  An award-winning inspirational speaker and motivational speaking success consultant, she also hired speakers for high-paying speaking opportunities in the corporate world.  For more information, visit www.SpeakInspire.com