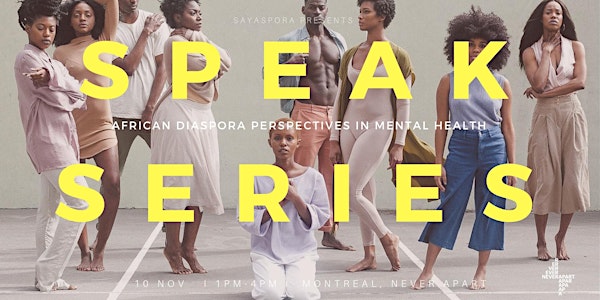 Speak Series 03 : African diaspora perspectives in Mental health
When and where
Location
Centre Never Apart 7049 Rue Saint-Urbain Montréal, QC H2S 3H4 Canada
Description
*Version française à suivre*
Speak Series 03 : African diaspora perspectives in Mental health
On November 10th, from 1 pm to 4 pm, join us for the screening event of the third episode of SPEAK SERIES ; A bilingual documentary series that aims to share conversations between young people from the African diaspora.
The event will be held at Never Apart, a non-profit organization in Montreal that aims to bring a social change and spiritual awareness on a global scale through its cultural programming.
Exhibitions | Projection | Moderate discussion | appetizers
This third episode deals with the mental health of the African diaspora, the importance of consulting and the obstacles to the various forms of help available. We will also discuss our belonging to a minority group and the influence this has on our mental health. It is therefore in a context of exchange, sincere and committed conversations that this episode comes to take root.
Timetable:
1PM - 2.30PM: Spoken Word poetry, Exhibition, bites
Exhibition
The exhibition is organized by the collective "The Deranged Collection". This group is made of young African poets from Zimbabwe, Senegal, Nigeria and many other countries.
2.30 PM: Screening of the episode, followed by a discussion open to all.
Bilingual event. Limited capacity.
Nb. This episode will be in English but the discussion and the event will be bilingual (EN).
________________
Speak Series 03 : Perspectives de la diaspora africaine sur la santé mentale.
Le 10 Novembre prochain de 13h à 16h joignez-vous à nous pour l'événement de projection du troisième épisode des SPEAK SERIES, une série documentaire bilingue qui a pour objectif de partager des conversations entre les jeunes de la diaspora africaine.
L'événement se déroulera à Never Apart, un organisme à but non lucratif de Montréal qui a pour but d'amener des changements sociaux et une conscience spirituelle à l'échelle mondiale par le biais de sa programmation culturelle.
Expositions | Projection | Discussion modérée | Apéritifs
Ce troisième épisode traite de la santé mentale au sein de la diaspora africaine, de l'importance d'aller consulter et des obstacles aux différentes formes d'aides présentes. Nous discuterons également de notre appartenance à un groupe minoritaire et l'influence que ceci a sur notre santé mentale. C'est donc dans un contexte d'échange et de conversations sincères et engagées que cet épisode vient prendre ancrage.
Horaires :
13h - 14h30 : Spoken Word poetry, Exposition, bouchées
Exposition
L'exposition est organisée par le collectif "The Deranged Collection" . Ce collectif est composé de jeunes poètes africaines venant du Zimbabwe, du Sénégal, du Nigéria et de bien d'autres pays.
14h30 : Projection de l'épisode, suivie par une discussion ouverte à toutes et tous.
Événement bilingue. Capacité limitée.
Nb. Cet épisode sera en anglais mais la discussion et l'événement seront bilingues (EN).