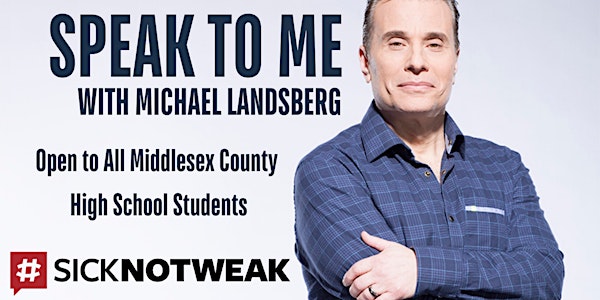 Speak To Me with Michael Landsberg - Middlesex County High School Students
We know things have been tough. That's why we are excited to bring Michael Landsberg virtually to Middlesex County to talk!
About this event
My name is Michael Landsberg. In 2009 I shared my then decade long battle with severe depression on Off the Record (the TV show I hosted on TSN). I was stunned to realize that by simply sharing my illness in a totally open way, and using the platforms I had available to me – I could change people's lives- perhaps even save them. With that knowledge, in 2016 I founded (with others of course) #SickNotWeak.
Middlesex County is excited to host Michael Landsberg in a two-night event for his talk - "Speak To Me: 3 Words Every Teen Needs to Hear and Every Parent Needs To Say". The first night (Tuesday February 1st at 4:00pm) is open to high school students all across Middlesex County, Ontario. The second night (Wednesday February 2nd at 7:00pm) is open to parents and guardians in Middlesex County, Ontario.
A link to the Zoom event will be provided the day of the event via the email you register with.