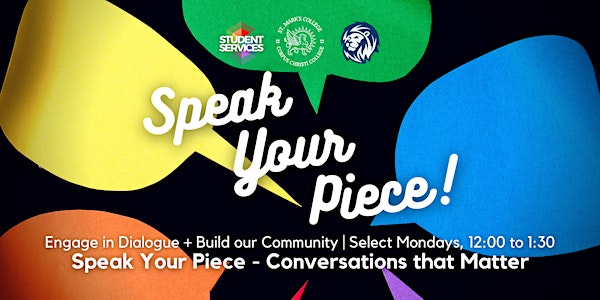 Speak Your Piece - Conversations that Matter
Speak Your Piece - Conversatios that Matter
When and where
Location
Corpus Christi College 5935 Iona Drive Vancouver, BC V6T 1J7 Canada
About this event
*For March 1's Speak Your Piece (SYP), we have postponed this session to the next one on March 15 on account of Mardi Gras Tuesday events campus wide.*
Let's build our community through meaningul dialogue in Speak Your Piece - Conversations that Matter:
We can focus on open dialogue and discussion
We can engage in thoughtful communication
We can practice public speaking skills
We can provide an open forum for all to voice their ideas and opinions
First, we are preparing a series of conversation topics for us to hear and speak about. Let us know which topic(s) you are interested in (hearing and/or speaking) in our order form.
For now, here are the topics coming up:
April 5, 2022 - Mental Health Issues on Campus
April 5, 2022 - (Time Permitting) Phone Addiction in our Work and Life
Next, not only do we offer a safe space to share your thoughts, we also offer pizza to enjoy at the event. Let us know which kind of pizza you prefer and/or whether you have any dietary restrictions, e.g. allergies.
*For March 1's Speak Your Piece (SYP), we have postponed this session to the next one on March 15 on account of Mardi Gras Tuesday events campus wide.*
Speak Your Piece is scheduled for the 1st and 3rd Tuesdays from February to April, Starting on Feb 15, before Final Exams. To learn more, you can reach us at studentservices@corpuschristi.ca.