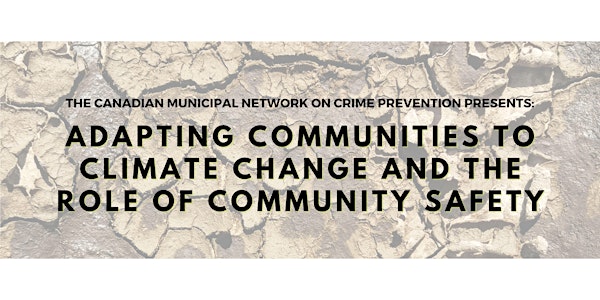 SPEAKER SERIES – Adapting Communities to Climate Change
How do we integrate climate adaptation planning with community safety planning locally?
About this event
The delayed and inconsistent responses to mitigate climate change are posing a complex challenge for humanity. Along with threats to infrastructure and the economy, climate change is increasingly likely to exacerbate existing community safety challenges and to create new threats for local communities and their populations.
Cities and their inhabitants are highly vulnerable to safety risks associated with climate change due to their high population density and large volume of government services and economic and social infrastructure. Additionally, many smaller, northern, and rural communities will struggle with climate change-related community safety challenges as they disproportionately experience its effects. Unfortunately, most local adaptation efforts have excluded community safety practitioners and experts in their development, and therefore overlook the need for approaches to prevent and address community safety challenges related to climate change.
In light of these gaps, the Canadian Municipal Network on Crime Prevention is hosting a Speaker Series on Community Safety Challenges of Climate Change.
In the second 90-minute session of this series, join Glenn Milner from the Climate Risk Institute to learn more about opportunities for adapting climate change and fostering community safety and resilience. This session will feature a panel discussion with partners in the field and a scenario planning exercise.
DATE & TIME
June 16, 2022 at 10:00 AM PT / 11:00 AM MT / 12:00 PM CT / 1:00 PM ET / 2:00 PM AT
COST
Free.
PRESENTERS
Glenn Milner
Engineering and Climate Risk Lead at the Climate Risk Institute
Glenn has over 10 years of experience working on climate risk and adaptation initiatives across Ontario, Canada and the United States
Christy Wood
Social Planner, City of Nanaimo
Christy works to improve community safety and well-being for all by incorporating the social determinants of health and justice
Felix Munger
Executive Director, Canadian Municipal Network on Crime Prevention
Research Fellow at the Viessmann Centre for Engagement and Research in Sustainability (VERiS), Wilfrid Laurier University, Ontario, Canada