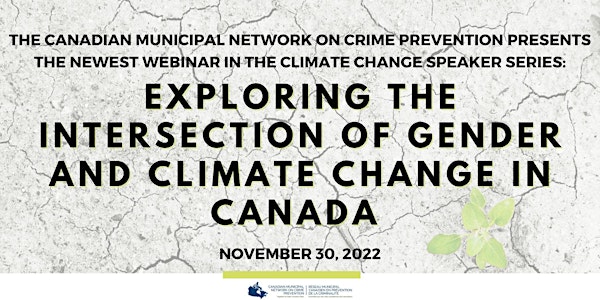 SPEAKER SERIES: Exploring the Intersection of Gender and Climate Change
What are the differential climate change impacts for women and gender diverse people in Canada?
About this event
The delayed and inconsistent responses to mitigate climate change are posing a complex challenge for humanity. Along with threats to infrastructure and the economy, climate change is increasingly likely to exacerbate existing community safety challenges and to create new threats for local communities and their populations.
Cities and their inhabitants are highly vulnerable to safety risks associated with climate change due to their high population density and large volume of government services and economic and social infrastructure. Additionally, many smaller, northern, and rural communities will struggle with climate change-related community safety challenges as they disproportionately experience its effects. Unfortunately, most local adaptation efforts have excluded community safety practitioners and experts in their development, and therefore overlook the need for approaches to prevent and address community safety challenges related to climate change.
In light of these gaps, the Canadian Municipal Network on Crime Prevention is hosting a Speaker Series on Community Safety Challenges of Climate Change.
The Canadian Women's Foundation is a national leader in the movement for gender equality in Canada. Through funding, research, advocacy, and knowledge sharing, we work to achieve systemic change. With communities throughout Canada experiencing climate crisis events and impacts, the Canadian Women's Foundation has increased our focus on the gendered impacts of climate change. Through our work on gender-based violence, we were already aware that when communities are under stress— whether from climate-induced disasters like floods and fires, economic downturns, or public health crises—rates of gendered violence increase, with important implications for community safety. We're now also exploring differential climate change impacts for women and gender diverse people across economic security, health, housing access, food security, transportation, displacement and migration, and advancement of decolonization with an intersectional lens in mind. While there is still much research to do on gender and climate change in Canada, there is also much to discuss in the present moment.
DATE & TIME
November 30, 2022 at 10:00 AM PT / 11:00 AM MT / 12:00 PM CT / 1:00 PM ET / 2:00 PM AT
COST
Free.
PRESENTERS
Ann Decter
Senior Director, Community Initiatives and Policy
Canadian Women's Foundation
Karen Campbell
Director of Community Initiatives & Policy
Canadian Women's Foundation
Felix Munger
Executive Director, Canadian Municipal Network on Crime Prevention
Research Fellow at the Viessmann Centre for Engagement and Research in Sustainability (VERiS), Wilfrid Laurier University, Ontario, Canada