Political Studies Speaker Series - Fall 2021
About this event
Event Details:
Thursday, November 18, 2021
2:30 - 4:00 PM
Zoom (link will be emailed to registrants the day of the event)
Speaker:
Spencer McKay, Buchanan Postdoctoral Fellow in Canadian Democracy
Brief Biography:
Spencer's research focuses primarily on how democratic theory can inform the (re)design of democratic institutions. As Buchanan Post-Doctoral Fellow, Spencer is beginning a new project that examines both continuity and change in democratic institutions by examining processes of democratic reform in Canada. His other ongoing projects, including a book manuscript entitled Democratizing Referendums, focus on referendums and ballot initiatives in the history of political thought and in contemporary democratic theory.
Before coming to Queen's, Spencer held a Social Sciences and Humanities Research Council Postdoctoral Fellowship at the Wilf Family Department of Politics at New York University and was previously a research associate at the Centre for the Study of Democratic Institutions at the University of British Columbia.
Title & Abstract:
"Mass Legislation: A Democratic Theory of Referendums and Ballot Initiatives"
The relationship between democracy and popular vote processes, such as referendums and ballot initiatives, is deeply contested. Popular vote processes are often justified with reference to theories of direct democracy or plebiscitarianism, even though neither of these accounts appears desirable to most contemporary democratic theorists. While it is tempting to abandon popular vote processes, I suggest that popular vote processes are democratic when they are designed as institutions of mass legislation. The core idea of mass legislation is that popular vote processes share characteristics of both elections and legislatures and so we should design them to enable both large-scale participation and careful lawmaking. This view has precursors both in the history of political thought and in contemporary attempts to reform referendums and initiatives. I make these underlying normative commitments explicit and build them into a coherent theory by developing a set of principles of mass legislation. I contend that an account of mass legislation provides both a democratic defence of referendums and practical guidance on questions of institutional design.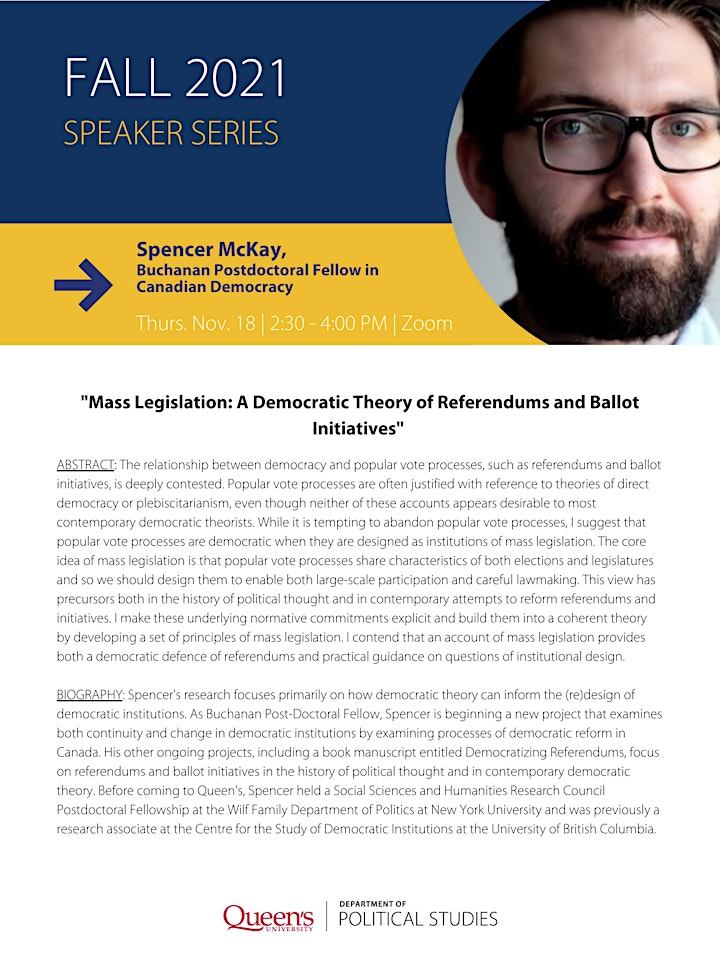 Organizer of Speaker Series: Spencer McKay