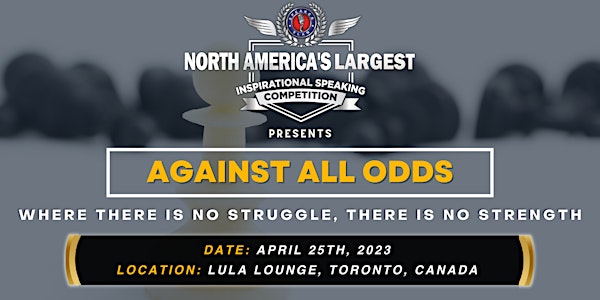 Against All Odds | Speaker Slam: Inspirational Speaking Competition
10 speakers share their life stories to inspire you and 4 industry leaders for a prize package worth up to $10,000!
Date and time
Tue, Apr 25, 2023 6:00 PM - 10:00 PM EDT
Location
Lula Lounge 1585 Dundas Street West Toronto, ON M6J 1T9 Canada
Refund Policy
Contact the organizer to request a refund.
About this event
Where there is no struggle, there is no strength.
Join us on April 25th live in Toronto at Lula Lounge for the return of Speaker Slam®, where 10 inspiring speakers will take the stage to share their stories of perseverance and determination in the face of adversity. The theme for this event is "Against All Odds" and it couldn't be more fitting for the times we live in.
Life is full of obstacles, but what sets apart those who succeed from those who don't is their ability to fight through the challenges and keep pursuing their dreams. Decide what makes you happy, and fight for it with all your might, even against all odds. With the world still recovering from the pandemic, this event will showcase the power of perseverance and the strength of the human spirit. Learn how you can harness that same strength within yourself.
Speaker Slam Events Are Different
Our event is not just about hearing inspiring stories, it's also about creating a community where you can connect with like-minded people who are also on a journey of growth and self-discovery. You'll leave feeling empowered, motivated, and ready to take on the world, no matter what obstacles come your way.
This is your chance to connect with like-minded individuals, foster a sense of empathy, and leave inspired to make a positive impact in your own life and community. Speaker Slam events have a history of bringing out more than 200 people monthly to Lula Lounge, making it a hub for growth-minded individuals.
Many careers have been launched from the Speaker Slam stage, and the impact of the event has been felt all around the world. Who will be the next to inspire and make ripples? So, come and be a part of the Speaker Slam community on April 25th and let's celebrate the power of the human spirit together. Because when you fight against all odds, the victory is always that much sweeter.
---
Top 8 Reasons to Attend Speaker Slam!
1. Our events are a great way to improve your mindset and get inspired to take action so you can make a positive impact in your life and community.
2. Hear powerful and transformative stories from 10 inspiring speakers.
3. Experience the invaluable opportunity to network with our four judges who are trailblazing and influential industry leaders.
4. Enjoy a memorable experience at the stunning Lula Lounge, both in-person and online.
5. Be a part of the Speaker Slam legacy and see the next big speaker emerge.
6. An opportunity to check out the vibe and format of our event while you prepare for your own Speaker Slam debut – yes, YOU can join our contest and compete to inspire and win prizes!
7. Have a fun and uplifting evening out with two wonderful hosts
8. Expand your network and make meaningful connections with like-minded people.
---
How to prepare for a great night out at Lula Lounge!
Purchase your tickets from Eventbrite.
Reserve your seat! Please note that tickets do not guarantee seating. To reserve a table please call Lula Lounge at 416-588-0307 or reserve online at www.lula.ca/reservations
Check out the Lula dinner menu: lula.ca/menu
---
Accessibility:
LIVESTREAM tickets are available if you are unable to show up in person
The venue is wheelchair accessible
If financial barriers prevent you from participating. Reach out to Info@SpeakerSlam.org and let's see how we can make it possible.
---
What is Speaker Slam®?
We are a Speaker Development Agency that helps cultivate the next generation of thought leaders. We are best known for creating North America's largest inspirational speaking competition, where you share your life story in order to inspire your community to take action.
Our competition features 10 speakers going head to head and heart to heart, to deliver an inspirational speech around a theme, with a chance of winning prizes valued up to $10,000 and the opportunity to move on to the Grand Slam to compete against the best speakers of the year for the title of INSPIRATIONAL SPEAKER OF THE YEAR!
Our speakers have gone on to get paid speaking gigs, TEDx talks, book deals, press, documentaries, virality, create movements and events plus so much more! Best of all though, they go and inspire schools, charities, and corporations with their messages. They are at the ground level making systematic changes for the things they care about.
Do you have an inspiring story? Apply to compete on our stage: https://www.speakerslam.org/apply
Join our community over at: @SpeakerSlam
Watch Our Videos Here: www.YouTube.com/SpeakerSlam
Agenda
6:00 PM - 7:00 PM
Doors open for networking, dinner, and drinks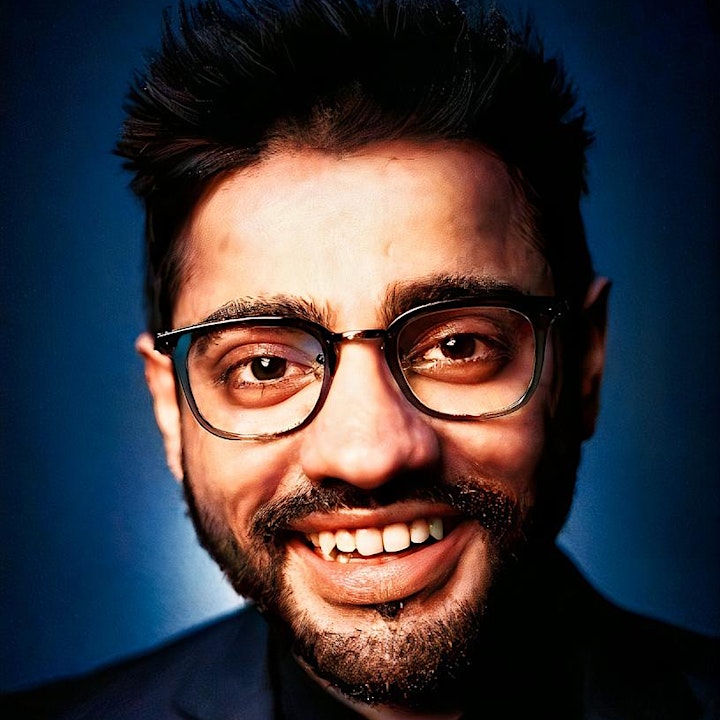 Dan Shaikh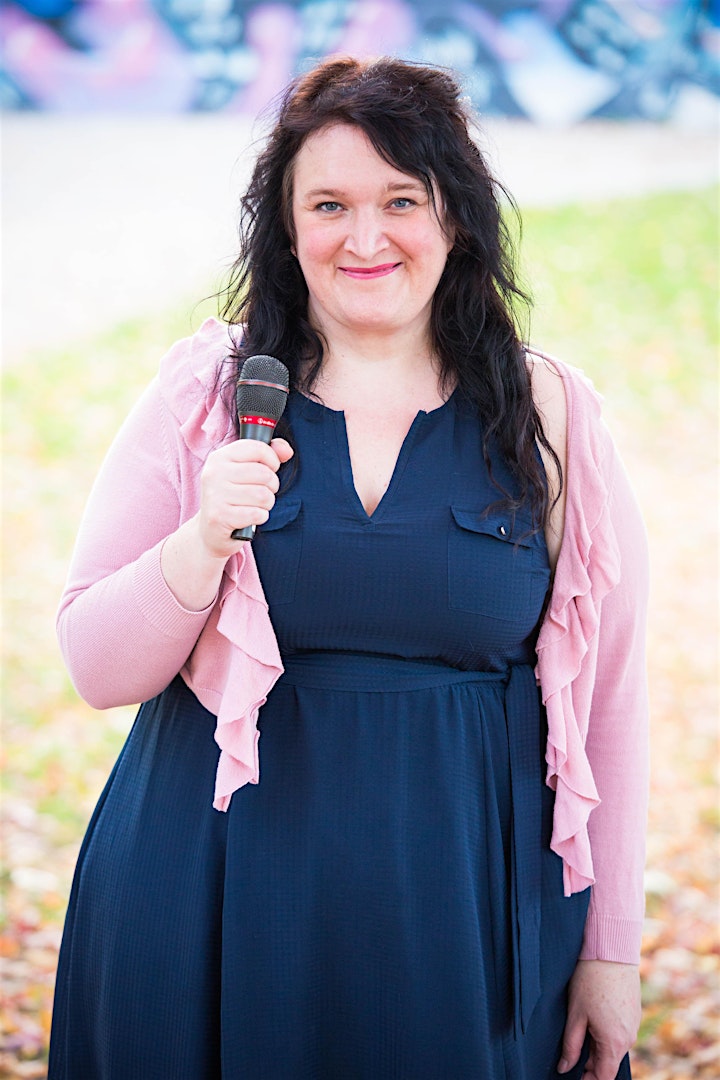 Rina Rovinelli
7:00 PM - 9:30 PM
The Competition
---
The hosts kick-off the night and head right into the competition with the first 5 speakers. We take a 10-minute break and then return back with the last 10 speakers and the Words of Wisdom featured s...

9:30 PM - 9:45 PM
Winning Ceremony
---
Find out who the top 3 speakers from the night!
Frequently asked questions
How can I reserve a table?
About the organizer
We are a Speaker Development Agency that helps cultivate the next generation of thought leaders. We are best known for creating North America's largest inspirational speaking competition, where you share your life story in order to inspire your community to take action.