Description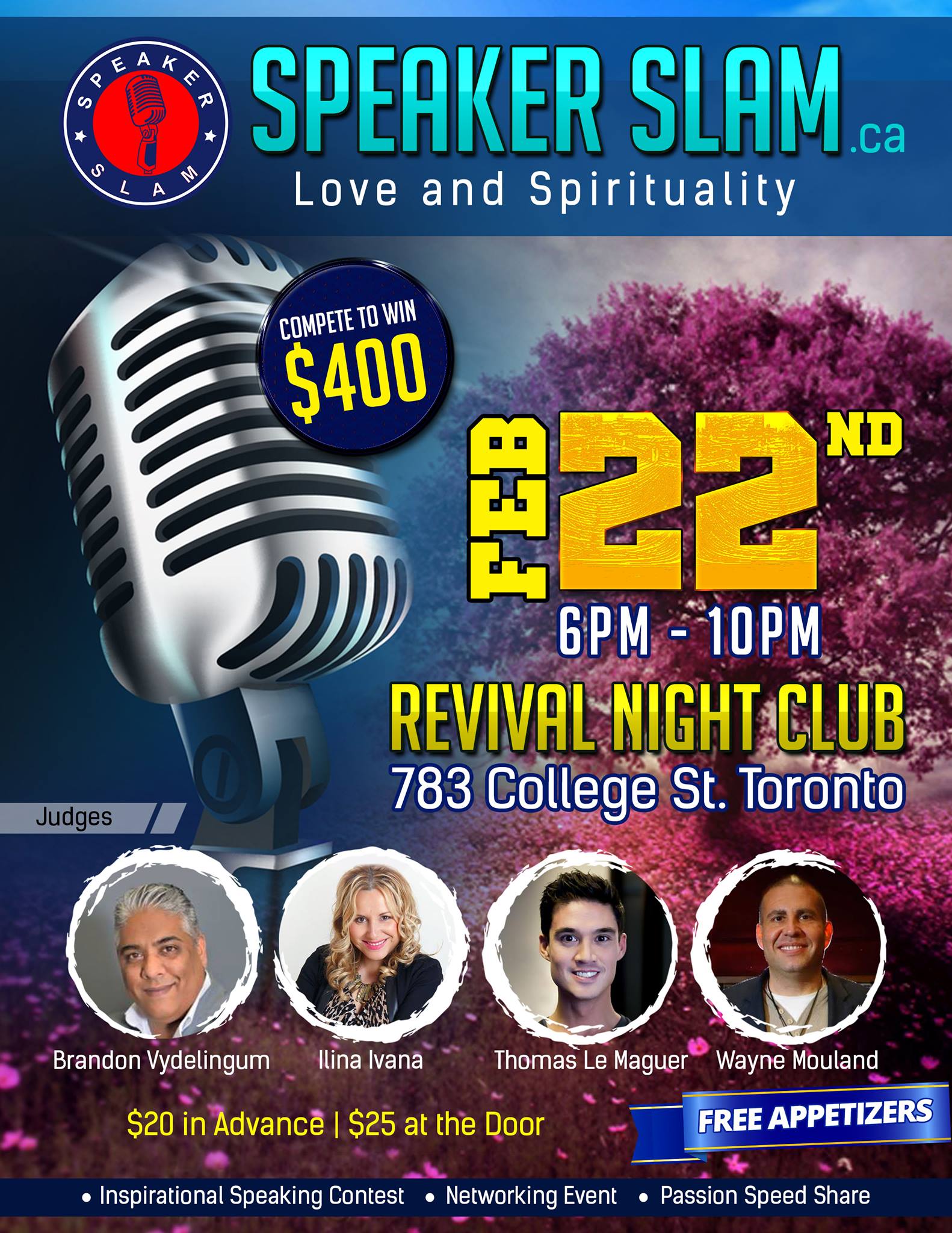 What is Speaker Slam?
We are an inspirational speaking competition like no other! February's theme of Love & Spirituality will bring together conscious speakers who will enlighten you with their personal stories.
With Love in the air and Spirituality in abundance, it's time to immerse yourself in an evening of inspirational speaking, no pressure networking, and passionate speed sharing.

Join us at Revival Nightclub on February 22nd, when 8 speakers go head to head and vie for a cash prize and the coveted title of Speaker Slam champion in an evening of prepared and impromptu speaking that will prove who is the ultimate speaking superstar.

Top 8 Reasons to Attend Speaker Slam!
1. 8 incredibly inspiring speakers sharing their stories.

2. 4 amazingly dynamic and prominent judges.

3. Free food!

4. Passion Speed Share - an opportunity to jump up on stage and share something exciting in your own life.

5. A room full of like-minded people that you need to meet.

6. An engaging networking game that allows you to work the room and connect with a purpose.

7. An opportunity to check out the vibe and format of our event while you prepare for your own Speaker Slam debut - yes, YOU can join our contest and compete to win cash and prizes!

8. An enjoyable, entertaining evening out in a cool, stylish venue with two wonderful hosts :)


---
To learn more, please visit our website: www.speakerslam.ca or check us out on Facebook @SpeakerslamTO
If you have any questions, please refer to our FAQ Page or contact us directly at SpeakerSlamTO@gmail.com