Location
Lula Lounge
1585 Dundas Street West
Toronto, ON M6J 1T9
Canada
Our Inspirational Speaking Competition features competitors going head to head and heart to heart, to inspire you with their stories.
About this event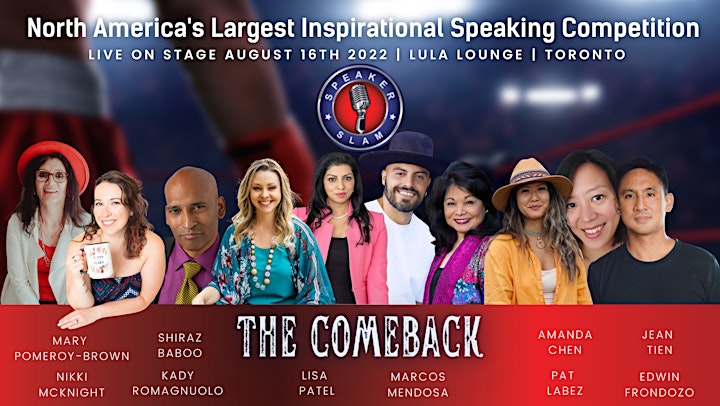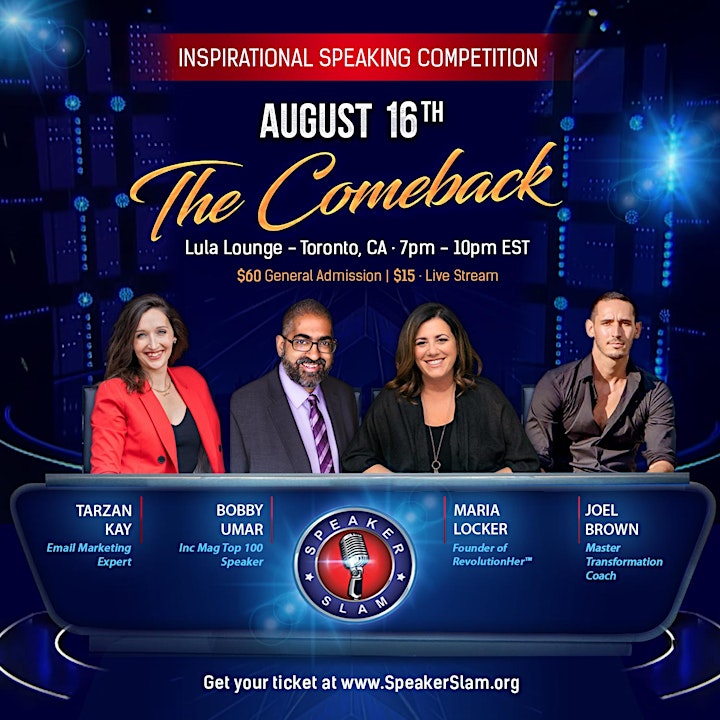 Agenda:
6PM: Doors open for networking, dinner and drinks
7PM: Entertainment begins
How to prepare for a great night out at Lula Lounge!
Purchase your tickets from Eventbrite.
Check out the Lula Dinner Menu https://www.lula.ca/menu. The menu is available as a prix fixe for $39 or a la carte with items ranging from $8 to $29. Make it a dinner and show!
Reservations guarantee seating. Reserve your seat at 416 588 0303 or online at https://www.lula.ca/reservations
---
The comeback is always stronger than the setback.
After a 2-year hiatus, Speaker Slam returns to Lula Lounge on August 16th, 2022.
The theme is The Comeback and it fits perfectly with where the world is. We were all impacted one way or another by the pandemic. For some of us, we lost our livelihoods and way of life. Mental health struggles were on the rise and we lost connection to our humanity. This was a time of reflection and healing. Discovering what was important in our lives.
The real glory is being knocked to your knees and then coming back. It's time to get back on our feet.
Join us as we celebrate stories of resilience and coming back from setbacks at this special Speaker Slam reunion of community!
Who doesn't love a good comeback story? Witness 10 speakers share 5-minute speeches on the theme to inspire and transform you with their life stories. Speaker Slam events foster an environment of belonging, empathy, and connection. You will meet growth-minded people and leave inspired to take action and make ripples in your own life and communities.
Before the pandemic, Speaker Slam routinely brought out more than 200 people monthly to Lula Lounge to celebrate the people of Toronto and their journeys. Our events were so impactful that our speakers went viral online and inspired people all over the world. Many careers have been launched since performing on our stage. They have gone on to make ripples throughout our communities.
As we re-enter this new world, who will go on to inspire many? Find out on August 16th at Lula Lounge!
Learn about the speakers: https://www.speakerslam.org/blog/Meet-Your-Speakers-for-The-Comeback
Learn about the judges: https://www.speakerslam.org/blog/Meet-Your-Judges-for-The-Comeback
Top 8 Reasons to Attend Speaker Slam!
1. Speaker Slam events are a great way to improve your mindset and get inspired in your own life to take action
2. 10 inspiring speakers sharing their 5-minute masterpieces.
3. 4 amazingly dynamic and reputable judges.
4. Hosted at the beautiful Lula Lounge and Livestreamed.
5. Be a part of Speaker Slam history and witness the next star speaker rise.
6. An opportunity to check out the vibe and format of our event while you prepare for your own Speaker Slam debut – yes, YOU can join our contest and compete to win cash and prizes!
7. An enjoyable, entertaining evening out with two wonderful hosts
8. Make new friends!
Accessibility:
**LIVESTREAM tickets are available if you are unable to show up in person**
**Venue is wheelchair accessible**
---
What is Speaker Slam?
Speaker Slam® is a one-of-a-kind Speaker Development Agency. We help mission-driven, heart-centered Speakers, Authors, Coaches and Entrepreneurs create and build a unique personal brand with speaking and video. We are best known for being the creators of North America's Largest Inspirational Speaking Competition.
Our Inspirational Speaking Competition features competitors going head to head and heart to heart, to inspire you with their stories on the theme in front of 4-industry juggernaut judges and you the audience! They compete for a prize package valued at over $5000 and a chance to move on to the Grand Slam in November to compete for the title of Inspirational Speaker of the Year!
2023 Applications to Compete on Stage are Now Open: https://www.speakerslam.org/apply
To learn more, please visit our website: https://speakerslam.org/bio
Join our community over at: @SpeakerSlam
Watch Our Videos Here: www.YouTube.com/SpeakerSlam