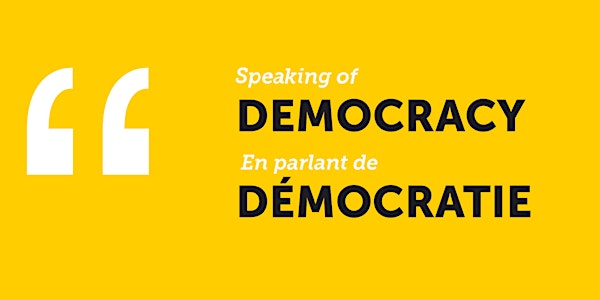 Speaking of Democracy Tour / En Parlant de Démocratie Visite
When and where
Location
Lieutenant Governor's Suite Queen's Park M7A 1A1 Toronto, Ontario M7A1A1 Canada
Description
The Honourable Elizabeth Dowdeswell, Lieutenant Governor of Ontario, launched an exhibition on democracy, in cooperation with the Samara Centre for Democracy.
"Speaking of Democracy" features 28 quotations about the roots of, threats to, and promise of democracy. People quoted include Her Majesty the Queen, David Frum, George Orwell, Vandana Shiva, Jennifer Welsh, and Malala Yousafzai.
The exhibition is on display in the Lieutenant Governor's Suite, Queen's Park, throughout spring and summer 2019.
Free tours are available to members of the public.
Government-issued photo identification is required for all those over the age of 16. You may enter Queen's Park via the South entrance.
Queen's Park can be reached by a level walk from the TTC's College streetcar or Queen's Park subway station. Parking is not available at Queen's Park. Please allow extra time for parking and a short walk to the Legislative Building.
____________________________________________________________________________________
L'hon. Elizabeth Dowdeswell, lieutenante-gouverneure de l'Ontario, a lancé une exposition sur la démocratie, en collaboration avec le Centre Samara pour la démocratie.
En parlant de démocratie jette un regard sur 28 citations qui traitent de la démocratie, de ses racines, de ce qui la menace et de ce qu'elle promet. Les personnalités citées comprennent Sa Majesté la Reine, David Frum, George Orwell, Vandana Shiva, Jennifer Welsh et Malala Yousafzai.
L'exposition est présentée dans les appartements de la lieutenante-gouverneure, à Queen's Park, tout au long du printemps et de l'été 2019.
Des visites gratuites sont à la disposition du public.

Pièce d'identité avec photo délivrée par le gouvernement exigée pour tous ceux qui sont plus de 16 ans. Vous pouvez entrer Queen's Park par l'entrée sud.
Queen's Park est accessible à pied à partir de l'arrêt de tramway de la rue College ou de la station de métro Queen's Park. Aucun stationnement n'est disponible à Queen's Park. Veuillez prévoir le temps nécessaire pour vous garer et marcher jusqu'à l'édifice de l'Assemblée législative.