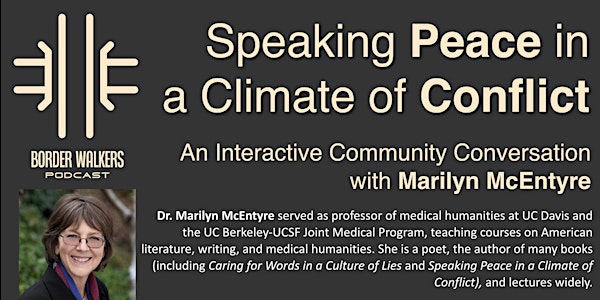 Speaking Peace in a Climate of Conflict: Conversation with Marilyn McEntyre
Join us live for a community conversation with Dr. Marilyn McEntyre.
By Border Walkers Podcast
When and where
Date and time
Fri, Feb 19, 2021 5:30 PM - 7:00 PM PST
About this event
In our culture of disinformation, polarization, and alignment around party lines, how do we use our words to cultivate community, clarity, and compassion?
Marilyn McEntyre, author of 15 books (including Caring for Words in a Culture of Lies and Speaking Peace in a Climate of Conflict), has thought carefully about these questions. As both a longtime professor of American literature and the professor of medical humanities at UC Davis and the UC Berkeley-UCSF Joint Medical Program, she is uniquely qualified to speak to border walking between disciplines and communities.
Join Lance Dixon and Daniel Melvill Jones on Friday, February 19th at 6:30pm Mountain Time, live on Teams, as we host a free interactive community conversation with Marilyn McEntyre.
To participate, please register for the event to receive a Teams invite.
This conversation will be recorded and published through Border Walkers Podcast. For more information on Border Walkers Podcast, visit https://anchor.fm/borderwalkers.