Sales Have Ended
Registrations are closed
Ticket Sales for this event have now ended. You can find the livestream on Youtube by searching for "Speaking up for Water: Water Protectors, Storytelling and Science."
Sales Have Ended
Registrations are closed
Ticket Sales for this event have now ended. You can find the livestream on Youtube by searching for "Speaking up for Water: Water Protectors, Storytelling and Science."
Celebrate the launch of Riparia with passionate water protectors Waneek Horn-Miller, Jill Heinerth and Dorene Bernard on May 12th!
About this event
Join us LIVE online for a 1-hour event with three inspiring water protectors who will share their unique stories of speaking up for water followed by questions and conversation with the audience. This FREE event celebrates Riparia's official launch and our mission to motivate and inspire young women (inclusive of all identities) to enjoy and protect fresh waters and the outdoors. We look forward to connecting & conversing together!
TUNE IN HERE: https://www.youtube.com/watch?v=I58SNWkGPuY
Ten copies of Christi Belcourt's beautiful book "Medicines To Help Us" will be raffled off to audience members following the event! (Must be registered to be eligible).
ABOUT RIPARIA
Riparia is a registered Canadian charity that works to connect youth and science on the water. Founded by National Geographic Explorers Dr. Dalal Hanna, Dr. Andrea Reid and Mikayla Wujec, Riparia runs free expeditions and water-based day camps to inspire the next generation of water protectors and science advocates.
We are gratefully accepting donations to help support our upcoming summer programs. Thank you for your support!
ABOUT THE SPEAKERS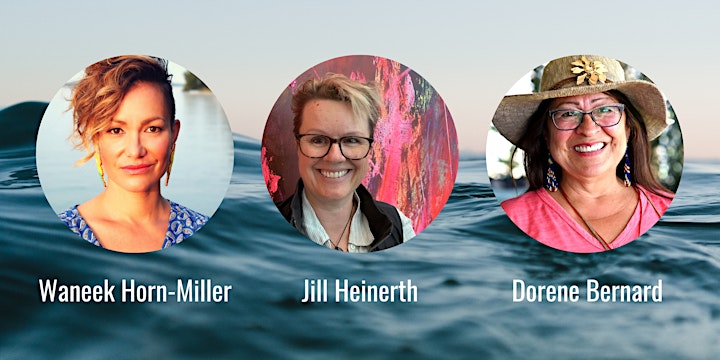 Waneek Horn-Miller is a bear clan Mohawk mother of three from the communities of Kahnawake and Ohsweken. She has worked as a sports commentator for CBC and APTN, and has become a strong advocate for sport, fitness and wellness. She also has traveled extensively throughout North America as a motivational speaker sharing her journey from the front lines of the Oka Crisis to the Olympics with Indigenous and non-Indigenous audiences. As one of Canada's few Aboriginal Olympians, Waneek has used her passion and experiences in sport to influence Aboriginal and non-Aboriginal leadership towards making Sport and Wellness a community building priority. Waneek has been a brand ambassador for Manitobah Mukluks for 8 years and she currently is the Vice President of Innovation and Client Relations for Indigenous Financial Solutions.
Jill Heinerth is an underwater explorer, writer, photographer, speaker, and filmmaker. She has led expeditions into icebergs in Antarctica, volcanic lava tubes, and submerged caves worldwide. Jill is the first Explorer-in-Residence of the Royal Canadian Geographical Society. Her memoir, INTO THE PLANET, has been lauded by the Wall Street Journal, Oprah Magazine, and the New York Times. Her children's book THE AQUANAUT is a Blue Ribbon Selection for Dolly Parton's Imagination Library. Jill is a Fellow of the International Scuba Diving Hall of Fame, Underwater Academy of Arts and Sciences, Women Divers Hall of Fame, and the Explorers Club, which awarded her with the William Beebe Award for ocean exploration.
Dorene Bernard is a traditional Mi'kmaq grandmother from Sipekne'katik, Mi'kmaki. She is the mother of 4 and grandmother of 9, who inspire her to work to promote cultural teachings, Mi'kmaq history, treaty rights and teachings of the water. She is a pipe carrier, water walker, water protector, and volunteer grassroots grandmother, working for social justice for women and the environment. She draws her strength and courage from the Indigenous women in her life; Survivors, Elders, teachers, leaders, movers and shakers who inspired her to work for the good of all Creation.
Her inability to create change in her 15 yr. career in Child Welfare had her leave and begin her own healing journey, then to Community Support work with Residential School Survivors and families and her MSW Degree in Aboriginal Field of Study 2013. She was the Coady Chair on Social Justice at Coady International Institute in 2017, at St. Francis Xavier University in NS, where she focused on Indigenous perspectives on Indian Residential Schools, Child Welfare, Mi'kmaq Treaty Rights, Environmental Racism, Missing and Murdered Indigenous Women/Girls, and Climate Justice and protection of the water.
WITH GRATITUDE TO:

This event is part of Science Odyssey, Canada's biggest festival of science and technology with over 1000 activities for explorers of all ages. We acknowledge the support of the Natural Sciences and Engineering Research Council of Canada (NSERC) for making this event possible.

Technical support for this event is provided by Exploring By The Seat Of Your Pants, an organization that aims to inspire the next generation of scientists, explorers and conservationists by bringing science, exploration, adventure and conservation live into classrooms through virtual speakers and field trips with leading experts across the globe. Check them out!