Looks like this event has already ended.
Check out upcoming events by this organizer, or organize your very own event.
Special Event: Two Generations of Entrepreneurship: Q & A Andy & Hayes Nulman

Wednesday, 20 November 2013 from 12:00 PM to 1:30 PM (EST)
Event Details
Reserve priority seating for FREE here...Open to the Public
Andy Nulman's creative and entrepreneurial genius has helped lift Just for Laughs from a 2-day event in 1983 to a month-long extravanganza that is recognized as the biggest and most important comedy festival in the world, an event that has both launched the careers of some of comedy's giants and showcased the world's comedy legends. The entrepreneurial gene is evident in Andy's son Hayes, who, like his father, is on the cutting edge, but in a completely different industry: furniture design and innovation, with his own Hayes Nulman Designs. We will discuss with Andy and Hayes what it takes to grow your brand, and invite your questions about what it takes to become an entrepreneur par excellence.
_____________________________________________________________________________________________
ABOUT ANDY NULMAN  
President, Festivals and Television at Just For Laughs

             
While young in spirit and snappy in dress, Andy Nulman has been creating and leading major media projects for over three decades.
In July of 2010, Andy took on the position of President, Festivals and Television, of Montreal's renowned Just for Laughs International Comedy Festival, the world's first and largest comedy event. This was not Andy's first go around at JFL. From 1985 until 1999, he literally transformed the event from a two-day show to a month-long cultural happening, attracting over 2 million visitors per year to see talent the likes of Jay Leno, Drew Carey, Jim Carrey, John Cleese, Jerry Seinfeld, Chris Rock, Ray Romano and Adam Sandler, and created/Executive Produced over 150 Festival TV shows, in a variety of languages, all over the world.
During the decade in between Just for Laughs stints, Andy was President and CMO of Airborne Technology Ventures, a company celebrated as a pioneer in the industry of mobile media and marketing. In 1999, Andy co-founded Airborne (then Airborne Entertainment) with Garner Bornstein, and provided the company with the insight and creativity necessary to successfully strengthen brands like FHM, Family Guy and the NFL through the creation of innovative mobile content and applications. Airborne was sold for over 100 million dollars to Cybird of Japan in 2005 and was honoured the following year as North America's 4th-Fastest Growing Tech Company in Deloitte's Fast 500 ranking.
An acclaimed, thought-provoking and risk-taking public speaker/showman (who has motivated and entertained Fortune 500 companies the likes of GM, Eveready/Energizer, 3M and Wal-Mart), Andy has also written three books: "How To Do The Impossible," "I Almost Killed George Burns" and his most recent "Pow! Right between The Eyes! Profiting From The Element of Surprise." Other accomplishments include being named one of the "Top 40 Under 40" business leaders by the Financial Post in 1997, being voted one of the Top 100 Montrealers of the 20th Century by the Montreal Gazette in 2000, and being honored as a distinguished recipient of the McGill Management Achievement Award in 2004.
In his spare time, Andy is also an inventive stage director, half-decent snowboarder, obsessive gym rat, newbie hockey forward (after 20 years as a goalie), gutsy rock singer and prolific blogger (check him out at www.andynulman.com). Married with two grown children and two rambunctious dogs, his major disappointment is that he has only one life to live…but he's working on a solution.
_________________________________________________________________________________________________
ABOUT HAYES  NULMAN  
Founder, Hayes Nulman Designs

       
Hayes Nulman discovered his passion for furniture design and fabrication at the early age of 16. Back then, working out of his parents' garage, he built his first simple pieces using wood, aluminum, concrete, and copper tubing. Designing and building soon became more than a hobby. He took a deeper interest in metal and moved to Idaho to learn more. While there, he took welding courses at North Idaho College, and worked with Iron Mountain Studios.
After his stay in Idaho, Nulman returned to Montreal to pursue furniture design as a career. He honed his woodworking and cement pouring skills at different companies, and tackled the French language while studying at École Nationale du Meuble et de l'Ébénisterie. In the summer of 2012, Nulman worked as a studio assistant for Will Ryman, a conceptual artist, adding fiberglass to his repertoire. That season in New York inspired him;he learned a variety of new skills and discovered an interest in a greater artistic pursuit.
Hayes Nulman is currently in the process of inaugurating Hayes Nulman Design, located in the heart of Westmount. In addition to his own creations he accepts contracts for custom furniture designs. 

When & Where

Dawson College, Conrod's Lounge
4001 Boulevard de Maisonneuve Ouest
Montreal, QC H3Z 1Y4
Canada

Wednesday, 20 November 2013 from 12:00 PM to 1:30 PM (EST)
Add to my calendar
Organizer
Eweek @ Dawson College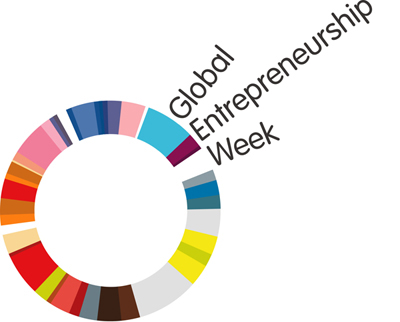 The place to be 
November 12 to 15, 2018!!
Dawson College's Centre for Innovation and Entrepreneurship Education will host Entrepreneurship Week (Eweek) coinciding with Global Entrepreneurship Week, November 12 to 15, 2018. 
Global Entrepreneurship Week (GEW) is an international movement to inspire millions of young people to embrace innovation, imagination and creativity through entrepreneurship. It is estimated over 15 million youngsters participated worldwide in tens of thousands of events and competition for Global Entrepreneurship Week. In Montreal, Dawson College's EWeek will provide a diverse and strong line-up of speakers, networking events, contests and activities for Montrealers and Dawson College students alike.
Many young students will have their first glimpse of a possible alternative career path and connect with seasoned entrepreneurs. All Montrealers are invited and all events are free. Hear inspiring stories of successful entertainers, photographers, illustrators, designers, dancers, programmers and farmers who launched their own businesses.
Dawson College is ideally placed to be a gathering place of high-profile community events. Situated in the heart of Montréal's downtown core, at the Atwater metro station, Dawson is Québec's largest CEGEP with roughly 8,250 full-time day students, 2,400 continuing education students, 600 faculty and  a 200+ team of support staff. The college currently offers over 30 programs in 50+ fields of study, including a variety of programs in the creative sector.
We hope to inspire the next generation of entrepreneurs.  Do you have a big idea??? Would you like to sponsor and event?  Do you want to connect with like-minded people or maybe just observe what the buzz is all about?  Join us for Eweek in November!!
Check out the calendar of events on our site and like us on
Thank you to our sponsors for their invaluable support of Dawson College's Eweek.
______________________________

______________________________