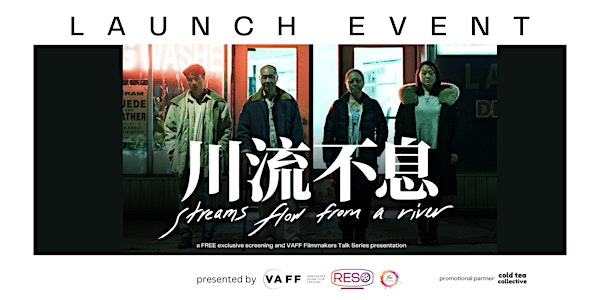 Special Presentation of screening STREAMS FLOW FROM A RIVER
The Vancouver Asian Film Festival (VAFF), Racial Equity Screen Office (RESO) and Fae Pictures invites you to a special presentation.
By Vancouver Asian Film Festival
Date and time
Sat, Apr 1, 2023 4:00 PM - 6:00 PM PDT
Location
Cineplex Odeon International Village Cinemas 88 W Pender St, 3rd floor Vancouver, BC V6B 6N9 Canada
About this event
Chicken Soup for the Asian Canadian Soul: Special Presentation of Christopher Yip's STREAMS FLOW FROM A RIVER with encore screening of Carol Nguyen's NANITIC
The Vancouver Asian Film Festival (VAFF), Racial Equity Screen Office (RESO) and Fae Pictures invites you to a special presentation of the upcoming Chinese-Canadian premium drama series STREAMS FLOW FROM A RIVER, premiering at the Canadian Film Fest and on Super Channel in April.
The presentation will open with an encore screening of the short film NANITIC, which previously won TIFF's Share Her Journey Award and premiered at TIFF Top Ten, the Berlinale, and VIFF.
The six-episode short-form series, STREAMS FLOW FROM A RIVER, is a character-driven drama about the invisible struggles immigrant families face while trying to make a home in the West. A freak snowstorm traps a dysfunctional Chinese Canadian family together in their rural Albertan hometown, forcing them to confront events from a decade ago that tore them all apart. Today's generation of immigrant kids bear the burden of the traumas we grew up with and the need to address the wounds of generations past. Hundreds of years of unspoken pain, trickling down like a river. What can we do with these streams flowing over us?
The series stars Jane Luk, Simon Sinn, Liam Ma, Danielle Ayow, Jinny Wong, Raymond Chan, Adrian So and Dana Liu, with Benjamin Sutherland, Brett Houghton and Wesley French.
This special event will feature the first four episodes of the series, preceded by the short film Nanitic, and following, an engaging post-screening discussion with creators Christopher Yip and Carol Nguyen, series actors Danielle Ayow and Jinny Wong, executive producer Shant Joshi, and moderated by Natasha Jung Founder of the Cold Tea Collective, the promotional partner for the event.
This exclusive in-person event is a preview to the launch of the series coming to Super Channel Fuse in Canada and launching On Demand beginning April 1, 2023. Super Channel is available via most cable providers across the country, as well as streaming live and On Demand with Amazon Prime Video Channels and Apple TV.
Seating to this special presentation is limited. To book your ticket now.
Streams Flow From A River is produced in association with Super Channel, with the participation of Ontario Creates, Independent Production Fund, Bell Fund and Canada Media Fund.
#StreamstheSeries
Followed by the Q & A: Creators in attendance:
Director/Writer: Christopher Yip
Executive Producer: Shant Joshi
Cast: Danielle Ayow
Cast: Jinny Wong
Director, Carol Nguyen, Nanitic
Moderator: Natasha Jung, Founder, Executive Editor & Executive Producer, Cold Tea Collective
PHOTOGRAPHY NOTICE:
We will be taking photographs and video at this event for promotional and archival purposes. If you would not like your image used in any VAFF promotional content, please inform our photographers. Thank you!
MEMBERSHIP REQUIREMENT:
Ticket includes single-use VAFF membership. Learn more about VAFF MEMBERSHIP
QUESTIONS:
If you have any questions, please contact us at info@vaff.org
About the organizer
The Vancouver Asian Film Festival Society (VAFF) is a not-for-profit organization that celebrates diversity in film. The longest-running Canadian film festival of its kind, VAFF was founded by independent filmmaker and writer Barbara K. Lee in 1995 and debuted in September 1997. VAFF is entirely organized and produced by a group of dedicated volunteers, and is made possible by generous financial support from corporate sponsors, public funders and private donors.
 MISSION STATEMENT
VAFF is dedicated to promoting and celebrating the diversity and depth of Asian culture and identity in film and media, and to help North American Asian actors and filmmakers more authentically and more powerfully define and express themselves on screen.
Through its annual film festival and many other programs and events hosted in Vancouver, VAFF's mission is to be the "go-to" forum for the public and the film industry to engage in, support and amplify Asian presence in film and television.
VAFF envisions a world where North American Asian actors and filmmakers have the resources and opportunities to shape mainstream culture in a powerful and positive way.