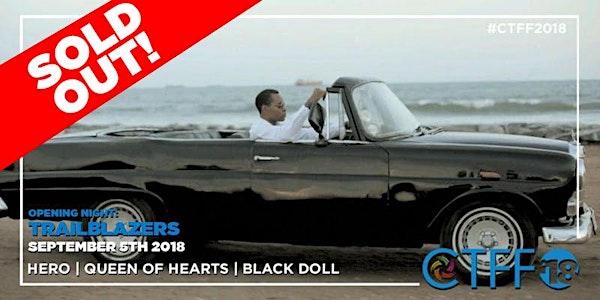 Special Preview Screening of "HERO" at CTFF2018 Opening Night Gala - Inspired by the Extraordinary Life and Times of Mr. Ulric Cross"
When and where
Location
The Royal 608 College Street Toronto, ON M6G 1B4 Canada
Refund Policy
Contact the organizer to request a refund.
Description
CaribbeanTales 2018 presents
A Special Preview Screening of HERO - Inspired by The Extraordinary Life and Times of Mr. Ulric Cross
directed by Frances-Anne Solomon (100 minutes)
Join us for the first-ever Preview Screening of "HERO" directed by Frances-Anne Solomon and starring Nickolai Salcedo, Peter Williams (Stargate SG1), Joseph Marcell (Fresh Prince of Belair) and Ghana's John Dumelo.
In 1941, Ulric Cross left his small island home to seek his fortune, and became the RAF's most decorated West Indian. Then, his life took another course and he became part of the movement of history. Cross' long life spanned key moments of the 20th century including the indepedence movements in Africa and the Caribbean.
Shot in Ghana, Trinidad, England and Canada, the film is not just about his life but the dynamic and transformative times he lived in, and tells the untold story of Caribbean professionals who helped to liberate Africa from colonialism.
5.30pm: Opening Reception - GALA AND STREET PARTY
8.00pm: Film Presentation: HERO - Inspired by the Extraordinary Life and Times of Mr Ulric Cross
Opening Night at CaribbeanTales 2018
For 13 years, the CTFF opening night party has been the place to be for Caribbean trend-setters. Join us as we take over Clinton Street at College Street in Toronto for a night of star-filled glory as we celebrate the accomplishments and creations of our community.
Stay on after the party for our opening night screening, a special preview screening Frances-Anne Solomon's eagerly awaited feature film 'Hero' about the bold exploits of decorated West Indian WWII veteran Ulric Cross.
From pioneers to trendsetters, CTFF opening night will feature films about the changemakers who have stepped off the road and forged a new path for the rest of us. Featuring additional short films with themes of change, resistance and revolution.
Featured Short FIlms:
Queen of Hearts directed by Kyisha Williams, Lindsey Addawoo (15 minutes)\
A magical infusion of West African culture in a setting portrayed as European. A Queen's world is shattered when she discovers that the love of her life is not who she thought he was. With succubus-like abilities that arise in moments of distress, she fights to protect herself and the ones she loves against those who want what she has: power. [ watch trailer ]
Black Doll directed by Akley Olton (4 minutes)
A little black girl plays with her white dolls until her grandmother reminds her of what it means to be a woman. [ watch trailer ]
For tickets, visit www.caribbeantalesfestival.com or www.facebook.com/CaribbeanTalesInternationalFilmFestival