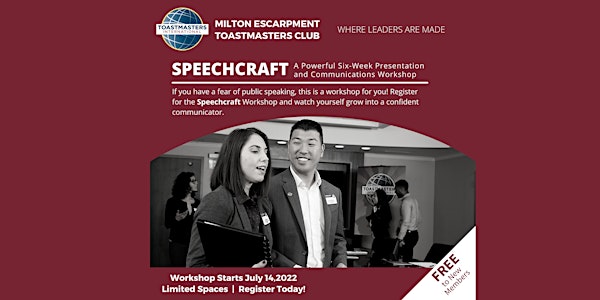 SPEECHCRAFT By Milton Escarpment Toastmasters
Master Public Speaking and Leadership skills in 6-weeks!
About this event
Our club is hosting SPEECHCRAFT, a powerful six-week presentation and communications workshop starting virtually on July 14, 2022, at 7:30 p.m. Email escarpmenttm@gmail.com for more information.
Do you want to improve your public speaking and leadership skills? Have you thought about meeting new people in a positive and supportive environment? Now, you have a great opportunity to do that.
Consider these benefits:
• Improve your public speaking skills
• Build leadership skills
• Gain self-confidence and self-awareness
• Learn to network in a small and supportive environment
• Practice writing speeches and presenting
• Receive regular and constructive feedback from peers
• Gain a competitive advantage in the workplace
• Enjoy unlimited personal growth and maximize your potential
• Meet some awesome people :)
In addition to that, becoming a Toastmaster member can help you develop over 300 workplace skills, including:
• Interview preparation
• Online meeting management
• Leadership development
• Project management
• Conflict resolution