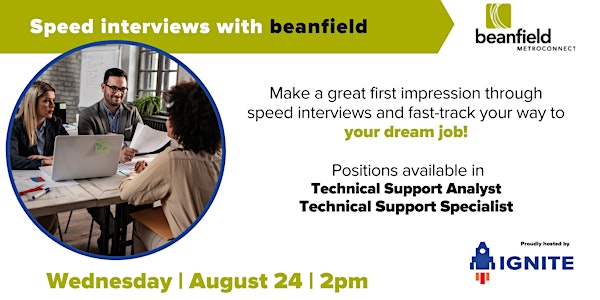 Speed Interviews with Beanfield
Meet Beanfield Metroconnect, a renowned name in telecommunications in Ontario, now coming to Fredericton.
When and where
Location
Planet Hatch 50 Crowther Lane Fredericton, NB E3C 0J1 Canada
About this event
Looking for an exciting career opportunity?
Join Beanfield Metroconnect, a telecommunications giant in Ontario and Quebec, as they set up operations in Fredericton and look for their founding dream team in the region.
Founded in 1988, Beanfield builds, owns and operates the largest independent fibre-optic network in Toronto and Montreal. It connects over 3,000 commercial and residential buildings. All of their construction, installation, and customer experience teams are in-house, giving it's customers the most efficient and streamlined experience possible. Beanfield recognizes the importance of connecting communities and the people within them, and they do this without sacrificing outstanding customer support and superior services. At Beanfield, it's about building communities, not just networks.
Beanfield is coming to Fredericton to meet its future employees through speed interviews, giving you an opportunity to jump the screening line and be seen as potential hires. They are hiring for positions in their commercial and residential technical support teams.
All you need is to:
Send us your CV in advance. You will receive an email asking for it.
Come dressed to impress, equipped with a personal pitch
Be positive and confident, putting your best self forward.
Read the job descriptions (given below on this page) and make sure you fit the criteria.
Be on time
When: Wednesday, August 24, 2022 at 2:00 pm
Where: Planet Hatch Community zone, 50 Crowther Lane, Knowledge Park, E3C 0J1