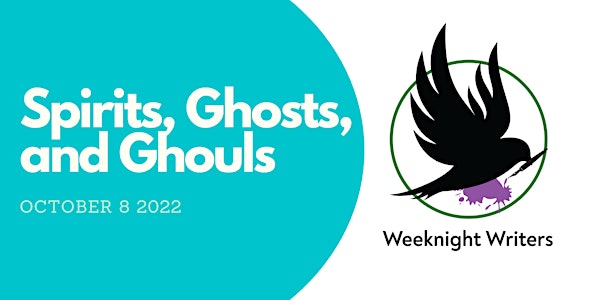 Spirits, Ghosts and Ghouls: Emotional Echoes and Supernatural Encounters
An exciting discussion on how and why to weave spirits, ghosts and other paranormal phenomena into your horror stories.
Refund Policy
Contact the organizer to request a refund.
Eventbrite's fee is nonrefundable.
About this event
An exciting multi-author discussion on how and why weaving spirits, ghosts and other paranormal phenomena into your horror novel can guide your horror story development and engage your readers!
The Moderator
Lex Vranick is a poet and dark fiction writer from Long Island, New York. She currently lives in Florida with her dog and an over-abundance of houseplants. Lex holds a B.A. from Excelsior College and is a J.D. candidate at Florida State University. Her work has been published by or is forthcoming with Eerie River Publishing, Kissing Dynamite Poetry, and Cagibi, among others. Lex can be found across the internet at @lexvranick.
Panelists
Kaki Olsen has written tales in several genres, but she can't stop herself from coming back to retellings. She currently lives far from what she calls home and can often be found preaching the good word of the Boston Red Sox. When not in her home office, she enjoys making music or traveling the world.
Rory Harbert (he/they) holds a bachelor's degree in English and multimedia journalism from the University of Northern Colorado. He is a longtime horror fan and a more recent horror writer, nearly finished with his first draft of his first novel. He is social media under "itsforresthere," including YouTube where he uploads booktube videos and film essays. Rory spends most of their time with his partner and their puppy.
Briana Morgan (she/her) is a horror author and playwright. She's a proud member of the Horror Writers Association and loves all things spooky. As of 2021, Briana is the author of several novels and plays, including Mouth Full of Ashes, The Tricker-Treater and Other Stories, Unboxed, and more.
Conference
This event is part of Storycrafting Sessions: Horror, a virtual conference hosted by the Weeknight Writers Group. Check out the other panels too:
Haunted Houses and Other Spooky Places: Creating Atmospheric Settings in Horror
Crossroad Blues: Exploring the Boundary Between Life and Death
Dire Warnings: Building Social Critique and Concern Into Your Horror Writing
Gothic, Cosmic, Apocalyptic: Understanding Subgenres of Horror