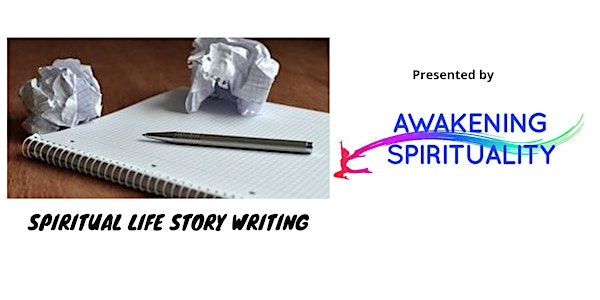 Spiritual Life Writing
A vibrant hub for writers. Come with questions. Leave with fresh ideas, tips, and whole-hearted support for your writing practice.
About this event
Life writing is the art of plumbing truth and mystery, and finding your authentic voice.
Our master classes introduce you to mentors, guides, and like-minded souls who are committed to life writing.
Come with questions. Leave with inspiration, tips, and practical resources for deepening your writing practice, and releasing your stories to the world.
February 15 – Music & Literature: Gateways to the Soul
Few things in life have the ability to underscore our shared humanity and highlight our deep connectedness than music and literature. Join us as writer Lori Sebastianutti speaks with musician, writer, and editor, Natalie Welsh, on founding Syncopation Literary Journal, an online literary journal for musicians, and for writers inspired by music. Together, we'll explore how "stories—whether through told through prose, verse, or instrumental music—transport us to other realms, and allow us to empathize with others."
Writing Exercise: Bring a pen, pencil, and paper or your favourite writing instrument to explore thoughts, feelings, and experiences around this topic.
Hosted by Susan Scott
Moderated by Lori Sebastianutti, with special guest, Natalie Welsh
Lori Sebastianutti is an award-winning writer and teacher, whose essays explore mental health, identity, and faith. Reach out to Lori at sebastianlwrites@gmail.com.
Natalie Welsh is a musician, writer, and the founding editor of Syncopation Literary Journal. Contact Natalie at nwelshsyneditor@gmail.com.
Susan Scott founded the Spiritual Life Writing webinars in 2020, expanding on her latest book, Body & Soul—award-winning essays by women writers and poets on unorthodox approaches to the sacred. Email Susan at sscott@tnq.ca. Visit her website: https://susanlscott.twohornedbull.ca/
Please share this invite with others who want an authentic writing practice.
Each session is free, and includes writing time, resources, as well as the chance to interact live with our special guest(s).
Check out our video library! We record every session. See "spiritual life writing" (see "Upcoming Events") on Awakening Spirituality's website.
Hosted by AWAKENING SPIRITUALITY, an online community of seekers interested in personal development and spiritual exploration. The focus is on dialogue and guidance, rather than dogma or restricted thinking.
DATE: Third Wednesday of February, May, August, and November 2023.
TIME: 7:00 PM EDT (CAN/US)
ZOOM ONLINE: From the comfort of your own space, once you register, click the link in your order notification email to join the video conference on your phone, tablet or PC.
NOTE: For the best experience, please be sure you have the latest version of ZOOM by checking here https://tinyurl.com/zoom-up
DIAL-IN AUDIO: Can't do video? Just dial-in from your home/cell phone and punch in the meeting ID number from your order notification email.
Phone: *1-647-558-0588 (Toronto and area)
*Long distance charges may apply
Outside Ontario: https://us02web.zoom.us/u/koqvNHHWU
Meeting ID: (see 9 digits in link to the right under "Online event")
NOTE: The RSVPs here represent only some folks who may join since this event is advertised across multiple media platforms.