Spiritual Workshop & Paranormal Instigation the old way's
About this event
Come on out and learn ways to get in touch with the Spiritual World with Trevor from HauntingLIVE! Podcast, and Chris from Divine Angel Readings, They have worked with the Spiritual World for over 20 years and have been seen on TV Shows and heard Radio Stations. The HauntingLIVE! Podcast, holds a Podcast where they have had top people on from across the world and interview them. You can catch on your Podcast App.
This Year's Special Guest are:
This year we welcome Spiritual Medium Mary-Anne Kennedy from the Ghosts of Dufferin County & Beyond. With the Queen of Ooga Booga Sally Diane who has been working with the Spiritual for over 40 years in the States and Canada and holds her own YouTube Show on Sunday night's at 9:00 pm est.
This Full Day workshop start your day off with the Spiritual Workshop and get to know the Spiritual World a lot more then you know, and End the night with a Paranormal Investigation of the Lucas House and the Grounds around the home that goes back to the 1800's and where film crews filmed TV Show where they could not film at night cause of the Energy..
Friday Night May 20th 2021
We will be going out for a Dinner Meet and Great, More info coming soon!
May 21st 2021
Workshop - Saturday 10:00 am. - 5:00 pm
Hosted by:
Spiritual Medium Chris, Queen of Ooga Booga and Spiritual Medium Mary-Anne Kennedy
Astral projection, (The Safe way!)
Automatic Writing, (What is Automatic Writing and do to use it.)
How to use Oracle Cards / Tarot cards
Who is your Spirit Guides and getting to know them more.
With more
Paranormal Investigation - 6:30 pm - Late:
We will prepare you before we explore the grounds of the Lucas Home. We'll explore the hallways and some rooms using your own psychic antennae and The Barn that is close to the home. You will have the opportunity to use some of the digital equipment, to close the night with a Séance and see what will take place
Workshop & Ghost Hunt - $200.00 each
There are so many great hotels close to Country Heritage Park, Milton, Ontario Book your stay under Bookings.com and save on your stay.
Age 19+
Please note that there are No Refunds for this event. Limited Spots for this Workshop. Closing date for this event is May 1st 2022!
With the HauntingLIVE! Podcast Merch store there will be items for sale at this location. hauntinglivepodcast.com/merch
Please note: If the Date does change then we will be sending out a email to you about the change's, as we're working on this date with the CEO of the Grounds.
HauntingLIVE!~ Podcast is a Fully Registered Company with the Ontario Government.
Check out online the Queen of Ooga Booga and Divine Angel Reading's YouTube Page's.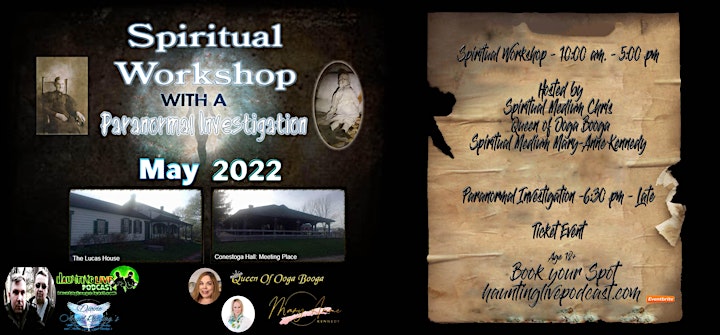 Organizer of Spiritual Workshop in Milton
HauntingLIVE! Podcast has been, serving Ontario Canada since 2010. We're Filming & Investigating from ​Companies, Historical Sites, ​​Residential Homes, ​also leads workshops and public events.​​ We are a professional paranormal investigation crew and was founding in 2010.  We have investigated and filmed over 225 locations.  
​This is where we take a look at the unknown ​History and Hauntings within ​​Ontario, Canada. 
You can always catch our series on our social media from Facebook Public Figure page and your own Podcast Provider. We're always teaching people the true way to the Spiritual World.