Spoken Lives Online - 5 Women Share their Stories: Tuesday, September 28th
Event Information
Refund policy
Contact the organizer to request a refund.
Eventbrite's fee is nonrefundable.
Five Fabulous Women will join us to share their personal stories of strength, triumph, and courage. Are you ready to feel hope?
About this event
Please join us and invite your out of town friends and family? Circle up!
Let's gather - Tuesday, September 28th! No geographical boundaries!
Five fabulous speakers will share stories of adventure, success and what they learned along the way! Looking forward to seeing you at this very special online event. Details of their topics are below...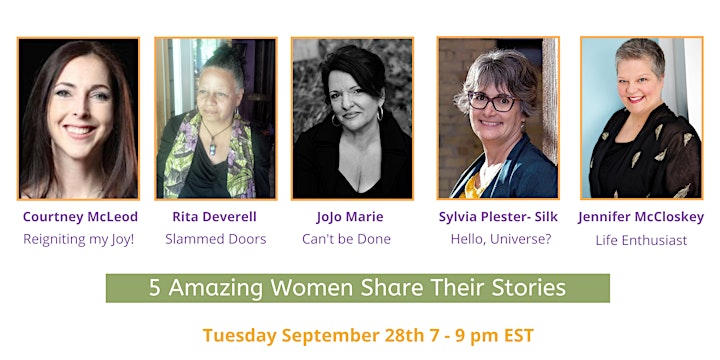 Rita Deverell - Slammed Doors
I will share what I've learned, after my nose stops hurting, from doors that slam in my face in professional life. I am an award-winning theatre and media artist; an actor, broadcaster, writer, and post-secondary teacher; who is also Black, female, and 75 years old. That means quite a few serious SLAMS. What did they mean? What comes next?
Sylvia Plester-Silk - When the Universe Calls: A Return to Healing Practices
I will speak about sometimes a vacation isn't just a vacation. How being stretched beyond my means resulted in major life change. After a 5-day hike to Macchu Pichu in September 2019, the insistent messages I received couldn't be ignored.
Courtney McLeod - Reigniting my Joy!
I will share the hardest thing I've ever had to go through and knowing it was coming didn't make it any easier. This experience drove me into hibernation feeling like a grey muted version of myself until I felt an overwhelming urge to start living with joy again.
JoJo Marie - Can't be done
I was bedridden for over 4 years and lost everything I knew myself to be. I will share my journey of transforming a lifetime of fear into trust by using 5 Pillars of Transformation. It is a story that will empower, motivate and inspire anyone who has ever been told: "it can't be done."
Jennifer McCloskey - Your Career After …
I am a self-proclaimed Life Enthusiast who is living with cancer with an emphasis on the living. My goal is to provide inspiration by sharing my story on my blog and social to those who are experiencing their own Life Event that may have turned their world upside down. A life event can rock your world, but it can also propel you to make the change you need to make. Mine led me to my calling.
Please join us at our Night Cap Chat following this webinar. You will meet the speakers and get the chance to chat with one another.
Date and time
Location
Refund policy
Contact the organizer to request a refund.
Eventbrite's fee is nonrefundable.
Organizer of Spoken Lives Online - 5 Women Share their Stories: Tuesday, September 28th
Elizabeth is the founder of The Mentors Circle and owns and operates Office Mentors and Spoken Lives. She brings a wealth of experience to support you as you get more important things done to GROW your business!