Spoken Lives Online - Silver Linings Edition - Tuesday, January 18th
Event Information
Refund policy
Contact the organizer to request a refund.
Eventbrite's fee is nonrefundable.
Five Fabulous Women will join us to share their personal stories of the silver linings of lockdown. Are you ready to feel hope ?
About this event
Please join us and invite your out of town friends and family?
Let's gather - Tuesday, January 18th! No geographical boundaries!
Five fabulous speakers will share stories of adventure, success and what they learned along the way! Looking forward to seeing you at this very special Silver Linings Edition online event.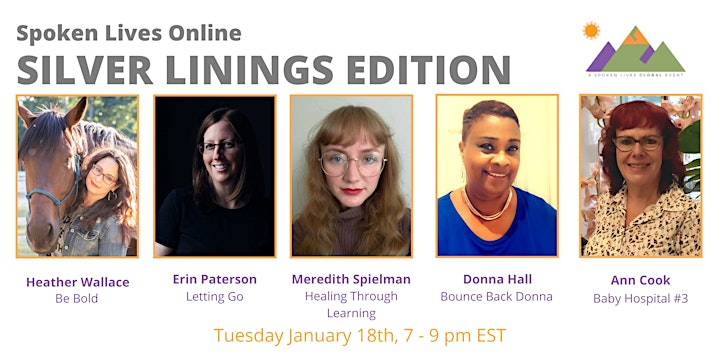 We do understand that the pandemic and lockdown have been extremely tough in many ways and we want to highlight some encouraging stories. We hope you can join us to feel inspired as we plan for a more open 2022.
5 Wonderful Women will share their personal journeys of finding the Silver Linings of lockdown. One speaker will present from Mexico City, one from the USA and three from various Ontario cities.
Heather Wallace - Be Bold
I was always scared to follow my dreams, afraid to fail. At the age of 36 with three small children at home, I changed careers to work with animals full time, finally published the book I'd always dreamed of writing, and even traveled to Mongolia.
Five years after I launched, Covid lockdown occurred and my husband and I switched roles as he worked from home while I was with clients at the barn, and it strengthened our relationship to "step into each other's shoes".
Meredith Spielman - Healing Through Learning
I started learning Spanish just before the pandemic began. Originally it was just a hobby, but as lockdowns began, it became the thing that kept me sane through the pandemic. Then, in October 2020, my husband took his life, and I became a widow at 26 years old. As the shock began to wear off, I returned to my Spanish-learning journey as a tool to help me heal from my loss. Now, nearly two years after I first started, learning Spanish has enabled me to move abroad and start an entirely new life
Erin Paterson – Letting Go
I never expected living through a pandemic would give me the time to finally fulfil one of my life's biggest dreams and that in the process of doing so I would be able to let go of traumatic events from my past.
Donna Hall - Bounce Back Donna
I found my voice and connected with my feelings in difficult times. Life as I knew it shifted and I had to own my truth and take responsibility for the things that were within my control. It was a chance to see possibility through pain and capacity through confusion. During the Pandemic I was able to see the silver lining through the challenges brought on by my life circumstances. It was an opportunity to improve my mental health, feel the shifting in my journey and reflect on life's journey. I share with you how I got from Pieces to Peace.
Ann Cook - Baby Hospital #3
My goal was to set up my career, get married then have a child. That was my plan but plans don't always go as expected. After eight years of trying a variety of medical interventions, accompanied with emotional highs and lows, we made the hard decision that our child was not arriving in the expected fashion. With the help from friends and new people who were soon to become an integral part of our lives, we began our journey. We knew that our daughter was waiting for us, we just had to find her.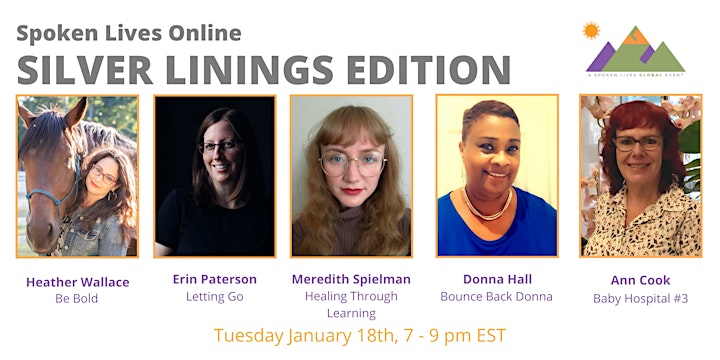 ***********************************
Disruptive Conduct Disclosure: We actively ensure that Spoken Lives is a safe space for our attendees and community. By registering for this event, you acknowledge and agree that Spoken Lives reserves the right to remove you from the Spoken Lives Online event if Spoken Lives determines that your participation or behavior creates a disruption or hinderance to the Virtual Event or the enjoyment of the Virtual Event content by other attendees.
Date and time
Location
Refund policy
Contact the organizer to request a refund.
Eventbrite's fee is nonrefundable.
Organizer of Spoken Lives Online - Silver Linings Edition - Tuesday, January 18th
Elizabeth is the founder of The Mentors Circle and owns and operates Office Mentors and Spoken Lives. She brings a wealth of experience to support you as you get more important things done to GROW your business!