Event Information
Refund policy
Contact the organizer to request a refund.
Eventbrite's fee is nonrefundable.
Five wonderful women will share their stories and life lessons. After this event, Spoken Lives will press pause.
About this event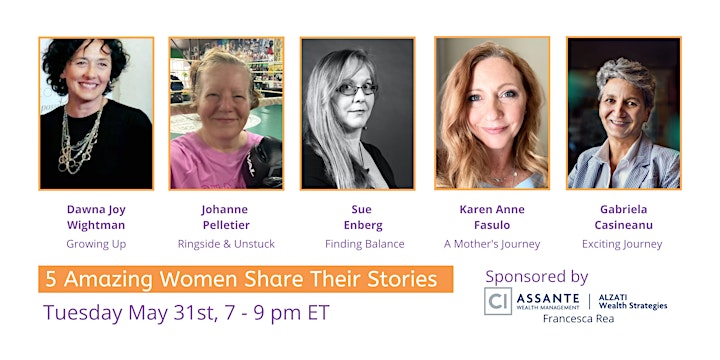 Five Fabulous Women will join us to share their personal stories! Hope to see you at this event as we will take a pause after May 31st. Follow our social media to know what's next.
Dawna Joy Wightman - Growing Up
The biggest enemy of a great life is a good life. For years I lived a good life – everything for my family – sacrificing my dreams to help them live theirs. I played it safe (my big secret kept me down). One day I planted a tiny seed. The universe stepped in & I ended up Off Broadway. Then more seeds. I got COVID, leading to living great and I want to share how I did it.
Johanne Pelletier - Ringside & Unstuck
I was often stuck in traffic in the same spot in downtown Montreal on the way to my office, stuck long enough everyday to notice a boxing gym on the corner. I was stuck in many ways then, in my early 40s, in a career I worked hard at but wanting more, wishing to find something that spoke to me beyond work. Something that could be my thing.
One day I pulled over. My story is about my journey in boxing, starting in my 40s, about curiosity and about the things that can get us unstuck.
Sue Enberg - Finding Balance
Curiosity and an insatiable quest for knowledge have led me on many interesting journeys. As a mature woman, a single mom, and a student with a disability, I earned two university degrees. I have since become a documentary filmmaker. Much of my work is with residential school survivors, so finding psychological balance is important. I balance vicarious trauma with beauty by photographing nature, with a heightened focus on macrophotography.
Karen Anne Fasulo - A Mother's Journey
I remember the words so clearly even though the moment is still so foggy. The words that confirmed my daughter's diagnosis. I had accepted all the other ones that came before. But this one, I had trouble with. This is a story of my journey as a parent learning her daughter is autistic. All the anger, the guilt, the sadness that filled my heart when thinking about what kind of life my daughter is destined to have. But this is also our story of acceptance, resilience, perseverance and learning to see this world through another lens.
Gabriela Casineanu - My Exciting Journey
My life became a journey of self-discovery after I changed my career direction in 2006. It's like life has already assigned a destination and, through experiences and insights, it pushes me through. I am gradually discovering my true self. I can't wait to share my journey with you, from being an introverted immigrant with an unsatisfying career (engineering) to building the Introverts Academy. I've learned many things from this journey that keeps unfolding, and I look forward to reaching the destination that is meant for me.
Looking forward to seeing you soon! Please come celebrate hosting over 200 speakers at our Spoken Lives events. We've shared a wide range of stories from women over 7 years and it's time to empower others to do the same. Check out Your Applause Academy on the online learning platform Grow at Your Pace. Coming soon. Follow our socials to hear our news.
This event would not have been made possible without the support of Francesca Rea
It can be a challenge for women to talk about and make decisions around money and wealth. For many, it impacts their confidence, self-worth and ability to plan ahead. Allowing these hurdles to persist is not honouring who you are nor is it creating a positive money mindset. So how can you overcome these barriers and ultimately have the rewards and wealth life balance you deserve?
Francesca and the Assante Wealth Strategies team's mission is to empower women and their families to confidently become financially savvy and realize (their true) wealth life balance. We (They) have designed a proven step-by-step process called RISE UP that helps encourage you on how to change your mindset and thoughts around money and guide you to create the life you desire.

We understand that everyone finds themselves in difference circumstances at this time. Do you or someone you know need a ticket for this live event? Please email elizabeth@spokenlives.com to make arrangements.
Date and time
Location
Refund policy
Contact the organizer to request a refund.
Eventbrite's fee is nonrefundable.