Spoken Lives Silver Linings Summit 2020 (8 workshops over 4 evenings)
Event Information
Refund Policy
Contact the organizer to request a refund.
Eventbrite's fee is nonrefundable.
Celebrating our Head, Heart, Body, and Future Health. Speakers, experts and reflection exercises that will help you get more from your life.
About this Event
The Silver Linings Summit is a celebration of Spoken Lives Online in 2020.
This fab event runs from November 19-22nd. Four evenings (8 workshops) and our Night Cap Chats wrap up each evening, offering a place to connect.
All recordings are included with your ticket. A Digital Bonus Bundle (think swag bag) makes this a great deal.
We will learn, laugh and reflect on stories and tips and information about our Head, Heart, Body and Future Health.
See the programme below and visit the Summit web page at www.spokenlives.com/summit to keep up to date.
Get a ticket for a friend and she will thank you! You will need to buy it with her name and e-mail so that she will get her free Digital Bonus Bundle, reminders and updates.
A Night Cap Chat follows each evening (9:00 - 9:30 pm) This will be a time to de-brief on the information you heard and the insights you had. Hope you can join us!
More information and details below.

OUR FINANCIAL LIVES
SPEAKER: Amina Yassin-Omar TALK TITLE: Ready for a Rainy Day!
As a first generation refugee to Canada, Amina's professional experience has been driven by her passion to ensure equitable opportunities for diverse and immigrant communities. She will share how she took care of her finances and had fun, too.
Learn how to get back on track with your own finances or gather tips to share with friends, from our expert Francesca Rea.
OUR EMOTIONAL LIVES
SPEAKER: Julie Starr TALK TITLE: Wasn't Expecting That!
If you sat Julie down, as a young girl, and described her life as it has been, she'd say you must be kidding. The challenges and roller coaster moments of her life would just not seem possible…maybe for a Netflix special, but not for her life. Well, the joke is on her…it has been her life and she'd really like to tell that little girl that she doesn't have to worry, she will make it through. We got this!
The COVIDcoaster has been quite a ride! Learn tips about how to improve our Emotional Intelligence from our expert, Patricia Muir. Learn how to best cope with this bumpy year.

OUR HOME LIVES
SPEAKER: Karyn Spiesman TALK TITLE: Onward and Upward!
The 'universe conspired ' and led me to sell my Leslieville house of 20 years and move to a condo in a different area of the city. Because my house was being sold my small business, located in said house, had to be closed as well. There was a lot of reluctance to do this but 'ya do what ya gotta do'. After going through many steps to make this move a reality, things worked out just fine in the end.
Our experts Karen Shinn and Gail Shields will give us tips to streamline and personalize our own spaces.
OUR SPIRITUAL LIVES
SPEAKER: Eva Ticktin TALK TITLE: Coming Home to Myself
Eva is a lover of life, of freedom, of learning and of travel. After teaching law at Seneca for 30 years, a career she thoroughly enjoyed, she retired in 2010. Eva has had many adventures in her life, including living on a farm in New Brunswick, travelling with her husband to all the continents and over 50 countries, hiking the Himalayas, walking across England, and visiting the Antarctic and Galapagos Islands. She has also attended approximately 100 silent meditation retreats. She will share how she found herself in all of this curiosity.
Hear from our expert, Nadene Joy how she remained curious and found a deeper meaning in her Spiritual/Religious life.

OUR PHYSICAL LIVES
SPEAKER: Cecilia Amoakehene TALK TITLE: Managing my Mindset
Cecilia Amoakohene is a lupus survivor and health advocate who is interested in how the social determinants of health affect the ways that people access healthcare. As a lupus survivor she has navigated the health care system over the last 17 years and used her experiences to encourage others and help inform those who provide care.
She'll share how she's been able to manage the good and not so good days that come with living with chronic pain and how her choice to keep living her life instead of letting pain stop her has pushed her to keep pursuing her dreams.
Learn from our expert James Braithwaite how to keep our bodies moving beautifully.
OUR SEXUAL LIVES
SPEAKER: Maria Diaz TALK TITLE: Cancer Freed Me Sexually
Maria Diaz is a mother and an entrepreneur who has been a successful mortgage broker for the past 17 years. She discovered her interest in self development as a way to grow in her business and when she faced death through her journey with breast cancer in 2014, she discovered that she was living her life as an impostor, a fraud. In 2015 she chose to exit her 20 year relationship and embarked on a journey of self discovery & learned how to live her authentic life. She was hungry for change; determined to reclaim her personal power & become a leader in her own life.
Become inspired by our expert to Carlyle Jensen from Good For Her. She will talk about unlocking your personal pleasure and embracing yourself as a sexual being.

OUR NUTRITIONAL LIVES
SPEAKER: Antonietta Botticelli TALK TITLE: How I Lost 141 lbs!
I was a full-blown diabetic in 2016, could not tie my shoes nor walk more than 20 mins and had 20% chance of dying. Fast forward to June 2018, I managed to lose 141 lbs, kicked diabetes to the curb, became a certified group fitness instructor, created a fitness program called abotti and reduced my chances of dying to less than 5%. I will share with you how I did that!
Learn from our expert Rani Glick how better food can change everything! Simple steps can have a huge impact!
OUR EVOLVING LIVES
SPEAKER: Nicole Gervais TALK TITLE: Sleeping to remember
This talk will focus on brain aging in women. Nicole will discuss how ovarian hormones contribute to maintaining brain function, changes that occur as we age, and what we can do to maintain healthy brain aging. The focus will be on the importance of sleep, but other lifestyle factors will also be discussed.
Dr. Nicole Gervais has published 20 articles and book chapters on issues ranging from anxiety to sleep, memory, and dementia. She is the recipient of the Alzheimer's Association Research Fellowship and the inaugural Lyn Clemens New Investigator award from the Society for Behavioral Neuroendocrinology. She was recently named as an Emerging Scholar from the Brain Canada Foundation for her work on sleep, memory, and women's brain health.
Access to the recordings will be included in your ticket price.
You will have access to your Digital Bonus Bundle (think swag bag) after the event.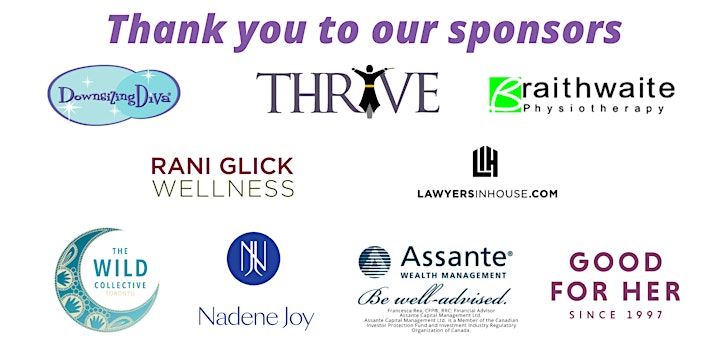 Date and Time
Location
Refund Policy
Contact the organizer to request a refund.
Eventbrite's fee is nonrefundable.