Spoken Word Performance & Writing Activity with Taqralik Partridge
Description
Spoken Word Performance & Writing Activity with Taqralik Partridge
Saturday, September 21, 2019
2:00-3:30 p.m.
Co-presented with Wapatah: Centre for Indigenous Visual Knowledge
Onsite Gallery
199 Richmond St. West
Free event as part of Onsite Gallery's public event program for ᐊᕙᑖᓂᑦ ᑕᒪᐃᓐᓂᑦ ᓄᓇᑐᐃᓐᓇᓂᑦ / Among All These Tundras.
Join Inuk artist, writer, curator, throatsinger, spoken word poet and Onsite Gallery exhibiting artist, Taqralik Partridge, for a spoken word performance and writing activity.
The title of Onsite Gallery's exhibition, ᐊᕙᑖᓂᑦ ᑕᒪᐃᓐᓂᑦ ᓄᓇᑐᐃᓐᓇᓂᑦ / Among All These Tundras, is taken from the poem 'My Home Is in My Heart' by famed Sámi writer Nils-Aslak Valkeapää. During this event, Taqralik will perform one of her spoken word pieces and then guide attendees in a writing activity inspired by a shared theme.
Everyone is welcome—whether you consider yourself a poet or simply a lover of written or spoken word, join us as we experiment with text and language.
Taqralik Partridge is an Inuk artist, writer, curator, throatsinger, and spoken word poet. She is originally from Kuujjuaq in Nunavik, although she now splits her time between Canada and Kautokeino in northern Sápmi. Partridge's writing focuses on both life in the north and on the experiences of Inuit living in the south. Partridge co-founded the Tusarniq festival held in Montreal. Her performance work has been featured on CBC radio one and she has toured with the Montreal Symphony Orchestra. Partridge has also worked as Director of Communications for the Avataq Cultural Institute. In 2010, her short story Igloolik won first prize in the Quebec Writing Competition and the same year she was a featured artist onstage at the 2010 Olympics in Vancouver. In 2018, Partridge was named as a finalist for the CBC Short Story Prize. Partridge is Editor-at-Large for the Inuit Art Quarterly. Her work will be featured as an official selection at the Sydney Biennale in Sydney, Australia in 2020.
ᐊᕙᑖᓂᑦ ᑕᒪᐃᓐᓂᑦ ᓄᓇᑐᐃᓐᓇᓂᑦ
Among All These Tundras
September 18 to December 7, 2019
ᐊᓯᓐᓇᔭᖅ
asinnajaq
ᓛᑯᓗᒃ ᐅᐃᓕᐊᒻᓴᓐ ᐸᑦᑑᕆ
Laakkuluk Williamson Bathory
ᑲᕈᓚ ᑯᕋᕼᐊᓐ
Carola Grahn
ᒫᔾᔭ ᕼᐋᓕᓐᑐ ᐅᓇᓗ ᓵᒥ ᕕᓐᓚᓐᒥᐅᑕᖅ
Marja Helander
ᖃᑉᓗᓯᐊᖅ
Kablusiak
ᓵᓐᔭ ᑲᓕᕼᐅ-ᑰᒻᔅ
Sonya Kelliher-Combs
ᔪᐊᖅ ᓇᓐᑰ
Joar Nango
ᑕᕐᕋᓕᒃ ᐹᑐᔨ
Taqralik Partridge
ᐱᐅᓕ ᐸᑐ
Barry Pottle
ᐃᓅᑎᖅ ᓯᑐᐊᑦᔅ
Inuuteq Storch
ᑲᔨᓐ ᐸᓐ ᕼᐅᕕᓕᓐ
Couzyn van Heuvelen
ᐊᓕᓴᓐ ᐊᑰᑦᓲᒃ ᒍᐊᑕᓐ
Allison Akootchook Warden

ᑕᑯᔭᒐᖃᕐᕕᖕᒥ ᑲᒪᔨᑦ: Hᐃᑐ ᐃᒡᓗᓕᐅᖅᑎ, ᐋᐃᒥ ᐳᕈᑎ ᐊᒻᒪᓗ ᓴᕆᓴ ᐹᓐ ᕼᐃᐅᓕᒐ
Curated by Heather Igloliorte, Amy Dickson and Charissa von Harringa
ᓴᕿᑕᐅᔪᖅ ᐊᒻᒪᓗ ᑐᓂᔭᐅᔪᖅ ᑖᒃᑯᓇᖓᑦ ᓕᓄᑦ ᐊᒻᒪᓗ ᐲᓇ ᐊᓕᓐ ᓴᓇᖕᖑᐊᖅᓯᒪᔪᓂᒃ ᑕᑯᔭᒐᖃᕐᕕᒃ, ᑳᓐᑯᑎᐊ ᐃᓕᓐᓂᐊᕐᕕᒃᔪᐊᖅ
Produced and circulated by the Leonard & Bina Ellen Art Gallery, Concordia University

Among All These Tundras, a title taken from the poem 'My Home Is in My Heart' by famed Sámi writer Nils-Aslak Valkeapää, features contemporary art by Indigenous artists from around the circumpolar world. Together, their works politically and poetically express current Arctic concerns towards land, language, sovereignty and resurgence. Click here to read more.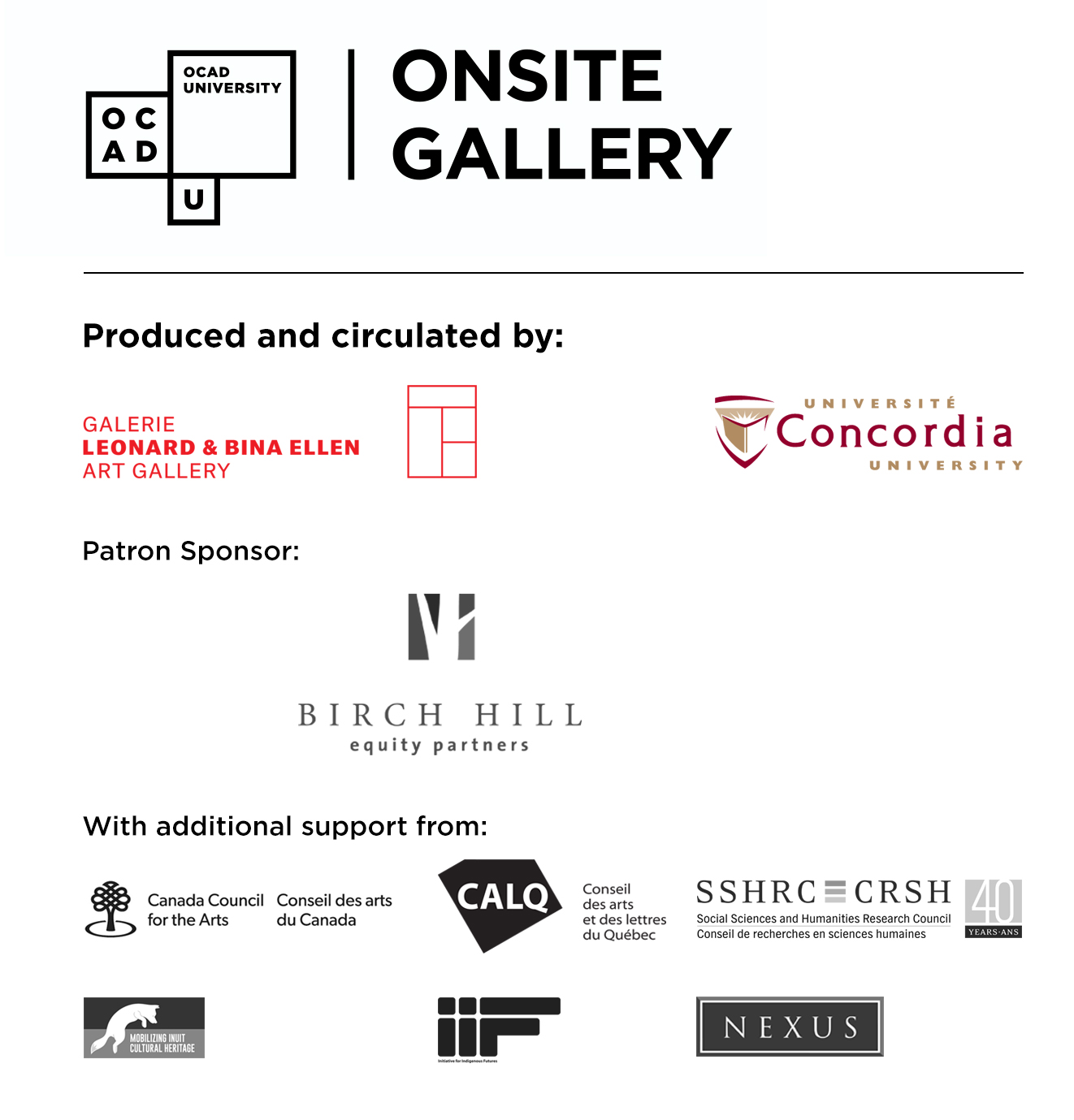 Onsite Gallery is the flagship professional gallery of OCAD U and an experimental curatorial platform for art, design and new media. Visit our website for upcoming public events. The gallery is located at 199 Richmond St. W, Toronto, ON, M5V 0H4. Telephone: 416-977-6000, ext. 265. Opening hours are: Wednesdays to Fridays from noon to 7 p.m.; Saturdays from noon to 5 p.m. Free admission.

Onsite Gallery acknowledges that the new gallery construction project is funded in part by the Government of Canada's Canada Cultural Spaces Fund at Canadian Heritage, the City of Toronto through a Section 37 agreement and Aspen Ridge Homes; with gallery furniture by Nienkämper. Onsite Gallery logo by Dean Martin Design.
The Wapatah Centre for Indigenous Visual Knowledge is a hub for facilitating the documentation, communication and translation of Indigenous ways of seeing. Drawing on the inseparable concepts of perception and knowing, Wapatah assists Indigenous and non-Indigenous artists and researchers to collaborate on the presentation and representation of artistic knowledge. Wapatah promotes Indigenous research at multiple scales, from Indigenous-led research at OCADU to creating connections and partnerships at the global level.

Image: Taqralik Partridge, Tusarsauvungaa, 2018 - . Series of nine elements. Cotton, polyester, wool, silk, glass beads, metal beads, Canadian sealskin, reindeer leather, reindeer antler, thermal emergency blanket, plastic packaging, cardboard, Pixee lures, plastic tarp, Canadian coins, laundry tokens, United Kingdom coin, tamarack tree cones, dental floss, artificial sinew, goose feather and river grass. Installation view (detail), Leonard & Bina Ellen Art Gallery, Concordia University, 2018. Photo: Paul Litherland/Studio Lux.
Organizer of Spoken Word Performance & Writing Activity with Taqralik Partridge